Michigan GOP Leaders to Meet With Trump Amid Concerns Republicans May Try to Overturn State's Election Results
Michigan's top legislative leaders, both Republicans, plan to meet with President Donald Trump on Friday amid concerns expressed by some that GOP lawmakers could attempt to overturn the state's election results.
The midwestern state's Senate Majority Leader Mike Shirkey and House Speaker Lee Chatfield were both invited by Trump and plan to fly to Washington, D.C. for the meeting, the Associated Press and The Detroit News reported Thursday, citing anonymous sources familiar with the lawmakers' plans.
Newsweek reached out to Chatfield and Shirkey for comment, but they did not immediately respond.
While President-elect Joe Biden came out ahead of Trump by more than 150,000 votes in Michigan, and all of the state's County Boards of Canvassers have certified the election results, the State Board of Canvassers will convene Monday for the final certification. The board is composed of two Republican and two Democratic members, and it's unclear if the Republican members will object to certifying the final tally. If the board does not reach a decision, the state's legislature—with both chambers controlled by Republican majorities—would be tasked with selecting presidential electors.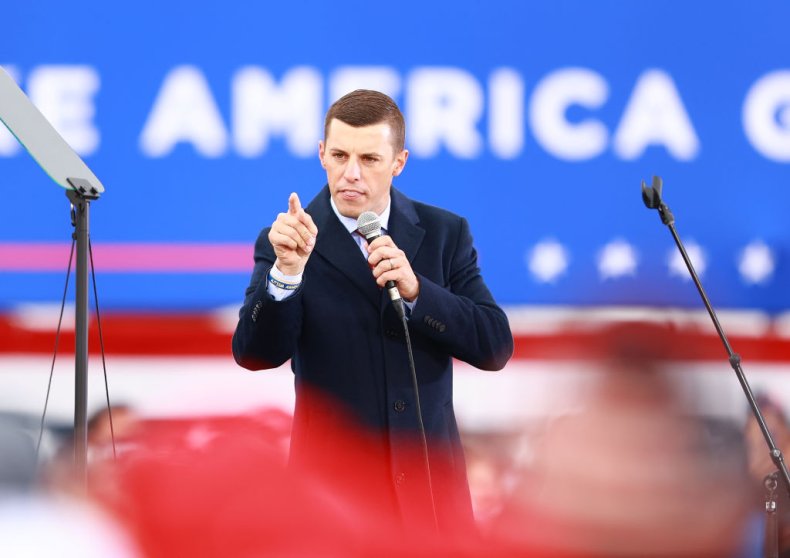 "Michigan law does not include a provision for the Legislature to directly select electors or to award electors to anyone other than the person who received the most votes," a spokesperson for Shirkey said last week.
Chatfield has also previously denied any plans to try to usurp the election results.
But the Michigan Democratic Party quickly criticized the two Republican lawmakers for agreeing to meet with the president.
"It is telling that Michigan GOP legislative leaders Mike Shirkey and Lee Chatfield are jetting off to Washington D.C. this week to meet with President Trump. They are more focused on continuing the GOP smoke and mirrors show designed to hide Trump's humiliating defeat than taking care of the actual problems impacting Michiganders," Michigan Democratic Party Chair Lavora Barnes said in a statement emailed to Newsweek.
"It is both shameful and dangerous that they would travel during a global health pandemic that has killed over 8,000 Michiganders while refusing to work with our Governor in offering relief to our front-line workers, our small business owners, and everyone impacted by this deadly virus," Barnes said.
On Tuesday, the two Republican members of the Wayne County Board of Canvassers—which also has two Democratic members—at first objected to certifying their county's results. They later agreed to certify the results, after outcry from Michigan voters. Although the two GOP officials have now said they want to rescind their decision to allow the certification, there is no legal path for them to do so. Trump reportedly called the GOP board members before they decided to change their mind.
"There is no legal mechanism for them to rescind their vote. Their job is done, and the next step in the process is for the Board of State Canvassers to meet and certify," Tracy Wimmer, a spokesperson for the Michigan secretary of state, sad, the Associated Press reported.
The Republican members were condemned by Democrats, who accused them of "racism." Wayne County—where Detroit is located—is home to the state's largest share of Black voters, as well as many other minorities. Democrats said the Republicans on the board were attempting to disenfranchise voters of color.
Representative Rashida Tlaib, a Michigan Democrat, criticized Republicans in her state in a Thursday Twitter post. "On Tuesday, we witnessed a racist attempt by the GOP to disenfranchise hundreds of thousands of voters. Now this impeached President wants these two to kiss the ring and steal the election. He lost, period," she wrote.
When it comes to the State Board of Canvassers, one of the two Republican members, Norm Shinkle, told Bridge Michigan he would offer "no predictions" over whether or not the election results would be certified.
Trump and many of his supporters have pushed unfounded claims of widespread voter fraud. They have said, without providing evidence, that this led to Biden and Vice President-elect Kamala Harris' victory in the Electoral College. But legal challenges brought court by the Trump campaign have largely failed, with lawyers for the president sometimes admitting before judges that they do not have evidence that would overturn the results.
Representative Paul Mitchell, a Michigan Republican, has been critical of the president's fraud allegations, urging his followers disregard conspiracy theories.
"The last shreds of hope are conspiracy theories - yet any EVIDENCE of fraud of a scope to impact the political election remains evasive at best. Time to move on..." Mitchell tweeted on Monday.
This article has been updated with additional background information.