Michigan GOP Rep. Says 'Growing List' of State Lawmakers Want to Impeach Governor Whitmer After Latest COVID Orders
A Republican state representative in Michigan said that there is a "growing list" of lawmakers that want to impeach Governor Gretchen Whitmer, a Democrat, in the wake of her latest orders intended to curb the spread of the coronavirus pandemic.
Whitmer, who has faced death threats and a plan foiled by the FBI to kidnap her because of her response to COVID-19, issued new directives on Sunday evening, shuttering indoor dining and bars, as well as closing in-person learning at colleges and high schools, for three weeks. New infections have been spiking dramatically in Michigan since the state's conservative-leaning Supreme Court struck down Whitmer's emergency orders in October.
"Today, myself and a growing list of Michigan Legislators have decided that @GovWhitmer has crossed the line and will be calling for #ImpeachWhitmer hearings. The list of violations is long and the call is overdue #MIGOP #MILEG," Representative Matt Maddock, a Republican from Michigan's 44th District, tweeted on Sunday evening.
In a Facebook post, Maddock said his calls to impeach the governor were backed by fellow Republican state Representatives Daire Rendon, Beau LaFave, Ryan Berman, Shane Hernandez and John Reilly, as well as incoming legislators Ken Borton, Steve Carra and Patrick Outman. The GOP lawmaker said state Senators Dan Lauwers and Lana Theis backed Whitmer's impeachment as well.
"Governor Whitmer doesn't have any time for partisan politics or people who don't wear masks, don't believe in science, and don't have a plan to fight this virus. Right now, she is focused on saving lives. The governor will continue to work hard for all 10 million Michiganders. This is about Michigan vs. COVID-19," the governor's press secretary, Tiffany Brown, told Newsweek in an emailed statement. "Governor Whitmer doesn't care if you're a Trump Republican or a Biden Democrat. We are all in this together."
Newsweek reached out to Maddock as well as Speaker of the Michigan House of Representatives Lee Chatfield, a Republican for the state's 107th District, for further comment but did not hear back in time for publication.
Michigan's constitution says that the governor can be impeached by a majority of lawmakers in the House, which state Republicans currently control. To remove Whitmer from office, two-thirds of the state's senators must support impeachment. With 38 total senators, this means at least 25 would have to vote to remove the Democratic governor. Currently, the Michigan Senate has 22 Republican and 16 Democratic lawmakers.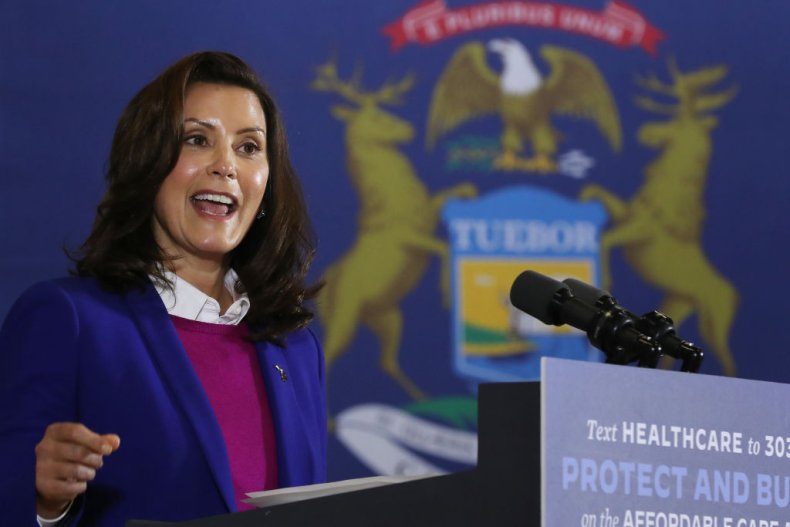 As of Monday morning, Michigan has reported a total of 275,892 coronavirus infections and 8,378 deaths, according to a New York Times tracker. Over the past week, the state had an average of more than 6,600 daily infections and about 62 daily deaths. The numbers have risen dramatically since early October, when the Supreme Court struck down Whitmer's coronavirus restrictions. On October 1, the state had averaged less than 1,000 new daily infections over the previous week and had an average of 12 daily deaths.
Meanwhile, the right-wing anti-lockdown group Michigan United for Liberty issued an "urgent call to action" via email on Monday morning. The message urged supporters to "contact YOUR legislators by phone AND email TODAY to ask them to support impeachment."
The Michigan Democratic Party defended Whitmer in a statement emailed to Newsweek. "Governor Whitmer is using every tool available to keep us and our loved ones safe, while the Republican-controlled Legislature has opted to take zero action for months," MDP Chair Lavora Barnes said.
"Instead of calling to impeach the governor, Matt Maddock would better serve his constituents if he broke with the leadership in the state House and worked with the governor to move legislation that would actually stem the spread of COVID-19 and offer relief to our small businesses, front-line workers and all of those impacted by this deadly virus," Barnes said.
This story has been updated with a comment from the Michigan Democratic Party.