Michigan GOP Threatens to Withhold $2.1B in School Funds to Get Whitmer to Cede Pandemic Power
Democratic Gov. Gretchen Whitmer of Michigan must cede power over the state's COVID-19 response in order to receive billions of dollars in funding for schools.
According to a COVID-19 recovery plan proposed by the Michigan House Appropriations Committee on Wednesday, $2.1 billion in funding for K-12 schools will be withheld unless a law is passed stripping Whitmer and the state health department of their authority to direct the reopening of schools and in-person sports and handing this power over to local health departments.
"Some Michigan school districts haven't had in-person classes since March—that's hurting kids in ways we can't even imagine, and not just academically," Thomas Albert, chairman of the Michigan house appropriations committee said in a statement on Wednesday. "The disruption of sports and other extracurricular activities also takes a major toll."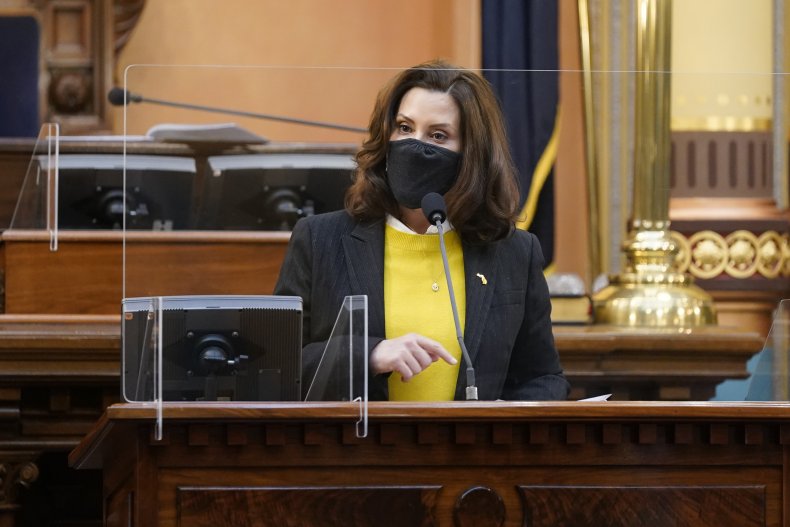 The Republicans' $3.5 billion recovery plan is a direct reaction to Whitmer's $5.6 billion COVID-19 strategy, which she proposed last week. While both plans prioritize students' return to school, the GOP plan is offering up to $250 per student to school districts that committee to reopening by February 15. The plan also includes $135 for a voluntary in-person summer semester for students, $21 million to support teachers and staff and $5.8 million to help families with costs.
"I have reviewed the governor's budget request and it is off the mark by a wide margin," Albert said in his statement.
"We are pleased to see that House Republicans are embracing the key elements of Governor Whitmer's MI COVID Recovery Plan that prioritizes vaccine distribution, support for small businesses, and getting our kids back in the classroom," Communications Director Tiffany Brown said in a statement on Wednesday.
Whitmer is in favor of students resuming in-person classes by March 1, and her plan includes $1.7 billion in federal funding in addition to $300 million in state funding to support schools reopening.
"It's important to note that the governor's March 1 date is a goal to provide options for in-person learning to the extent feasible," Michigan Education Association President Paula Herbart said in an email to Newsweek. "The decision to return to in-person instruction in Michigan is a local one, per state law approved with bipartisan support last August. Some districts have been offering in-person learning since the fall, while others are still planning for how to do it safely this spring. We believe that decision is best made locally, with the involvement of front-line educators and health professionals in decision making and based on the unique needs of different communities."
According to the Associated Press, Congress sent $1.6 billion in aid to schools in Michigan, and education advocates are critical of the state GOP's dangling of this federal school funding to influence lawmakers.
"We need bipartisan action, not political gamesmanship. Educators and students need the Legislature to distribute desperately needed federal funds to our schools right away, along with additional resources proposed by Gov. Whitmer," Herbart wrote. "Withholding those funds because of disagreements on how to best protect public health runs counter to the best interests of our students and the public at large."
Whitmer is expected to speak about her COVID-19 recovery proposal during the State of the State address on Wednesday evening.
Albert's and Whitmer's offices did not respond to Newsweek's request for comment.