Michigan Gov. Gretchen Whitmer Says She 'Made a Mistake' After Violating Own COVID Order
Michigan Governor Gretchen Whitmer has apologized after a photo showed her violating the state's pandemic orders over the weekend.
On Sunday, conservative outlet Breitbart News shared a photo of Whitmer sitting around a table at a restaurant in East Lansing with a large group of friends. One attendee reportedly posted the image to Facebook as part of a montage, before deleting the post and resharing with Whitmer removed.
The image showed the group, including Whitmer, violating a May 15 Michigan Department of Health and Human Services order, which prohibits groups of more than six people from sitting together and mandates six feet of social distancing.
Whitmer apologized for the incident in a statement on Sunday.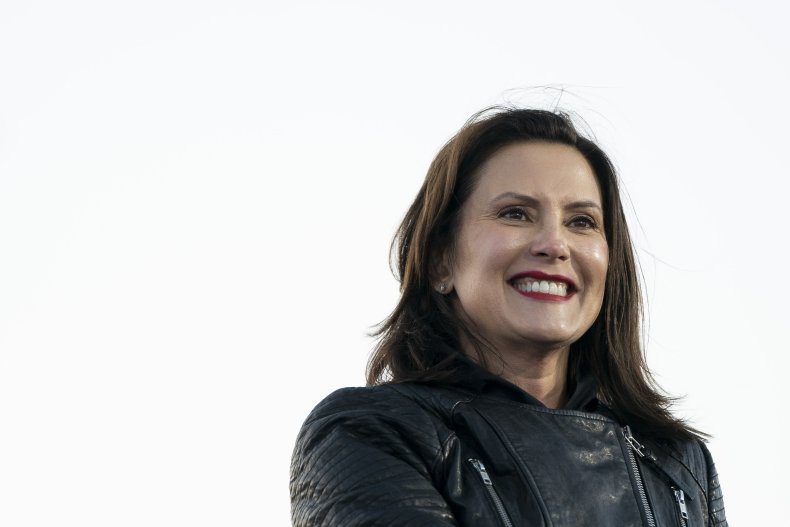 "Throughout the pandemic, I've been committed to following public health protocols," Whitmer said, according to Detroit News. "Yesterday, I went with friends to a local restaurant. As more people arrived, the tables were pushed together. Because we were all vaccinated, we didn't stop to think about it."
She added: "In retrospect, I should have thought about it. I am human. I made a mistake, and I apologize."
Whitmer got her second dose of the vaccine on April 29, according to the Detroit Free Press.
Newsweek reached out to Whitmer's office for further comment. This story will be updated with any response.
On Thursday, Whitmer announced plans to lift statewide pandemic restrictions by July 1. Additionally, the governor said outdoor dining capacity limits and the 11 p.m. curfew will end in June, while indoor capacity will increase to 50 percent. Another order, expected to be made official on Monday, will ensure indoor mask use continues through next month.
"We look at this as the last moment of this type of orders," Whitmer said. "For the most part, life will be back to normal."
Last May, Whitmer faced criticism from constituents after her husband, dentist Marc Mallory, asked a contractor whether being "First Gentleman" of the state would help get his boat in the water faster on Memorial Day weekend. At the time, a temporary ban had been put in place on using motorized boats.
Whitmer explained that Mallory was joking and "thought it might get a laugh."
"It didn't, and to be honest I wasn't laughing either when it was relayed to me because I knew how it would be perceived," she added, calling the incident "a failed attempt at humor."
As of May 23, Michigan has reported more than 986,000 confirmed cases of COVID-19, with over 20,000 deaths, according to a tracker maintained by Johns Hopkins University. Roughly 38 percent of the state's total population have been fully vaccinated.