Michigan Governor Gretchen Whitmer is urging people to double down on efforts to stop the spread of COVID-19 as cases surge in the state.
In a press conference Friday, Whitmer said, "there is a light at the end of the tunnel," but the rise in cases shows that "we are still in the tunnel."
On Thursday, the state reported more than 7,800 new cases of COVID-19, with the total now more than 723,000, according to michigan.gov. Michigan's COVID-19 case rate was the highest in the country that day, with the Centers for Disease Control and Prevention reporting 492.1 cases per 100,000 people.
Whitmer said the state has administered more than 5 million COVID-19 vaccines doses to more than 3 million people. But she said the state needs more help. She applauded President Joe Biden's efforts and his national COVID-19 strategy but said she asked the federal government to "surge vaccines to hot spots" like Michigan.
Whitmer is requesting that the Biden administration enact a "surge strategy" to administer vaccines to states and counties that are COVID-19 hot spots to "slow the spread and save lives."
The biggest issues Michigan is facing, Whitmer said, are compliance and variants.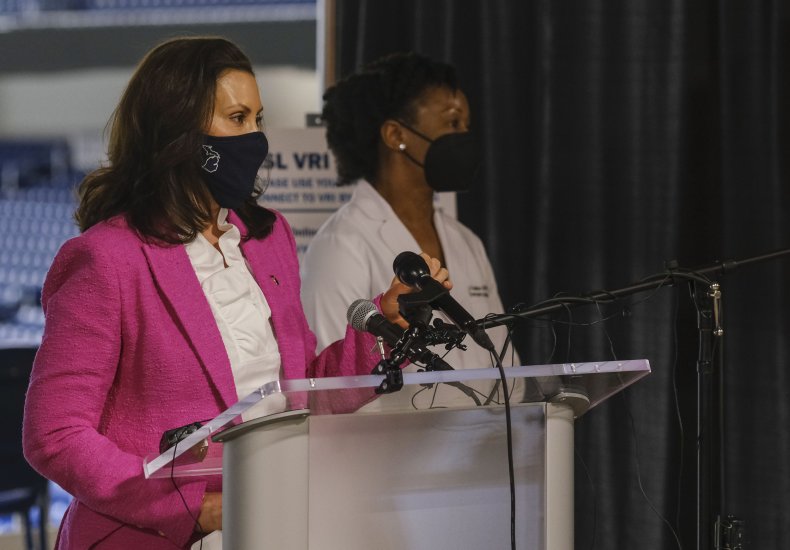 With rising cases and many people returning to the state after spring-break trips, Whitmer is recommending a pause of some high-risk activities in the state for two weeks.
In addition to the continued mask mandate, Whitmer is asking high schools to go to remote learning, youth sports to be suspended and indoor gatherings and dining be limited temporarily. While this is not an official requirement, Whitmer is imploring people to "hold on a bit longer" and make these sacrifices.
But Whitmer said policy changes are not going to stop the spread, vaccines will. The governor received her first vaccine this week and is urging everyone in her state to do the same. Michigan recently opened vaccine eligibility to those age 16 and older.
According to Dr. Joneigh Khaldun, the state's chief medical executive and chief deputy director for the Michigan Department of Health and Human Services, Michigan's COVID positivity rate has climbed to 18 percent, a number she said has not been seen since the first surge a year ago.
Khaldun also said that the public health system was "overwhelmed," as 15.2 percent of hospital beds are used for COVID and officials struggle to keep up with tracing outbreaks across the state.
Newsweek, in partnership with NewsGuard, is dedicated to providing accurate and verifiable vaccine and health information. With NewsGuard's HealthGuard browser extension, users can verify if a website is a trustworthy source of health information. Visit the Newsweek VaxFacts website to learn more and to download the HealthGuard browser extension.