Michigan Gov. Gretchen Whitmer Will Not Restart Mask Mandate Despite CDC Recommendations
Michigan Governor Gretchen Whitmer has no plans to reinstate a mask mandate amid the COVID-19 pandemic despite the Centers for Disease Control and Prevention (CDC) issuing updated recommendations on masks.
Whitmer, a Democrat, was one of the first governors to impose a statewide mask mandate during the first wave of the pandemic last year, facing heavy backlash from mostly Republican critics. On Tuesday, Whitmer said that she does not expect to issue another mask mandate following the new CDC guidance recommending that masks be worn indoors regardless of vaccination status in areas where the virulent Delta variant is spreading quickly.
"I do not anticipate another pandemic order, not in the near future and maybe not ever," Whitmer told reporters on Tuesday. "The fact of the matter is, we now know a lot more about this virus. We have vaccines. The best way to stay safe is to get vaccinated, we're really strongly encouraging everyone to do just that."
Whitmer wore a mask before and after the press conference where she made the remarks, saying that she had done so on the advice of Dr. Joneigh Khaldun, the state's chief medical executive. The new CDC guidance was issued just after the governor's comments. It was unclear whether the Whitmer's position remained unchanged in light of the guidance.
Newsweek reached out to Whitmer's office for comment.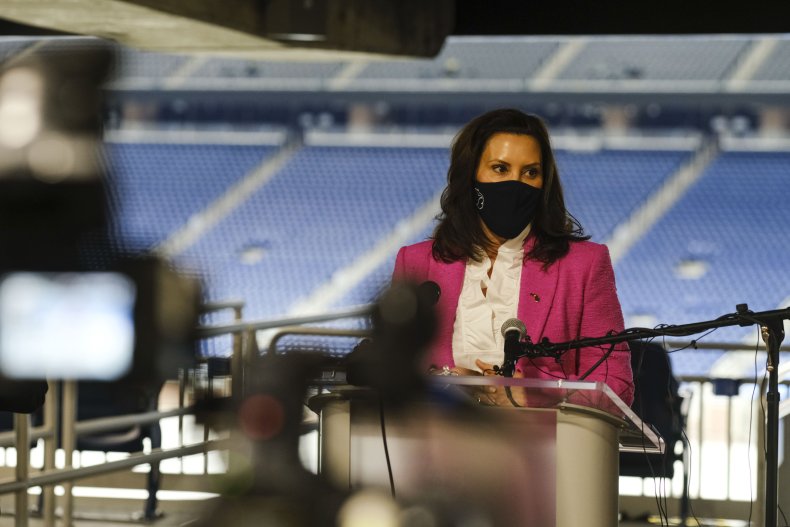 The CDC says that masks should be worn indoors even by those who are vaccinated in areas with transmission levels that the agency deems "high" or "substantial." While Michigan as a whole is experiencing moderate spread of the virus and currently falls short of the mark, 10 out of 83 counties in the state already have high enough transmission levels for the recommendation to apply. About 64 percent of all U.S. counties currently qualify for the new guidance.
The CDC also recommends that masks be worn by all students and faculty when schools return to session this fall. Although Michigan is recommending the same, no statewide school mask mandates are in place, with the decision left to individual school districts instead.
CDC Director Dr. Rochelle Walensky said that the new guidance was necessary due to the rampant spread of the Delta variant—which is more considerably more contagious than previous strains and has also been shown to be resistant to vaccines. She stressed that even vaccinated individuals could transmit the virus, and particularly the Delta variant, to those who may be more vulnerable.
However, Walensky said that the country's highest transmission rates were still being seen in areas where vaccination rates were the lowest. She said that becoming vaccinated confers a seven-fold reduced risk of contracting the virus and a 20-fold reduced risk of being hospitalized or dying from COVID-19.
"This moment, and most importantly the associated illness, suffering and death could have been avoided with higher vaccination coverage in this country," Walensky said. "We must take every step we can to stop the Delta variant and end this pandemic."
Michigan ended its mask mandates and other COVID-19 restrictions on June 22, citing a drop in cases. Last week, the state's GOP-led legislature used an initiative petition process to issue a veto-proof repeal of an emergency powers law that Whitmer had used to impose restrictions last year.