Michigan Gov. Gretchen Whitmer's Strict COVID Orders Effective in Driving Down Cases: Analysis
As Michigan continues to lift restrictions on businesses and group activities statewide in response to decreasing coronavirus cases, a recent analysis of Governor Gretchen Whitmer's mitigation orders indicated they were successful in reducing the virus' spread.
The Detroit Free Press conducted a thorough evaluation of Michigan's COVID-19 restrictions—particularly focusing on those implemented since the sharp outbreak resurgence recorded last fall—and highlighted a correlation between ongoing mitigation measures and lower infection rates per capita, compared with neighboring states where regulations were more lenient.
The newspaper summarized its findings in a report published Friday, less than one week after Michigan's metric-conscious reopening strategy permitted restaurants to reinstate indoor dining, and several days before youth athletes were due to resume high-contact sports activities.
Michigan's COVID-19 cases, hospitalizations and deaths climbed rapidly in November, as states across the U.S. began, or continued to, report similar trends. The Michigan Department of Health and Human Services originally issued an emergency order to ban indoor dining services starting November 18.
The health department's order became effective around the same time Michigan recorded its highest single-day increases in COVID-19 cases since the pandemic's onset. It was initially slated to last for three weeks, although Whitmer extended the order's terms on more than one occasion, eventually allowing indoor dining to reopen with limitations in place on February 1. Food service establishments were still permitted to offer takeout and delivery services throughout the duration of the emergency order.
A number of Michigan's economic sectors and public gathering spaces reopened alongside restaurants' return to indoor dining services on February 1, although face mask requirements remained active and local leaders could implement more restrictive orders at their discretion. According to state guidelines, retail establishments, hair salons and other personal care services, gyms, movie theaters, and industries whose nature prevents employees from accomplishing tasks remotely, were included in an extended list of business and recreational areas permitted to resume operations.
Last week's Free Press report indicated that Michigan saw fewer COVID-19 cases per capita than adjacent states—including Wisconsin, Ohio and Indiana—at the height of the winter's outbreak resurgence, and connected this pattern to Whitmer's mitigation mandates.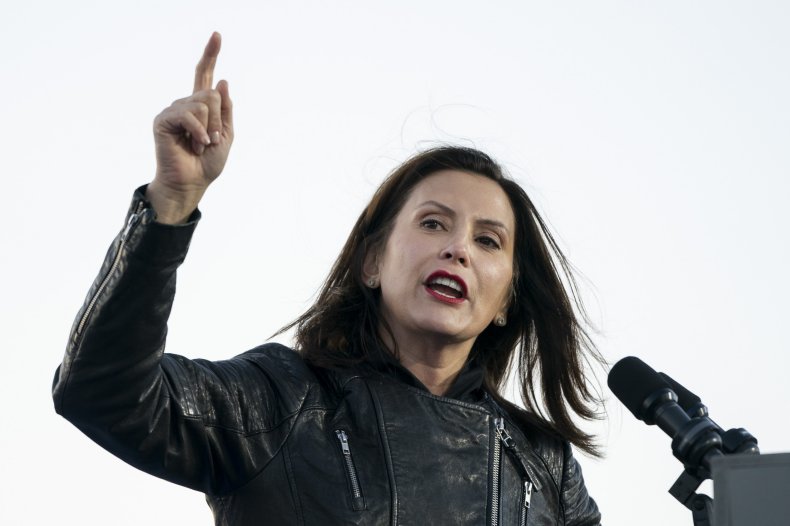 More recent data released by the Centers for Disease Control and Prevention (CDC), which tracks COVID-19 trends by state, showed that Michigan recorded 15.6 new infections per 100,000 residents between January 30 and February 6. Meanwhile, Wisconsin, Ohio, Indiana and Illinois recorded rates between 23.3 and 31.7 new infections per 100,000 people over the same time period.
Additional figures published by Johns Hopkins University's Coronavirus Resource Center showed Michigan's test-positivity ratio was lower than those four states on Sunday.
Whitmer has faced significant pushback from Michigan residents and members of the state legislature, of which Republicans hold a majority, for her conservative approach to COVID-19 mitigation throughout most of the pandemic. Michigan has confirmed at least 620,685 virus infections and 15,854 resulting deaths from COVID-19 as of Sunday morning, according to Johns Hopkins University.
Newsweek reached out to Whitmer's office for further comment, but did not receive a reply in time for publication.
Newsweek, in partnership with NewsGuard, is dedicated to providing accurate and verifiable vaccine and health information. With NewsGuard's HealthGuard browser extension, users can verify if a website is a trustworthy source of health information. Visit the Newsweek VaxFacts website to learn more and to download the HealthGuard browser extension.