Michigan Gov. Whitmer Calls Suspects in Kidnapping Plot 'Domestic Terrorists,' Not 'Militias'
Michigan Governor Gretchen Whitmer said the suspects accused of hatching a plan to kidnap her should be called "domestic terrorists," and not associated with any militia.
"They're not 'militias.' They're domestic terrorists endangering and intimidating their fellow Americans. Words matter," she tweeted Friday morning.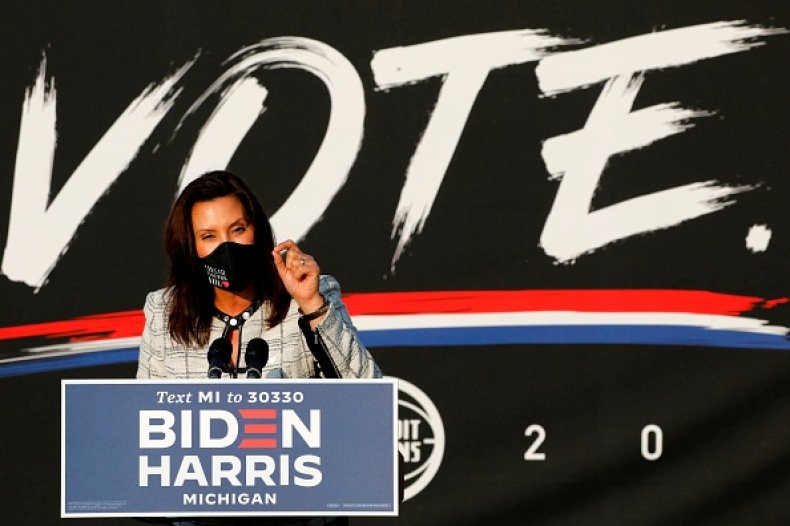 On Thursday, federal and state prosecutors charged 13 men with domestic terrorism, conspiracy and weapon possession. At least six of them were charged with conspiring to kidnap Whitmer—a Democrat who has become a target of angry coronavirus skeptics after she enacted strict control measures—in reaction to what they called her "uncontrolled power," according to a federal complaint.
A number of news organizations have referred to the suspects as members of the "Michigan militia," a name that several anti-government groups in the state had united under in the 1990s. Some have argued that the word "militia" should not be used when referring to extremist groups, such as the ones involved in Whitmer's case, because it legitimizes them.
Although the governor has refuted the wording in the FBI's criminal complaint, Whitmer herself used the term "militia group" when speaking about the alleged domestic terrorists during a Thursday news conference.
Speaking about President Donald Trump's failure to explicitly denounce white supremacy, Whitmer said: "Just last week, the president of the United States stood before the American people and refused to condemn white supremacists and hate groups, like these two Michigan militia groups."
Whitmer recently implemented a number of strict COVID-19 measures in certain regions of the state after a recent surge of coronavirus cases was reported. However, the Michigan Supreme Court overturned her executive orders last week.
"Since the beginning of the crisis, I have done everything in my power to protect our seniors, small businesses, and first responders form the worst public health emergency in over a century," Whitmer said in response to the ruling.
"Today's Supreme Court ruling, handed down by a narrow majority of Republican justices, is deeply disappointing, and I vehemently disagree with the court's interpretation of the Michigan Constitution," she added in the statement. "Right now, every state and the federal government have some form of declared emergency. With this decision, Michigan will become the sole outlier at a time when the Upper Peninsula is experiencing rates of COVID infection not seen in our state since April."
Whitmer was the subject of controversy after putting Michigan under rigorous coronavirus restrictions — a decision protested by some residents who stormed the state capitol bearing arms in April.
In response to the FBI investigation that foiled the plot to kidnap Whitmer, Trump attacked the governor in a series of tweets where he falsely claimed she had called him a "white supremacist" and complained she did not thank him.
He also criticized her handling of the coronavirus pandemic, tweeting: "Governor Whitmer of Michigan has done a terrible job. She locked down her state for everyone, except her husband's boating activities" and telling her to "open up your state, open up your schools, and open up your churches!"
Whitmer blasted the president's reelection campaign late Thursday, telling CNN: "You know, the fact that after a plot to kidnap and to kill me, this is what they come out with. They start attacking me, as opposed to what good, decent people would do is to check in and say, 'Are you OK?' Which is what Joe Biden did."
"I think that tells you everything that's at stake in this election," she added. "It tells you everything you need to know about the character of the two people on this ballot that we have to choose from in a few weeks."
When reached for comment by Newsweek, Whitmer's representatives said they didn't have anything to add.
Update 10/09/20 3:56 p.m. This story was updated with comments from Whitmer.