Michigan Gov. Whitmer Says Armed Anti-Lockdown Protesters Are Having a Political Rally for Trump
Michigan Governor Gretchen Whitmer said the hundreds of anti-lockdown protestors who showed up armed to the state capitol in Lansing on Thursday "are not just citizens unhappy about having to stay home."
"This is a political rally, essentially, when the big float rolls in that is about Donald Trump," she said on Friday in an appearance on CNN's New Day.
Michigan closed down the state capitol, cancelling the day's legislative session on Thursday in anticipation of the protests. Whitmer said that the legislature decided not to go into work because they did not want to be around the planned activities.
The latest organized actions are the third demonstrations against Whitmer's stay-at-home order, which is currently set to expire May 28.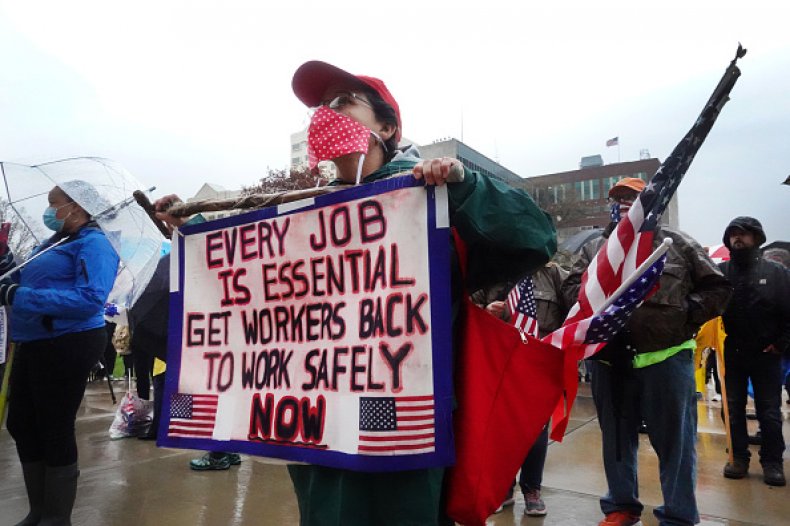 Whitmer says the protests are more an organized political statement than a concern over the state's coronavirus lockdown.
"When people are showing up with guns, when people are showing up with things like confederate flags, it tells you that this isn't really about the lockdown or about a perception of a stay home order," she said.
Whitmer fears that these demonstrations may increase Michigan's cases of COVID-19. While she said the majority of people in Michigan are doing their part to flatten the state's curve, congregations of unmasked groups like those that gathered at the capitol on Thursday will perpetuate the spread.
The Democratic governor has previously asked Vice President Mike Pence to discourage the anti-lockdown protests to prevent further outbreaks in Michigan.
"We have to take politics out of this conversation. This is about the public health. Whether you're a Democrat or a Republican, if you live in the state of Michigan, everything I'm doing is trying to save your life," she said.
The day before armed protesters stormed the capitol building on April 30, President Donald Trump tweeted in support of the protest, saying: "LIBERATE MICHIGAN."
Trump singled out Whitmer on May 1 and tweeted: "The Governor of Michigan should give a little, and put out the fire. These are very good people, but they are angry. They want their lives back again, safely! See them, talk to them, make a deal."
The governor has slowly begun reopening Michigan as part of her MI Safe Start Plan. Manufacturing workers, including those at Michigan's Big 3 auto companies, were allowed to return to work on Monday.
However, residents of the state were upset that the executive order also extended Michigan's stay-at-home order another month. Protesters at Thursday's rally demanded an end to the lockdown and were seen openly carried firearms.
In a statement made Wednesday, director of Michigan State Police, Colonel Joe Gasper, said there would be an increased police presence at the demonstration.
Police at the state capitol detained a man at the protest after two protesters broke into a fight over an unclothed doll hanging from a noose attached to an American flag.
"The more people that stay home, the quicker we can get through this posture and start to continue the re-engagement of our economy," Whitmer said. "While there's a lot of disagreements on a number of fronts, I think we're unanimous that that's our ultimate goal."