Michigan Gov. Gretchen Whitmer Is Being Sued Over Stay-at-Home Order
Michigan Governor Gretchen Whitmer is being sued over the coronavirus pandemic stay-at-home order issued in a state with one of the highest infection rates nationwide.
The state's "Stay Home, Stay Safe" executive order, in place until May 1, instructs Michiganders to stay at home and to only venture out for grocery shopping, exercise or for medical visits. It also limits gatherings and travel and requires all workers who are not "necessary to sustain or protect life" to stay home.
Four Michigan residents are named as plaintiffs in the lawsuit, a copy of which was provided to Newsweek, against Whitmer, a Democrat, claiming the restrictions violate their constitutional rights. They are seeking damages, but mostly want the order either lifted or amended.
Attorney David Helm, who filed the lawsuit in the U.S. District Court in Detroit, told Newsweek that while Whitner's initial executive order was "targeted to the specific needs of the crises," the second, which was issued on April 9, is "unreasonable" and "goes too far."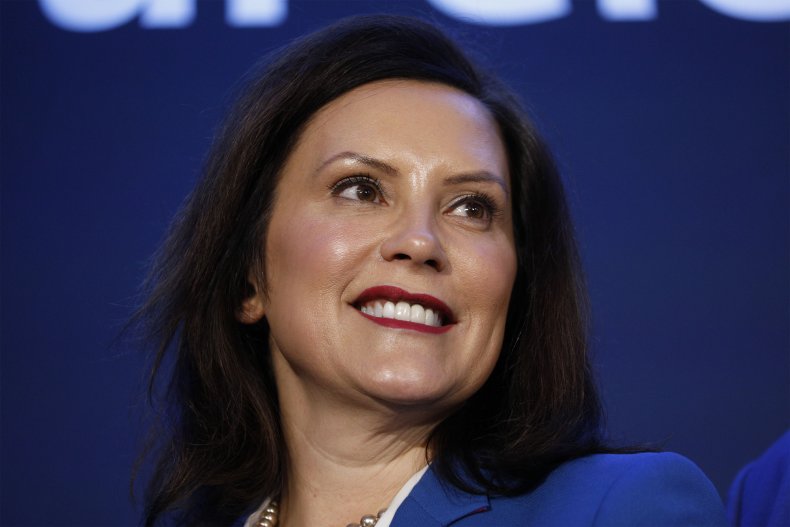 "My clients are not saying that there is not a pandemic or that the government does not have some obligation to do something in response," he said. "My clients are further not looking to cash-in on the crisis as some have alleged. They simply want to see the Governor's restrictions lifted. Our position is simply that when the government takes some necessary action which infringes on individual constitutional rights, they must tread lightly and take the least restrictive approach.
"The Governor's initial stay-at-home order was much more targeted to the specific needs of the crises. Her order issued on April 9, however, is unreasonable and goes too far."
Among the plaintiffs named in the lawsuit is Steve Martinko, who is suing over the financial hardship caused by the closure of his business, Contender's Tree and Lawn Specialists, and because he is unable to access his company's property due to the order. In the lawsuit, Martinko argues that he can operate his business safely by following social distancing guidelines.
Michael and Wendy Lackomar, a married couple from Oakland County, are also named as plaintiffs. The couple, who are "critical infrastructure workers", were at their cabin in Sanilac County when Whitmer's second executive order, extending the stay-at-home mandate and restricting travel, went into effect and they were not allowed to return to their home.
The executive order prohibits travel to vacation properties, but residents are allowed to return to homes outside of the state.
The final plaintiff, Jerry Frost, who lives in Roscommon County, is suing because he is not permitted to visit his girlfriend of 14 years or family members because he does not live with them. The lawsuit argues that the executive orders are illegally taking people's property without providing compensation, a violation of the Fifth Amendment.
"Our position is, ordering businesses to shut down, preventing residents and citizens from accessing their second homes, within the state is essentially a taking and they need to be compensated for it," Helm told Fox 2 Detroit. "We are not arguing for political dissidence or any sort of protest. What we are saying, is that people have the right to associate with their friends and family. And that is being unjustly infringed."
Whitmer's office declined to comment on the lawsuit to Newsweek, citing pending litigation.
She defended the stay-at-home order during a news conference on Monday, saying although she understood the difficulties Michigan residents are dealing with, reopening the state too soon could cause a sharp spike in coronavirus cases.
"Every day, we are writing the plan so that we can reengage safely at the appropriate time because not one of us wants to go through this again, not in a month, not in the fall. We want to avoid that at all costs," she said.
"I want you to have your freedom. I want to have mine, too. We will get to a place where we can be with our friends and family again, where restaurants will open again, where we can go back to work safely again."
Whitmer recently refuted President Donald Trump's assertion that he has absolute authority to force states to re-open schools and businesses shuttered by governors.
"The government's not going to be open via Twitter," she said in a radio interview with NPR's All Things Considered. "We're going to have to make decisions based on the best science, the best medical advice and what's in the best public health of the people of our individual states."
On Wednesday, a number of groups are planning to attend a rally at the state capitol in Lansing to protest Whitmer's executive orders, according to WXYZ. The Michigan Conservative Coalition has issued guidelines for protesters on its Facebook page, urging them to remain in their cars and "be loud."
Michigan has more than 27,000 confirmed cases of COVID-19, the disease caused by the novel coronavirus and 1,768 deaths, according to the latest figures from the state government.
This article has been updated with additional information and comments from David Helm.
This infographic, provided by Statista, shows the spread of COVID-19 cases in the U.S. as of April 15.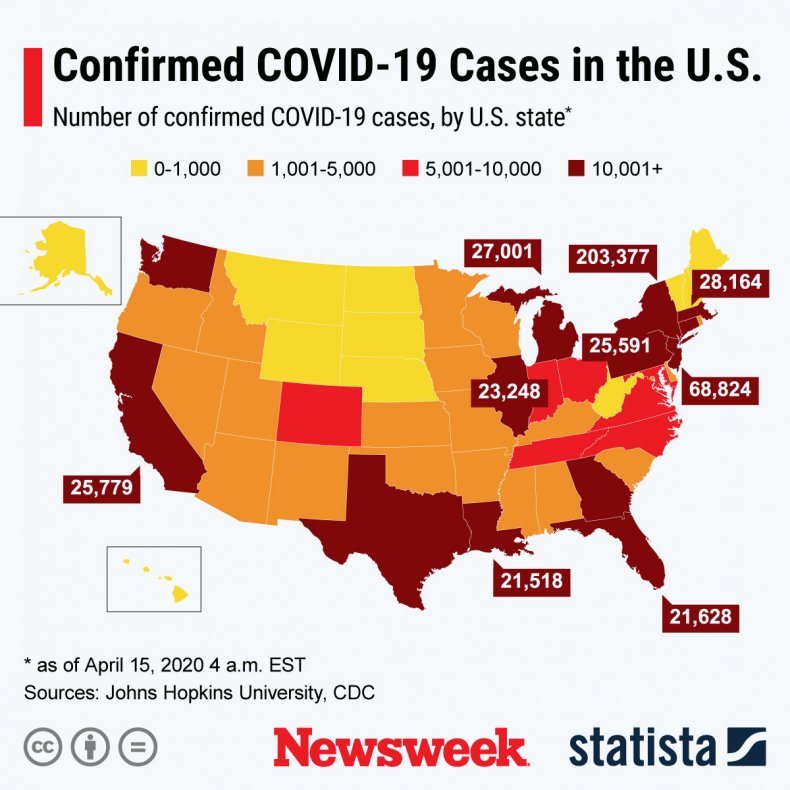 Centers for Disease Control and Prevention Advice on Using Face Coverings to Slow Spread of COVID-19
CDC recommends wearing a cloth face covering in public where social distancing measures are difficult to maintain.
A simple cloth face covering can help slow the spread of the virus by those infected and by those who do not exhibit symptoms.
Cloth face coverings can be fashioned from household items. Guides are offered by the CDC. (https://www.cdc.gov/coronavirus/2019-ncov/prevent-getting-sick/diy-cloth-face-coverings.html)
Cloth face coverings should be washed regularly. A washing machine will suffice.
Practice safe removal of face coverings by not touching eyes, nose, and mouth, and wash hands immediately after removing the covering.
World Health Organization advice for avoiding spread of coronavirus disease (COVID-19)
Hygiene advice
Clean hands frequently with soap and water, or alcohol-based hand rub.
Wash hands after coughing or sneezing; when caring for the sick; before, during and after food preparation; before eating; after using the toilet; when hands are visibly dirty; and after handling animals or waste.
Maintain at least 1 meter (3 feet) distance from anyone who is coughing or sneezing.
Avoid touching your hands, nose and mouth. Do not spit in public.
Cover your mouth and nose with a tissue or bent elbow when coughing or sneezing. Discard the tissue immediately and clean your hands.
Medical advice
Avoid close contact with others if you have any symptoms.
Stay at home if you feel unwell, even with mild symptoms such as headache and runny nose, to avoid potential spread of the disease to medical facilities and other people.
If you develop serious symptoms (fever, cough, difficulty breathing) seek medical care early and contact local health authorities in advance.
Note any recent contact with others and travel details to provide to authorities who can trace and prevent spread of the disease.
Stay up to date on COVID-19 developments issued by health authorities and follow their guidance.
Mask and glove usage
Healthy individuals only need to wear a mask if taking care of a sick person.
Wear a mask if you are coughing or sneezing.
Masks are effective when used in combination with frequent hand cleaning.
Do not touch the mask while wearing it. Clean hands if you touch the mask.
Learn how to properly put on, remove and dispose of masks. Clean hands after disposing of the mask.
Do not reuse single-use masks.
Regularly washing bare hands is more effective against catching COVID-19 than wearing rubber gloves.
The COVID-19 virus can still be picked up on rubber gloves and transmitted by touching your face.