Michigan Governor Candidate Who Joined U.S. Capitol Riot Calls It 'Energizing Event'
A Michigan official who's running to become the state's next governor after taking part in the U.S. Capitol riot has called the January 6 insurrection an "energizing event."
Ryan Kelley, an Allendale Township planning commissioner, was identified in videos running alongside pro-Trump rioters up the stairs leading up to an entrance of the Capitol building on January 6. The Michigan Association of Civil Rights Activists confirmed that Kelley was seen bypassing police barricades surrounding the building and entering restricted areas.
In a recent interview with MLive, Kelley discussed his gubernatorial campaign and his role in the Capitol riot. "I think that event was definitely an energizing event, right?" he said. "It will live on in history, absolutely. For a lot of different things."
Kelley has insisted that he never entered the Capitol building. Photo and videos of the riot showed Kelley near the front of a crowd of rioters outside the building, but none have placed him inside. In multiple videos, Kelley was also seen encouraging the crowd to move toward the Capitol.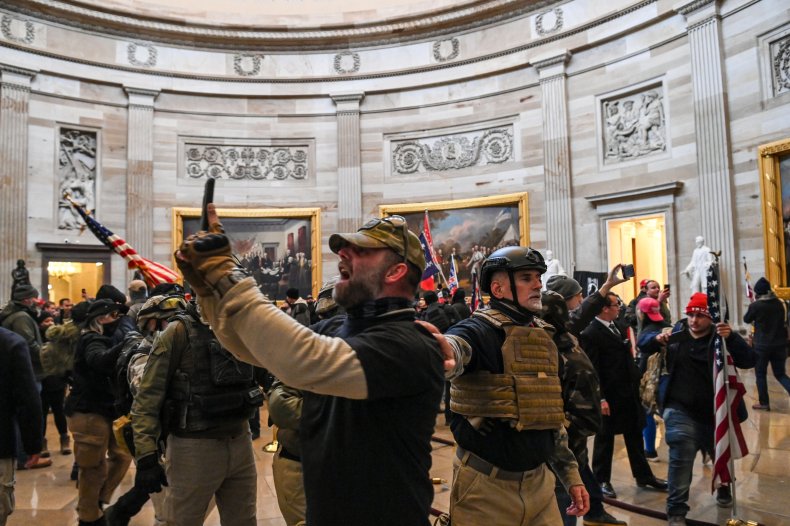 "I never went inside the Capitol building, never had the intention to and did not go inside, nor did I have any altercation with police officers. That was never the intention," he said, according to WWMT.
Kelley told MLive that he went to Washington D.C. to show his support for former President Donald Trump and has not been questioned by law enforcement about his participation in the insurrection. He explained that he left the scene around 2:45 p.m. after learning that pro-Trump rioter Ashli Babbitt had been killed by authorities.
"As far as going through any barricades, or doing anything like that, I never took part in any forceful anything," he said. "Once things started getting crazy, I left."
The candidate believes that voter fraud did help secure President Joe Biden's election win, but said that he doesn't understand the extent of its alleged influence.
"Maybe it didn't happen everywhere, maybe it did, I'm not sure," Kelley said. "I don't know enough about each one of those people to know what they've looked into and how they've looked into it, I'm not saying they're wrong. I'm not educated enough about those specific situations."
On January 28, Kelley announced he had formed a candidate committee for the 2022 Michigan Republican Party gubernatorial nomination. He is seeking to bring "freedom, hope, love and prosperity" to the citizens of Michigan.
"Either the government controls your life or protects your freedom. Under my leadership, the government will protect your rights, not take your freedoms. Your constitutional rights are unalienable; that's how I will lead," according to his campaign website.
Newsweek reached out to the Michigan Republican Party and the Department of Justice for comment.