Michigan Governor Gretchen Whitmer Says Construction, 'Outdoor Enterprises' May Be Next Areas of Economy to Reopen
The next sectors of the Michigan economy that could see loosened restrictions amid the coronavirus pandemic include construction and other "outdoor enterprises," according to Governor Gretchen Whitmer.
"These are a couple of the areas that I think would be the lowest-risk areas that we might start to engage," the Democrat said during an interview with Politico Monday morning.
Whitmer, who has been under fire from Republicans for her strict stay-at-home order, will further outline steps for reopening the state's economy this week. She anticipated that Michigan could enter the next "low-risk" category of recovery in the coming days if hospitalization rates continue to drop and COVID-19 testing goes up.
"Every time you open up a different sector of the economy you run the risk of having a spike," the governor said. She said she is working with two different "recovery councils" made of health industry experts and business leaders in order to make data-driven decisions on when and how to reopen the economy.
Whitmer also noted that there is the possibility that Michigan will have to pull back on easing restrictions if reopening areas of the economy result in an increase in cases.
"We have to look at this as a dial—not a switch, not on and off—but as a dial we can increase or decrease if necessary," Whitmer added.
Michigan had more than 37,000 confirmed coronavirus cases and at least 3,300 deaths as of Monday morning, according to data from Johns Hopkins University. It has been one of the states hit the hardest from the pandemic.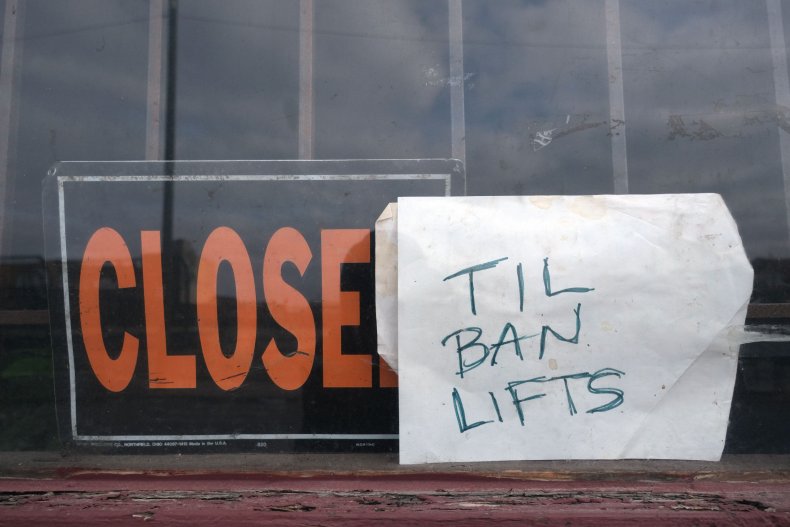 Whitmer's stay-at-home order was recently extended until May 15, though the latest version of the measure lifted some of the prior restrictions imposed on residents and businesses.
Now, landscapers, lawn-service companies, plant nurseries and bike repair shops can resume operating as long as they adhere to social distancing rules. Big-box retailers also no longer have to close off garden centers and other home maintenance areas.
The governor has faced demonstrations against her stay-at-home order and other coronavirus-related restrictions, which are among the strictest in the nation. Hundreds of protesters lined streets in Lansing, the state capital, earlier this month with some calling for the governor's removal.
The Democrat defended the order as well as her general approach to the coronavirus pandemic during her interview with Politico on Monday, stating that she's not concerned about any possible political repercussions.
"Everything I've done has been about saving lives," Whitmer said. "The thing about public health that I've really come to appreciate is that when it's going well, when you are doing the right things, you can't quantify how many lives you've saved."