Michigan Governor Gretchen Whitmer Says Trump's 'Inconsistent Messages' 'Put People in Greater Danger'
After Donald Trump announced he was halting immigration to the United States, Michigan Governor Gretchen Whitmer criticized the president for his comments during the White House's daily coronavirus briefings.
"I think that the nightly briefing has yielded a lot of inconsistent messages to the public—messages that put people in greater danger," Whitmer told the Associated Press on Tuesday.
States shutting down businesses to curb the spread of the outbreak has helped flatten the numbers curve, but it's also forced millions of people out of work. To put Americans "first in line for jobs," Trump announced on Tuesday a 60-day pause on immigration for those seeking permanent residency, with the potential to be extended.
Trump called it "wrong and unjust" for Americans who were laid off because of the outbreak to be "replaced with new immigrant labor flown in from abroad." He added that officials would examine what additional immigration-related measures should be put in place.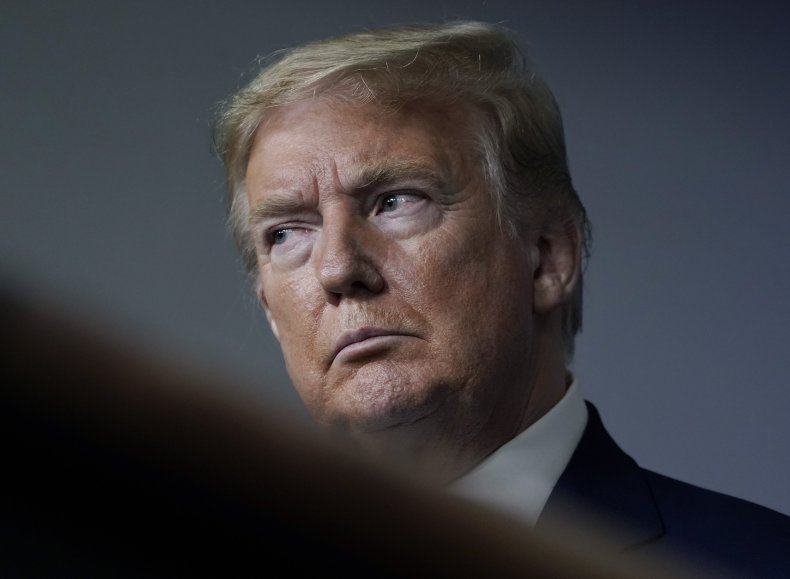 Whitmer called the president's comments about immigration "problematic" and counter to what she thinks America needs as it deals with the outbreak. The governor claimed officials should be conveying an "optimistic vision" about where the country is headed and the "thrust to make it a reality." Instead of discussing immigration, she said, the focus should be on increasing America's testing capabilities.
"This is what we need right now—not additional new things to be upset about, fearful of or mad about," Whitmer told the AP.
Aside from the possibility that the halt on immigration could be lifted in 60 days, Trump didn't offer a set of criteria for lifting the order. But he said during Tuesday's briefing that it's possible that an unemployment rate of 4 or 5 percent could be the time to have a debate about the immigration order.
As of Wednesday morning, 4,163,464 people in America have been tested for the new coronavirus, with 825,306 having a positive result, according to a Johns Hopkins University tracker. Michigan, with 32,967 cases, is the seventh highest state, but it has had the third highest number of deaths.
Whitmer's stay-at-home order, which is among the strictest in the country, has drawn ire from some of her constituents who have protested its measures, seeing them as an infringement on their freedom. The governor defended the order on the basis that it was necessary to save lives. When it comes to reopening businesses, she told the AP, it would be a "slow re-entry."
"Our biggest concern, of course, is a second wave," Whitmer said. "The worst thing would be for us to spike the football and think we are outside of the danger zone, and to re-engage and find another peak of COVID-19."
The governor has floated the possibility of starting to relax measures on May 1 but has said that since the outbreak is a dynamic situation, it's too soon to say if that can definitely occur.