Michigan Governor Imposes Stricter Mask Requirements Following Uptick in Coronavirus Cases
Michigan Governor Gretchen Whitmer signed a new executive order Friday imposing stricter requirements for wearing masks across the state.
The state's residents are now required to wear masks while in an indoor public space and in crowded outdoor spaces.
"Wearing a mask is an effective and low-cost way to protect ourselves and our families from a deadly disease. It should be—and is—the responsibility of every Michigander," the executive order says.
The order also gives businesses the permission to deny entry to anyone not wearing a mask. "No shirts, no shoes, no mask—no service," the order adds.
The executive order goes into effect Monday at 12:01 a.m. local time. It says those who willfully violate it will be subject to a $500 criminal penalty for a misdemeanor, "but no term of confinement may be imposed" on violators.
The order also says no individual will be subject to a penalty for removing a mask while at a house of worship. But it adds that "congregants are strongly encouraged to wear face coverings during religious services," in accordance with guidance from the U.S. Centers for Disease Control and Prevention.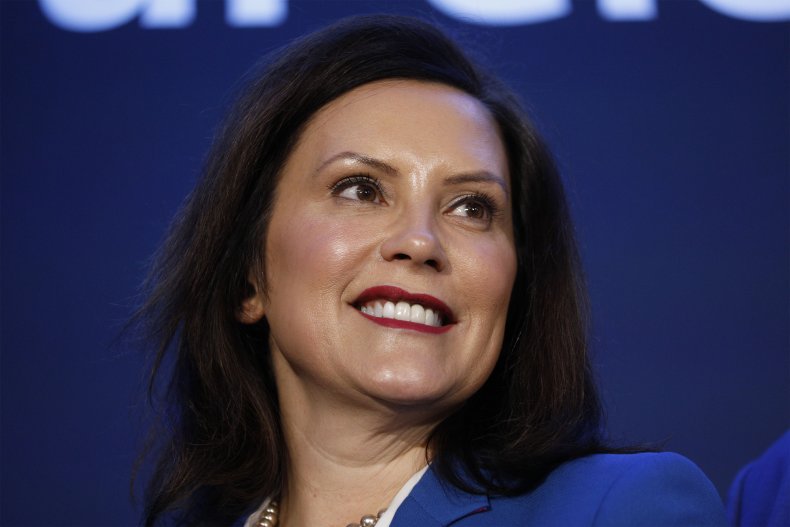 Whitmer's decision to impose the stricter mask policy comes as the state sees a rise in coronavirus cases. On Thursday, the state's health department reported 446 newly confirmed cases as well as nine new deaths. These bring the state's total numbers to at least 67,683 confirmed cases and 6,024 deaths.
In a statement about the new executive order sent to Newsweek, Whitmer explained that workers on the pandemic's front lines have been wearing masks every day and residents should follow their lead to help curb the virus's spread.
"Over the past week, we have seen an uptick in COVID-19 cases in Michigan, and over the holiday weekend we saw countless Michiganders gathered in large groups to celebrate Fourth of July without a mask," Whitmer said.
"The heroes on the front lines of this crisis have gone hours without taking their masks off every day—doctors, nurses, child care workers, grocery store workers. We owe it to them to wear our masks when we're on a trip to the grocery store or pharmacy," she added.
The governor also pointed out that masks can reduce the chances of spreading the virus by about 70 percent.
"By wearing masks, we can save lives and protect our family, friends and neighbors from the spread of COVID-19," Whitmer said. "And by wearing masks now, we can put our state in a stronger position so our kids can return to school safely in the fall. For the sake of your loved ones, let's all mask up, Michigan."