Michigan Governor Suggests Joe Biden Can Work With Mitch McConnell: 'They Have a Long Relationship'
Michigan's Governor Gretchen Whitmer, a Democrat, expressed optimism that President-elect Joe Biden will be able to work with Senate Majority Leader Mitch McConnell, a Kentucky Republican, if the GOP maintains the majority in the Senate.
Democrats had hoped to flip the Senate as well as the White House, with forecasts and polling suggesting it was a realistic possibility. But as the election results came in, Democrats actually lost seats in the House of Representatives and only managed to gain one seat in the Senate. However, the two Senate races in Georgia will be decided in January runoffs, giving Democrats some hope of a 50-50 split in the upper chamber of Congress.
In that scenario, Vice President-elect Kamala Harris, who will serve as the president of the Senate, would cast deciding votes in the event of a tie. But considering the political make-up of conservative Georgia, and the fact that Biden only narrowly leads in the state by 0.2 percent of the vote, winning one or both Senate seats is far from guaranteed for Democrats.
"I know that he [Biden] is absolutely committed to an infrastructure package. I think he's the kind of president who wants to bring people together," Whitmer told the Detroit Free Press in a post-election interview published Monday. "He'll certainly have to work with Mitch McConnell, but they have a long relationship and I think that if anyone can find common ground it's Joe Biden."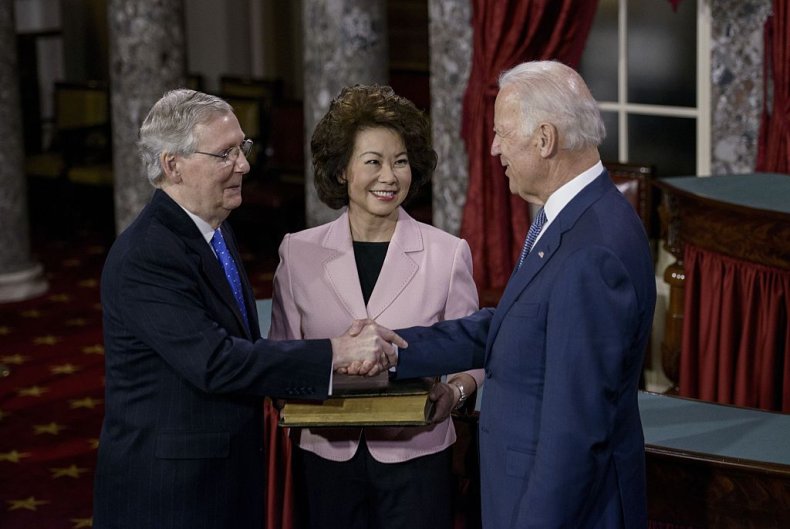 Whitmer first endorsed Biden in early March and has often spoken fondly of the former vice president. The governor was even vetted as a possible running mate for the president-elect before he decided on Harris, a senator from California.
The Michigan Democrat went on to campaign alongside Biden and Harris in her Midwestern state, which flipped back to Democrats by a margin of 2.7 percent (or about 146,000 votes) in the presidential contest. Trump narrowly won Michigan by just 0.2 percentage points (or less than 11,000 votes) in 2016, after the state had gone for Democratic presidential candidates in every election going back to 1992.
Biden served more than three decades in the Senate before becoming vice president under former President Barack Obama in 2008. He served alongside McConnell and many other Democratic and Republican members who continue to serve in the upper chamber of Congress. But many Democrats are concerned that GOP lawmakers will work to obstruct any legislative priorities pushed forward by the Biden administration, much as they did during Obama's tenure in the White House.
"We are not naive about how significant GOP obstruction could be, but we know the Senate will be under substantial pressure from the public and voters across the country—as well as from their allies in the business community and throughout Washington—to take action on the economic and public health crises, to confirm nominees and rebuild federal agencies with competent public servants," a spokesperson for Biden's transition team told Newsweek in an email.
Newsweek reached out to press representatives for McConnell, but they did not immediately respond.
In what many see as a concerning sign, McConnell and many other Republican senators have not congratulated Biden on his win. President Donald Trump has not conceded the election, falsely claiming that his Democratic opponent won through widespread voter fraud.
"Here's how this must work in our great country: Every legal vote should be counted. Any illegally-submitted ballots must not. All sides must get to observe the process. And the courts are here to apply the laws & resolve disputes," McConnell said in a Friday tweet before Biden was declared as the winner of the presidential election. "That's how Americans' votes decide the result," the senator from Kentucky wrote. McConnell has declined to comment further on the election outcome when pressed by reporters.
Throughout his campaign and in his victory speech, the president-elect has repeatedly emphasized his desire to work with Republicans, as well as independents and progressives, once he takes office. He has promised to be a president for all Americans, urging voters who supported Trump to give his new administration a chance.
"It's time to put away the harsh rhetoric. To lower the temperature. To see each other again. To listen to each other again. To make progress, we must stop treating our opponents as our enemy. We are not enemies. We are Americans," Biden said Saturday evening in his victory speech.
This article has been updated with comment from Biden's transition team.