Michigan Governor Whitmer, a Former Biden VP Contender, Says Kamala Harris Selection Is 'Best-Case Scenario'
Michigan Governor Gretchen Whitmer, one of several women considered by presumptive Democratic presidential nominee Joe Biden as a running mate, said that the decision to select Senator Kamala Harris of California instead was a "best-case scenario."
Although Whitmer underwent the vetting process, and even reportedly flew to Delaware at the beginning of August to meet face-to-face with Biden before he made his decision, she had publicly downplayed her interest in becoming vice president. During a Tuesday morning interview with CNN, Whitmer was asked about the selection process.
"It certainly was an honor to be asked to go through it [the process]. I'm very pleased—you know I'm really, really enthusiastic, and I think the world of Kamala Harris," Whitmer said. "So this is kind of the best-case scenario. I get to keep my dream job in my home state that I've always lived in with three generations of my family, and have two best friends in Washington, D.C., when we get them elected."
Newsweek reached out to the Biden campaign for comment on Whitmer's remarks, but it did not respond by the time of publication.
Whitmer's Tuesday comments aligned with previous remarks she made in April. The Michigan governor had asserted then that she already had the job she wanted.
"I'll be very frank with you, the job that I want is the one that I have," the Democratic lawmaker told CNN at the time. "I worked for two years to become the governor of the state of Michigan, and while it's been challenging and there've been some tough days, there's no place I'd rather be than right here in my home state.… "
Whitmer was an early endorser of Biden, backing the former vice president—who served under former President Barack Obama—in early March. The Michigan governor has not dismissed the possibility of a Cabinet post in a potential Biden administration, if he were to win in November. She told CBS This Morning on Tuesday that she'd "never say never to anything" when asked about the possibility.
The governor spoke on the opening night of the Democratic National Convention on Monday evening. She emphasized the importance of her party coming together to work toward victory ahead of the general election.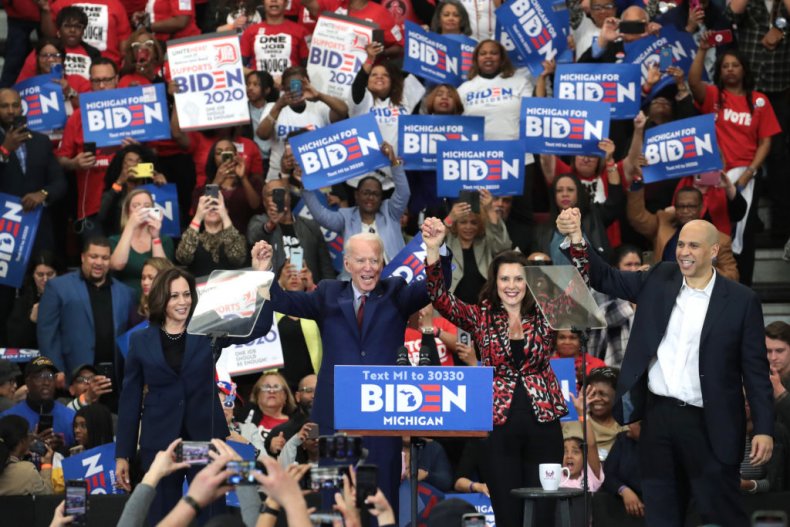 "Joe Biden and Kamala Harris will lead by example. Science, not politics or ego, will drive their decisions. They know: The health of our people goes hand-in-hand with the strength of our economy," Whitmer said.
Biden announced Harris as his running mate last Tuesday. The senator from California had previously mounted her own presidential campaign, but she dropped out of the race in early December 2019. Long seen as a rising star within the Democratic Party, Harris' nomination was historic as she became the first Black woman as well the first Indian-American, South Asian and Asian person to be selected as a running mate on a major party ticket in the U.S.
Michigan Governor Whitmer, a Former Biden VP Contender, Says Kamala Harris Selection Is 'Best-Case Scenario' | U.S.