Michigan Governor Whitmer Says She's Had 'Opening Conversation' About Being Biden's Running Mate
Michigan Governor Gretchen Whitmer said she has had an "opening conversation" about the possibility of being Joe Biden's running mate in November.
"I've had a conversation with some folks.... It was just an opening conversation, and it's not something that I would call a professional formalized vetting," Whitmer said. The governor, who has seen her national profile grow significantly during the coronavirus pandemic, was speaking Tuesday during an interview on NBC's 3rd Hour of Today.
Newsweek has reached out to the Biden campaign for further comment but did not hear back before publication.
Whitmer has long been speculated to be a potential vice presidential pick for the presumptive Democratic nominee. However, until now she has been largely dismissive of the idea. While she previously said she felt "honored" to have her name floated, she maintained that she wanted to remain in her current job leading her state.
"I'll be very frank with you: The job that I want is the one that I have," Whitmer asserted in an April 23 interview with CNN. "I worked for two years to become the governor of the state of Michigan, and while it's been challenging and there've been some tough days, there's no place I'd rather be than right here in my home state, making decisions that are saving people's lives [during the pandemic]."
In her interview on 3rd Hour of Today, she stressed again that her priority is managing the virus's outbreak in Michigan. "The most important thing that I have to do right now is be the governor of my home state. That's all that matters to me in this moment," she said.
Whitmer also highlighted the need to remain cautious as her state begins the process of reopening slowly.
"If we drop our guard now, we could be in for a second wave, and that would make all of the sacrifice we've made the last 10 weeks in vain, and we'd have to take steps backward," she said. "While we're not universal in a lot of things in this moment, I think we all know we don't want to take a step backward, and so everyone has to keep their guard up and be vigilant and do everything they can to mitigate the spread."
Biden has previously committed to selecting a woman as his running mate. Other names touted as possible candidates are Senator Tammy Duckworth of Illinois; former Georgia gubernatorial candidate Stacey Abrams; and three senators and former Democratic presidential contenders, Elizabeth Warren of Massachusetts, Kamala Harris of California and Amy Klobuchar of Minnesota.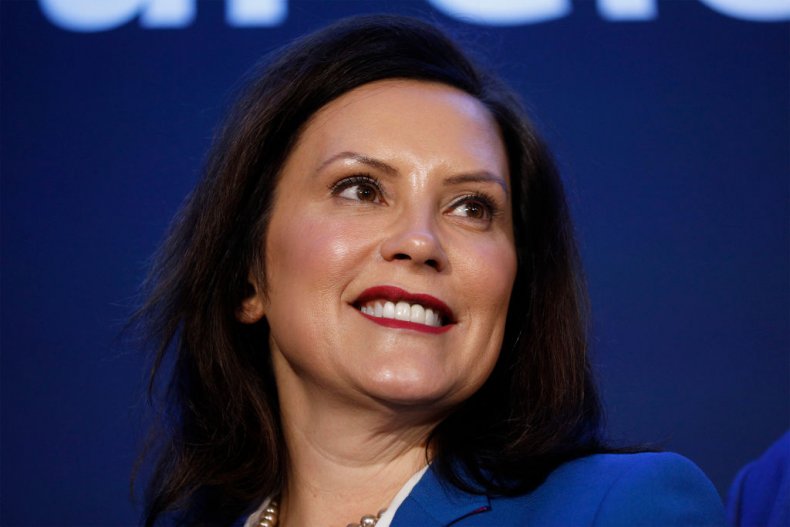 Unlike Whitmer, Warren and Abrams have publicly expressed a strong interest in being Biden's running mate.
"Of course I would be honored to run as vice president with the nominee," Abrams said back in February, when it wasn't certain yet who the Democratic candidate would be. She has repeatedly voiced her interest in joining Biden's ticket in subsequent interviews.
Asked during an MSNBC interview in April whether she would accept an offer from Biden to be his running mate, Warren responded with a firm "yes."
"Joe Biden is going to be an excellent president because he's fundamentally a good man," the progressive Democrat said. "He is prepared for an emergency, he will fight for every human being, and, most of all, he is a person who has empathy."
While some leading progressives have urged Biden to select Warren in a bid to unite the Democrat Party's more moderate wing with those on the left, civil rights leaders have urged the former vice president to select a black woman.
Meanwhile, Senator Dick Durbin said last Friday that his Illinois colleague Duckworth, an Iraq War veteran, would be interviewing for the post. "If you've got Tammy Duckworth by your side, it's a winning combination," he said.