Michigan Governor Whitmer Says Trump Inciting Domestic Terrorism, Endangering Public Servants
Michigan Governor Gretchen Whitmer responded to the chorus of "lock her up!" chants that erupted during President Donald Trump's campaign rally in the politician's home state on Saturday—calling his involvement in the crowd's rhetoric "incredibly disturbing," especially given the alleged plot to kidnap her that recently came to light.
During an appearance on NBC News' Meet the Press Sunday morning, Whitmer likened the president's encouragement of rally attendees' chants to "inciting domestic terrorism," and said his behavior endangers her and other public officials.
"It's incredibly disturbing that the president of the United States, 10 days after a plot to kidnap, put me on trial, and execute me...10 days after that was uncovered, the president is at it again, and inspiring and incentivizing and inciting this kind of domestic terrorism," Whitmer told moderator Chuck Todd.
"It is wrong. It's got to end," she continued. "It is dangerous, not just for me and my family, but for public servants everywhere who are doing their jobs and trying to protect their fellow Americans."
Trump—a strong proponent of reopening businesses and schools during the coronavirus pandemic—has clashed with Whitmer over restrictions to mitigate the spread of COVID-19 in Michigan on multiple occasions. During his latest reelection campaign event, which took place in Muskegon, Michigan, on Saturday, Trump criticized Whitmer, in part, for her COVID-19 response.
"You've got to get your governor to open up your state, OK? And get your schools open," he told supporters, who proceeded to chant "lock her up!" in reference to Whitmer. Michigan school districts can decide whether to hold classes in-person or online.
"Lock them all up," the president responded to the chants. "Lock her up" was originally used as a rallying cry among Trump supporters against former Democratic presidential nominee Hillary Clinton during the 2016 election.
During her Meet the Press appearance, Whitmer asked "people of goodwill" across the U.S., regardless of their political affiliations, to "step up and call this out and bring the heat down" in discussing the president ahead of November's election.
"This is the United States of America," she said. "We do not tolerate actions like he is giving comfort to. And that's why we all have to be in this together."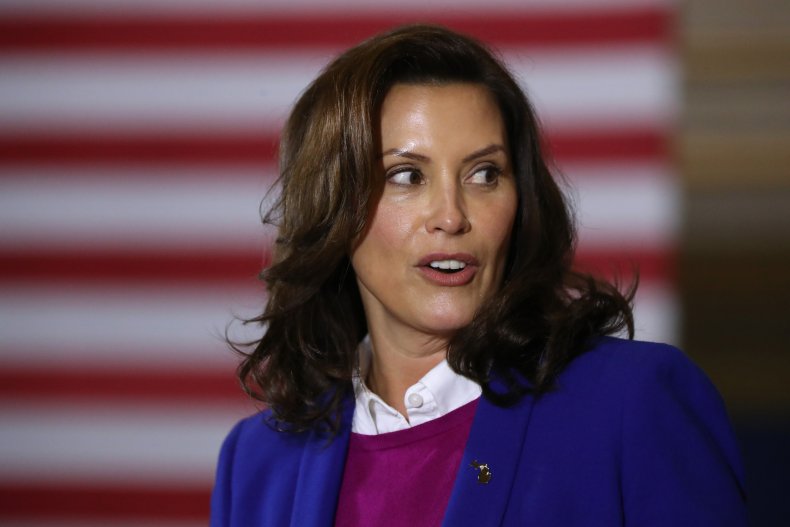 Whitmer's interview comments echoed similar ones included in the governor's initial reaction to Saturday's Trump rally, shared to Twitter Saturday night.
"This is exactly the rhetoric that has put me, my family, and other government officials' lives in danger," she wrote.
Fourteen people have been charged in connection to an alleged plan to kidnap Whitmer, uncovered earlier this month. Eight of the individuals allegedly involved were charged by the state of Michigan, and federal officials charged six others. Michigan Attorney General Dana Nessel's office announced charges against the eighth suspect on Thursday.
Newsweek reached out to Whitmer's office and Trump's campaign for additional comments, but did not receive replies in time for publication.