Michigan Governor Gretchen Whitmer signed an executive order Wednesday evening limiting some of the regulations that typically govern the state's Unemployment Insurance Agency so that Michiganders out of work can receive unemployment benefits faster.
Whitmer, a Democrat, signed the order hours before the federal government announced an additional 3.2 million unemployment claims had been filed nationwide over the past week. Since the coronavirus pandemic began triggering state shutdowns that necessitated business closures in March, more than 33.5 million Americans have filed for unemployment.
"Michiganders everywhere have lost work because of COVID-19, and we must ensure they receive the benefits they're entitled to as quickly and efficiently as possible," Whitmer said in a news release.
According to the U.S. Department of Labor, Michigan officials estimated that 68,952 people in the state had filed for unemployment in the week ending on May 2. The previous week, about 82,000 Michiganders had applied for unemployment, the DOL said.
Officials with Michigan's Department of Labor and Economic Opportunity said in a news release at the end of April that more than 1 million Michiganders had begun receiving unemployment benefits. For several weeks after Whitmer issued a state of emergency in response to the pandemic on March 10, the state's weekly numbers of unemployment claims surpassed 100,000, with officials reporting a spike of 388,554 claims made during the week ending on April 4 alone.
As federal officials worked to beef up unemployment benefits by adding an extra $600 per week through July 31 for those who qualify through the Coronavirus Aid, Relief, and Economic Security (CARES) Act, Whitmer has worked to amend her state's strategy for addressing unemployment during the pandemic. Her most recent executive order aims to "more quickly process unemployment claims" by redefining what it means to involuntarily leave work, lifting the burden of unemployment costs off employers and temporarily removing the requirement that those out of work actively search for work while receiving unemployment benefits.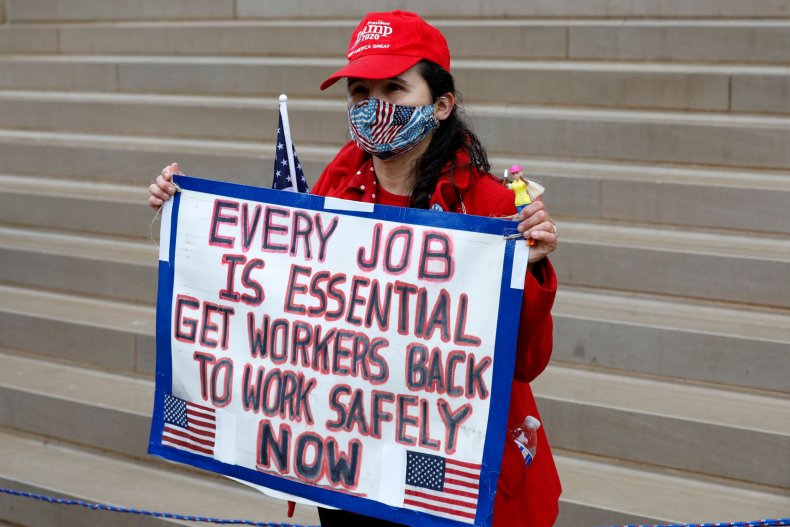 The order expands the list of qualifications for "involuntarily" leaving work due to medical reasons to include several situations related to the pandemic. It specifically mentions individuals who self-isolate due to their elevated risk, those who experience confirmed or possible COVID-19 symptoms and individuals who are either caring for or have been in recent contact with a confirmed COVID-19 patient.
Whitmer said the order would be retroactive to March 16 and would remain in effect "during the declared states of emergency and disaster."
Whitmer's most recent state of emergency extension is set to expire after May 28. The state's strict stay-at-home orders have drawn harsh criticism from Michigan's Republican lawmakers, who earlier Wednesday filed their second lawsuit against Whitmer since the state of emergency began. According to statewide data updated Wednesday, 45,054 people had tested positive for COVID-19 in Michigan and 4,250 had died after contracting the virus.
Though a poll published on April 20 showed a majority of Michiganders supported Whitmer's response to the pandemic, the State Capitol in Lansing has seen a flood of protesters visit its grounds over the last month, with many carrying signs demanding the reopening of the state's economy. According to a WalletHub survey published Thursday, Michigan placed 10th on a ranking of how significantly the pandemic has impacted statewide unemployment, with an estimated 1,387 percent jump in unemployment claims compared with this time last year.