Michigan Gov. Whitmer Criticizes Washington's 'Vacuum of Leadership' as She Unveils New COVID Rules
Michigan Governor Gretchen Whitmer complained about a "vacuum of leadership" in Washington, D.C. after she unveiled a raft of new coronavirus lockdown measures for her state over the weekend.
Appearing on MSNBC on Monday morning, Whitmer said state governors had the responsibility to "save lives" and follow the advice of public health experts in light of the supposed lack of leadership coming from the nation's capital.
The Democratic governor also told Morning Joe that a tweet from White House coronavirus task force adviser Dr. Scott Atlas, in which he called on locals to "rise up" against the new COVID lockdown measures, had taken her breath away.
"The only way this stops is if people rise up," Atlas tweeted about Michigan's latest pandemic orders. "You get what you accept." Atlas later clarified that he "NEVER was talking at all about violence" when he urged Michiganders to "rise up" against the state's new 3-week restrictions plan.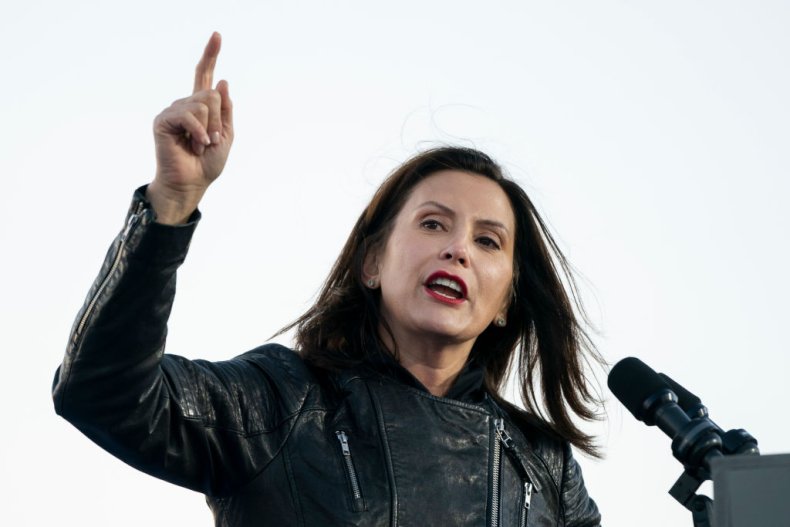 Reacting to the post, Whitmer told MSNBC: "It actually took my breath away, to tell you the truth. We are in the midst of the worst weeks of this pandemic, we've been going through this for nine months and right now the numbers are as bad as they have been at any given time, and so we have to take aggressive measures.
"With the vacuum of leadership in Washington, D.C., it's on the state governors to do what we can to save lives and follow epidemiologists and public health experts."
She then warned that modelling showed as many as 20,000 more people could die in Michigan by mid-February, unless the state took "aggressive action" over the coming weeks.
Newsweek has contacted the White House for a response. This article will be updated with any comment.
Whitmer ordered new COVID-19 restrictions be applied in Michigan from Wednesday in an effort to combat an increase in infections in the state in the run up to the Christmas period. Among the restrictions are bans on dining or drinking inside bars and restaurants for the next three weeks.
Attending classes in person at both colleges and schools will also be barred under the new measures.
According to the latest data from Michigan, a little more than 7,000 new confirmed cases were recorded in the state on Saturday, along with 65 COVID-19 deaths. Over a quarter of a million cases have been confirmed in the state since the start of this year, along with almost 8,000 related deaths.
The graphic below, provided by Statista, shows the number of confirmed COVID-19 cases across every state as of last Monday.