Michigan health officials reported 93 deaths Thursday, the second-highest death toll in the state since Saturday. However, the number of confirmed positive cases went down in number. Although 592 positive cases were reported Thursday, that represents a decrease over Wednesday's number of 592 cases of the virus.
Overall, statistics in Michigan's fight against the virus are showing a decline. During the last week of April, the state was averaging 870 new cases and 116 deaths every day. Numbers decreased during the first week of May with an average of 610 new cases and 79 fatalities per day.
Governor Gretchen Whitmer said Thursday that although Michigan has been able to flatten the curve with mitigation and social distancing protocols, the virus had not left the state.
"I want to be very clear," Whitmer said in a Thursday news briefing. "COVID-19 is still present in Michigan. It is present in 79 out of the 83 counties. And that's why it's terribly important that we not let our guard down now, that we consider this a very real threat, because it is."
Newsweek reached out to the Michigan Department of Health and Human Services for comment. This story will be updated with any response.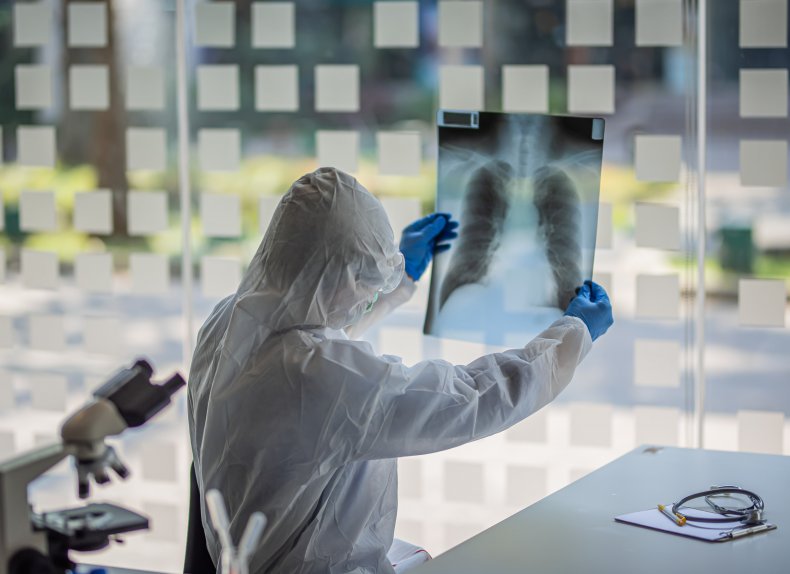 Whitmer announced the extension of both Michigan's stay-at-home order and declaration of a state of emergency during Thursday's news briefing. However, Whitmer also said that workers in the manufacturing industry could return to work on Monday. That includes employees of automobile manufacturers.
Relaxation of some Whitmer's mitigation protocols, including allowing the manufacturing sector to reopen, was included as part of the governor's six-phase plan for reopening the state. Whitmer said the state had already moved past the first two phases—uncontrolled growth and persistent spread—and into the third phase of flattening.
Although social distancing is to be continued, as well as the wearing of face masks in enclosed public areas, the growth of new coronavirus cases is on the decline.
Along with manufacturing, real estate, construction and outdoor work are also allowed with certain safety provisions.
However, Whitmer still warned of the possibility of another spike in coronavirus cases if the proper protocols are not followed.
"The worst thing we can do is open up in a way that causes a second wave of infections and death, puts health care workers at further risk and wipes out all the progress we've made," Whitmer said. "That's why we will continue to monitor the spread of this virus, hospital capacity, testing rates and more as we work toward reaching the 'improving' phase."
Michigan's Republican House Speaker Lee Chatfield tweeted his disappointment with Whitmer's decision Thursday.
"At first, the shutdown was to 'flatten the curve' so hospitals could manage COVID patients. We've done that," Chatfield wrote. "Governor today: 'All the decisions we've made are to lower the possibility of that second wave.' Unemployment still broken. Livelihoods destroyed. Goalposts moved."
Chatfield, along with other Republicans in the Michigan legislature, filed a lawsuit against Whitmer Wednesday in an effort to limit her emergency powers.
Michigan has reported 45,646 total positive cases of coronavirus and 4,343 deaths attributable to the virus, currently making Michigan the state with the seventh-largest death toll in the country. However, according to the Michigan Disease Surveillance System, 15,659 individuals have recovered from coronavirus.