Michigan Hospitals Are Preparing For Latest COVID Spike to Be Worse Than April 2020
Michigan hospitals are preparing for the state's worst COVID spike since the beginning of the pandemic—even worse than when healthcare systems were desperately overwhelmed in April 2020.
"Our surge this time has, to me, been the most challenging. We're at levels that are approaching the surge that we had last April of 2020," Beaumont Hospital Troy's Emergency Center Chief Dr. David Donaldson told Newsweek.
"I think we're all really worried here in Michigan as numbers continue to go up. I suspect we'll have a number that will exceed what we even saw a year ago this time, which will really be challenging for the healthcare system," said Dr. Vikas Parekh, a professor of internal medicine at the University of Michigan.
On Tuesday, Michigan hospitalizations almost reached a record high. The state's Department of Health and Human Services reported 4,011 adults hospitalized with confirmed cases of COVID-19, nearing the previous peak of 4,365 inpatients on April 8, 2020, according to data from the University of Michigan.
Donaldson said that some of the biggest challenges health officials are facing this time is the return of elective surgeries and staffing shortages. He said that while people were afraid to go to hospitals when little was known about the virus last year, emergency departments are returning to pre-pandemic volumes on top of the coronavirus surge.
Hospitals are also seeing more and more nurses leave the workforce, which Donaldson said can be attributed to the burnout of working as a frontline worker throughout the pandemic, as well as school closures that may have required some parents to remain at home with their children.
But the key difference between Michigan's latest COVID spike and previous surges is that the U.K. variant B.1.1.7 has become the dominant strain among patients—a change that has also resulted in a vastly different patient profile.
"Michigan is number one in the country, unfortunately, for a lot of COVID categories right now, and one of them is the number of identified B.1.1.7 cases," Dr. Liam Sullivan, an infectious disease physician at Spectrum Health, told Newsweek.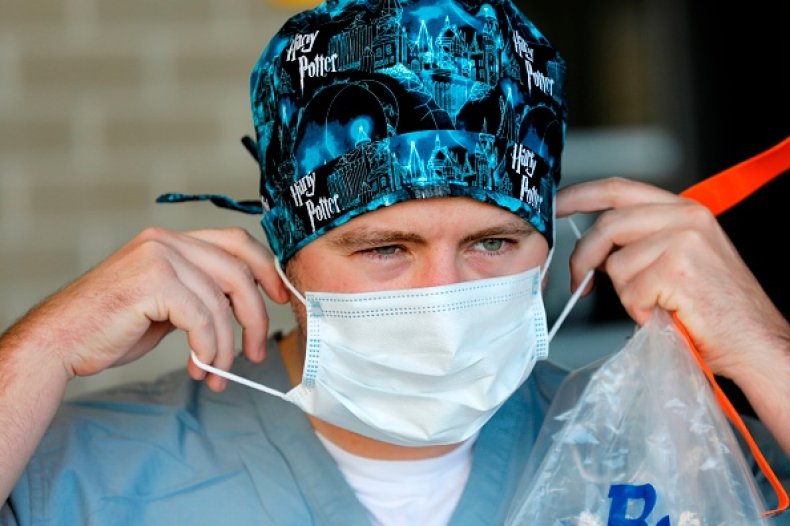 Since B.1.1.7 was first identified, it has been proven to be more transmissible than all previous coronavirus strains. And while more than 3.38 million vaccines have been administered to more than 41 percent of Michigan's population, vaccine eligibility in the state only expanded to include those over age 16 last month, leaving many young people vulnerable to infection. It's created what Sullivan called "the perfect storm."
"Unfortunately, what's happened in Michigan is we've let our guard down and this strain is taking full advantage of that situation. It's sort of a perfect storm," he said. "You've got things opening up, people letting their guard down from COVID fatigue, hope about the vaccination—thinking that the vaccine is going to provide herd immunity a lot faster than it's going to provide herd immunity—and then you got this strain circulating and I think it's a perfect storm."
While hospitalizations are reaching April 2020 levels, the patients filling those same beds are decades younger than those being treated a year ago.
"We're seeing more severe disease in younger adults....They're getting hospitalized at rates that are 60 to maybe 100 percent higher than they did during our fall/winter wave, so that changes the character of who you see in the hospital—a lot more young folks who are really sick. Our ICU is of a younger population now than it was in the winter," Parekh told Newsweek.
Earlier this week, Michigan hit a record high for COVID-19 hospitalizations in children when 49 kids were hospitalized on Monday with either confirmed or suspected cases of COVID-19.
"If you look at the statistics, the number of elementary school kids and middle school kids that have gotten sick with this virus has increased compared to previous [figures], and they are now transmitting the virus more than they did previously," Sullivan said. "Now, you have this younger age population, transmitting this virus more readily to other people who are more vulnerable to getting sick from this disease."
While younger people account for more of Michigan's hospitalizations, hospital officials say that the change in demographic is proof that the COVID vaccines work.
"We just looked at all of our admits recently, and out of all of them, the average was about 56 years old," Donaldson said. "It's really skewed down, which to me, indicates this vaccine is working because that older population, for the most part, is protected."
Compared to the fall, the number of hospital admissions has increased in nearly every age group up to 59, but when looking at data for individuals 60 and above, they've either flatlined or begun declining compared to the state's last COVID surge.
"There's not as much virus spread going on amongst [the older age group] and that's probably largely reflective of the fact that a lot of them have been vaccinated," Sullivan said. "They're being protected, and therefore, we're not seeing hospitalizations in them as much, which is good, because no matter how you cut it, the number one risk factor for hospitalization and death from COVID-19 is age."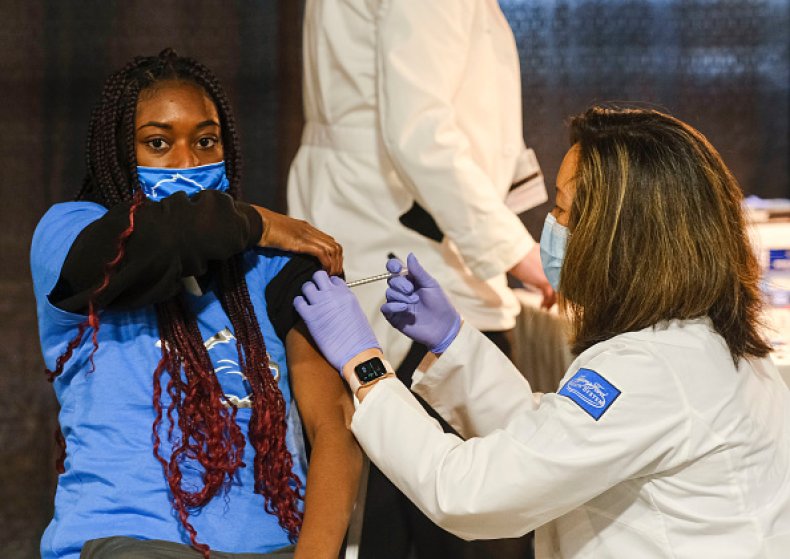 Although Michigan's medical workers are anticipating hospitalizations to continue rising, there is hope that healthcare systems won't be scrambling to find resources a year after the pandemic began.
"What's different this time is we know what to do. This is our third wave here in Michigan of fairly similar severity, so to some degree, the sort of uncertainty is not there. We have plans. We've been through this before. But that being said, at some point, you can only stretch a health system so far," Parekh said.
"Back then, we spilled outside of all of our ICUs. We had to do makeshift ICUs and we did a very good job of creating space in our hospital for ICU patients," Sullivan added. "While we have a good ability to do that, nobody wants to do that again, if it's possible. We want to avoid that. It puts a lot of strain on our personnel. People work long hours and we're tired and weary from the fall/winter surge."
Despite being better equipped to handle an influx of patients, Sullivan acknowledged that he remains concerned that the modeling projections of hospitalizations and positivity rates he is seeing look like the alarming levels Michigan saw in the fall.
And while he doesn't necessarily believe that lockdowns would be an effective way to combat the virus at this time, he said each person has some obligation to do what's in their control to curb the spread of the virus.
"This virus doesn't care about your political, religious, social beliefs. It doesn't care about any of that. The only thing it cares about is propagating itself and spreading from person to person," he said.
Both Sullivan and Donaldson urged Michiganders to trust the recommendation of health officials and get vaccinated.
"The ability to transmit the virus in vaccinated people is almost null," Sullivan told Newsweek. "I think those are the two things [we need to do]—people continuing to practice precaution and getting vaccinated when they have the opportunity to do so."
Donaldson agreed, saying, "In my opinion, that really is the only way out of this. I am nervous there is some vaccine hesitancy and some rumors on social media, but I really think we have to get the message out there that to end this, the only way is vaccines."
Newsweek, in partnership with NewsGuard, is dedicated to providing accurate and verifiable vaccine and health information. With NewsGuard's HealthGuard browser extension, users can verify if a website is a trustworthy source of health information. Visit the Newsweek VaxFacts website to learn more and to download the HealthGuard browser extension.
Correction 04/13/21 5:35 p.m. An earlier version of this story said Michigan's hospitalization peaked on April 12.