Michigan and Detroit Ice Storm Latest: School Closures, Power Outages and Canceled Post
Residents of Michigan have been warned to brace themselves for an ice storm that could severely affect driving conditions and leave thousands without power.
The National Weather Service (NWS) has issued a severe alert from 1:00 p.m. EST on February 6 as a result of sleet and freezing rain accumulations.
According to the Weather Channel, an ice storm is when a "quarter-inch of ice accumulation occurs producing a significant and possibly damaging accretion of ice."
DTE Energy, the Detroit-based diversified energy company, has already warned that the ice storm will result in power outages across the city.
"A quarter inch of ice on a power line is equivalent in weight to a baby grand piano hanging from that same power line," Bryan Calka, director of DTE's field operations, told Fox 2 Detroit. "So the magnitude in terms of weight of what the ice can bring both to our wire as well as to trees is quite significant."
In a tweet, DTE Energy said more than 2,500 DTE employees, including line workers and tree-trimming crews, will be deployed to secure downed power lines.
In a statement, the NWS warned that "treacherous and slick" travel conditions are likely as a result of the cold weather, especially on untreated roadways, bridges or overpasses, and advised motorists to take extra care on the roads.
"Widespread freezing rain, with some sleet, will continue through this morning (February 6)," the NWS said in a severe weather alert.
"There may be a change over to rain before ending in the afternoon due to warming temperatures. Additional ice accumulations of around a tenth of an inch area expected through this morning. Locally higher amounts will be possible.
"Motorists are urged to use caution and account for variable driving conditions by slowing down and allowing extra time," the NWS added.
According to Click on Detroit, the severe weather has also resulted in the closure of at least 519 schools in the state, including 197 in Wayne County, 104 in Macomb County and 158 in Oakland County.
The U.S. Postal Service also confirmed that delivery services have been suspended in the Marquette 49855 area due to the ice storm.
"The safety and well-being of our employees, and the community, is of paramount concern to the Marquette Post Office thus the reason for the suspension," Postmaster John Papciak said in a statement. "We apologize for any inconvenience this weather-related service disruption has caused and are working diligently to resume delivery when deemed safe to do so."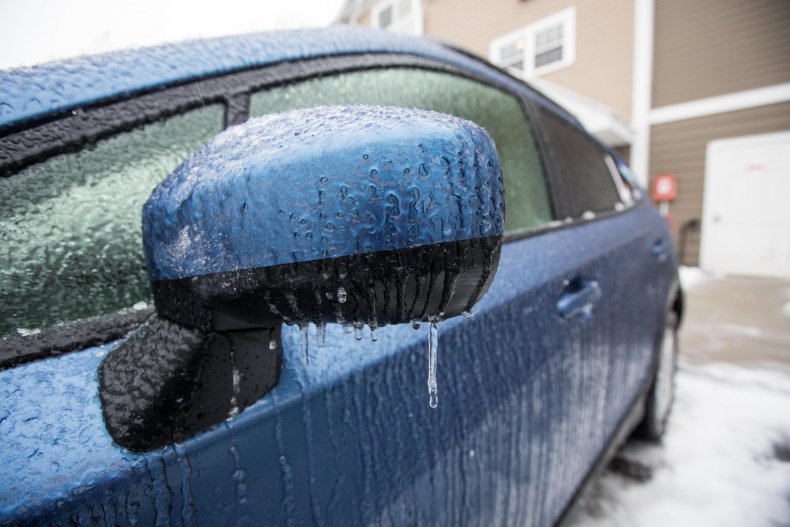 Michigan and Detroit Ice Storm Latest: School Closures, Power Outages and Canceled Post | U.S.