Michigan Judge Rules Against State Efforts to Ban Open Carry of Guns at Polling Locations on Election Day
A judge in Michigan issued a decision on Tuesday that will allow people to openly carry guns at polling locations, and other areas tied to the voting process, on Election Day.
Michigan Court of Claims Judge Christopher Murray issued the decision in response to a directive that Michigan Secretary of State Jocelyn Benson and Michigan Attorney General Dana Nessel announced earlier this month.
While Michigan is an open carry state, Benson and Nessel said in announcing their directive that the intention of the temporary ban was to make sure that "all eligible Michigan citizens can freely exercise their fundamental right to vote without fear of threats, intimidation or harassment."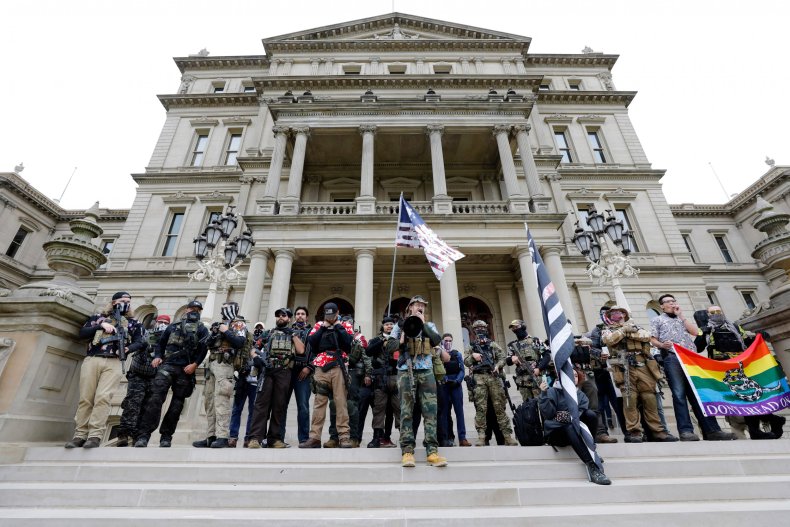 Protesters exercising their open carry rights attracted headlines in Michigan earlier this year as photos and videos depicting their demonstrations against pandemic lockdown restrictions spread. In some cases, the open carry protesters were seen venturing inside legislative sessions at the State Capitol building in Lansing.
The temporary ban introduced earlier this month intended to block people from bringing open carry firearms to polling locations, county clerks' offices and absent voter counting boards on Election Day, according to a news release from Benson's office. The news release said that Benson, Nessel and Michigan State Police would collaborate with local law enforcement to make sure that residents abided by the ban.
"Michigan voters have the right to vote in person on Election Day free from threat and intimidation," Nessel said in the release. "An armed presence at the polls is inconsistent with our notion of a free democracy."
According to The Detroit Free Press, Murray said the timing of the directive was problematic.
"The secretary just didn't do this in the right way and at the right time," Murray said during the hearing, according to the paper.
Murray reiterated his point on the timing of the state's directive in his decision. "Although it is understandable why defendant chose to act now, it is nonetheless true that defendant could have taken these steps months ago—perhaps prior to the August primaries—rather than 17 days before the election," he wrote.
A state attorney arguing in favor of the ban said that some poll workers were hesitant to show up on Election Day due to concerns that residents might arrive with firearms in their possession, according to WXYZ-TV.
Murray's decision said that there are already laws in place to prevent voter suppression efforts.
"State laws—laws passed by the Legislature and signed by the Governor—already provide law enforcement with the tools to stop those whose goal it would be to intimidate voters, whether with or without a firearm," Murray wrote.
In a statement shared with Newsweek, Benson said her office would appeal Murray's decision.
"As the state's Chief Election Officer I have a sworn duty to protect every voter and their right to cast their ballot free from intimidation and harassment," Benson said. "I will continue to protect that right in Michigan, and we will be appealing this ruling."
A statement from Nessel's press secretary, Ryan Jarvi, also said they would quickly appeal Murray's decision. "We intend to immediately appeal the judge's decision as this issue is of significant public interest and importance to our election process," Jarvi said.
With just one week remaining until Election Day, Murray said that the block on the open carry ban at polling locations was unlikely to confuse voters because the ban was introduced so late in the election cycle.
"Because this decision allows the status quo that existed on October 16, 2020 to remain in place, there will be little confusion amongst voters or local election officials, as all prior elections were administered without the additional firearm guidance contained in the directive," Murray wrote.