Michigan, Least Vaccinated Blue State, Is Outsized Donor to Canada Truckers
Americans have flocked to support the anti-COVID mandate protesters north of the border, accounting for more than half of the donations made to the Canadian truckers' crowdfunding page on GiveSendGo.
A Newsweek analysis of the fundraiser's leaked donor information found that while the top four donor states are also the states with the largest populations, Michigan's support for Canadian protesters was larger in proportion to population than the other top donor states (Michigan ranks 10th in the country in population size).
Matt Grossmann, director of the Institute for Public Policy and Social Research at Michigan State University, told Newsweek that Michigan's fifth-place ranking on the top donor list is "not that surprising given that there's well-established anti-lockdown, anti-masking, anti-required vaccination, and just sort of generally anti-Democratic governor [sentiment] in Michigan."
The fundraiser, which could now be subject to an investigation by Canadian authorities, has raised more than $8 million Canadian dollars to demonstrators who have protested the nation's COVID restrictions for more than two weeks in the capital of Ottawa.
Apart from the rallies in Ottawa, demonstrators have also made headlines for blocking a key supply path at the Ambassador Bridge, which connects Detroit, Michigan and Windsor, Ontario.
The blockade was criticized by many U.S. officials, including Michigan Governor Gretchen Whitmer, who urged Canadian Prime Minister Justin Trudeau to move quickly in deescalating the situation at the bridge, where an estimated 10,000 commercial vehicles deliver $325 million worth of goods daily.
"The Ambassador Bridge is the busiest land border crossing in North America, used by tens of thousands of commuters and truck drivers carrying hundreds of millions of dollars of goods every day," Whitmer said in a statement last week. "Countless Michiganders rely on this daily flow of goods and people to get things done."
But Michigan isn't without its own pandemic-related controversies. The Midwest state has the lowest vaccination rate among the blue states, with only 59 percent of its population being fully vaccinated and 65 percent having received at least one dose of a COVID-19 vaccine.
Comparably, in California and New York—which are the first- and fourth-highest donor states—the percentage of fully vaccinated residents is 70 and 75 percent, respectively.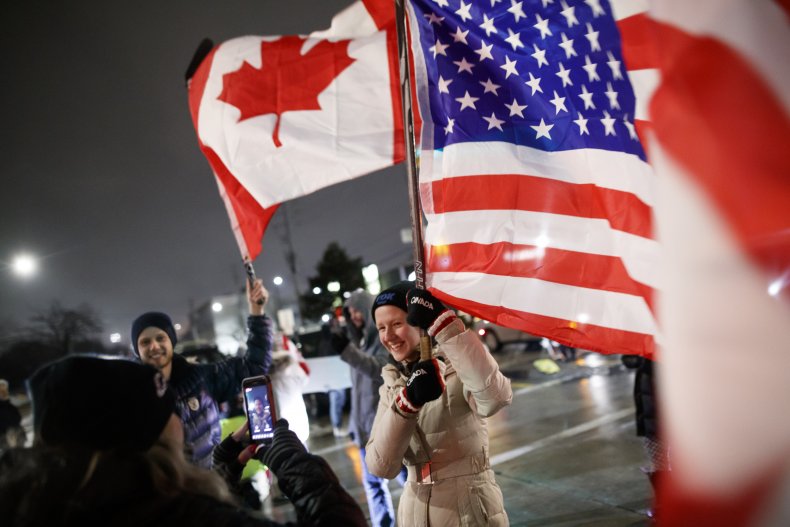 Whitmer has also been among a number of Democratic governors who have had to field widespread criticisms for their relatively stricter COVID responses.
While the governor's initial stay-at-home order received broad public approval—with even 61 percent of Republicans supporting the measure—her decision to extend the lockdown after the first month was met with an eight-hour "re-open" protest by conservative Michiganders.
Protests against Whitmer continued in the weeks that followed, with state police estimating that 20,000 people took part in the "Operation Gridlock" protest on April 15, 2020, and armed protesters storming the state capitol in Lansing just two weeks later.
Almost six months after those protests, the FBI announced the arrests of 13 Michigan men suspected of orchestrating a plot to kidnap Whitmer over her COVID response.
"There were fairly substantial protests against Michigan's COVID policies, but Michigan was also late to end some restrictions on things like restaurants and large gatherings, compared to other states," Grossmann said.
Grossmann said that the state's proximity to their Canadian neighbors may be a motivating factor for Michiganders to get involved in what's going on up north.
"We're obviously very close to Canada, both geographically, economically and culturally, in a way that other states might not be," he said. "So it's not abnormal for Michigan to be sort of more interested in Canadian events."
For example, many of Michigan's auto giants have plants located north of the border, and thus, border closures have real impacts on Michigan jobs.
When Toyota and Ford both halted production last week in response to the blockade, American workers had their shifts canceled.
"Certainly when the auto plants announced their shift closures, it was big news and obviously directly affected people," Grossmann said.
"[The auto industry] has a huge resonance [with Michiganders] because of its history. There are so many people who worked for the auto industry at one point or whose family worked for the auto industry or who came to Michigan to work in the auto industry," he said. "So anything affecting the auto industry, like a shift closure, is going to have a bigger impact than just the direct people involved."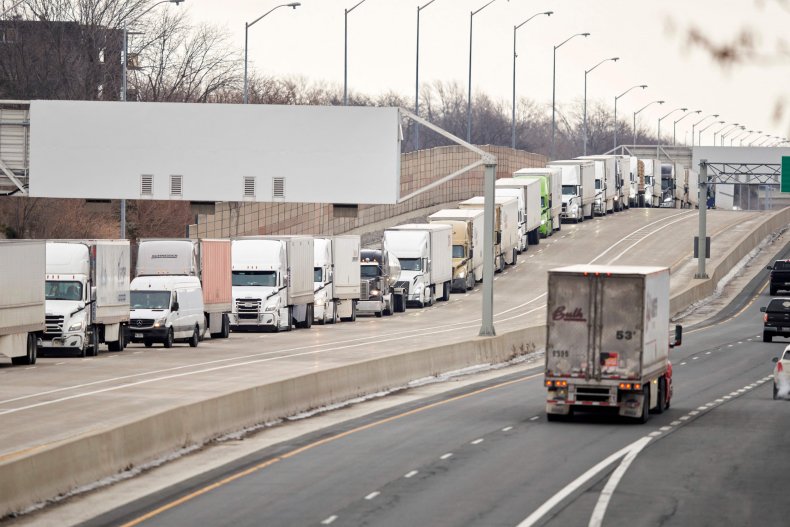 While Michigan donors account for a notable portion of American support for Canadian protesters, Grossmann warned that the figures still only represent a small subset of Michiganders and aren't substantial enough to indicate the political views of the state.
"Somebody who is deciding who to vote for—a Democrat or a Republican—in a gubernatorial election is not going to donate to a political conflict in a foreign country," he said. "These [donors] are probably people who are heavily involved in state and national politics as well."
In an effort to quell the protests, Trudeau invoked emergency powers earlier this week—measures that could target crowdfunding sites supporting the demonstrations, freeze protesters' bank accounts, and ban the blockades at the Canada-U.S. border.
"The illegal blockades have highlighted the fact that crowdfunding platforms and some of the payment service providers they use are not fully captured under the Proceeds of Crime and Terrorist Financing Act," Finance Minister Chrystia Freeland said on Monday.
"We are making these changes because we know that these platforms are being used to support illegal blockades and illegal activity which is damaging the Canadian economy," she added.
It remains unclear how Trudeau's administration plans on applying the new powers to donors of the GiveSendGo fundraiser.