Michigan Man Charged With Wire Fraud Over Scheme to Sell Nonexistent N95 Masks
A Michigan man is facing felony wire fraud charges after allegedly scamming customers fearing the coronavirus out of $140,000 by offering them N95 face masks at inflated prices and then failing to deliver.
Charges against Rodney L. Stevenson II were unsealed by the U.S. Attorneys on Tuesday. Feds say Stevenson was arrested at his home in Muskegon, Michigan but is being charged in California because several alleged victims resided in the state.
"The FBI across the country will continue to be vigilant in deterring, detecting, and investigating wrongdoing related to the COVID-19 pandemic," FBI Special Agent Steve D'Antuono said in a statement. "Stevenson's alleged behavior was reprehensible. Under no circumstances is it permissible to over-inflate the prices of much-needed safety equipment and then either provide substandard product or fail to provide the product altogether."
"The severe penalties for scams like the one alleged here should serve as a warning to others," he added.
Stevenson, 24, faces up to 30 years in prison, 5 years of probation and a fine of $1,000,000 if convicted. He was released on bond after an initial court appearance and is expected back in court on May 18.
Court documents allege that Stevenson offered what he dubbed "Anti-Viral N95" masks online, sometimes charging over $45 for a single mask, through his company EM General. Customers were allegedly told that the masks were "in stock" but never received them after paying, although one victim is said to have received cheap fabric masks after repeatedly complaining.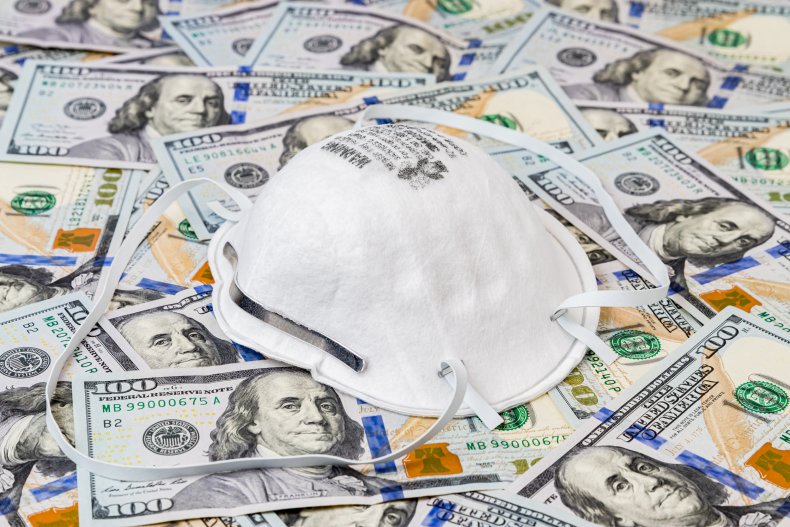 Stevenson allegedly made approximately $140,000 in PayPal transactions occurring mostly from February 5 to February 26, when supplies of masks and protective equipment were becoming scarce due to mounting fears over the COVID-19 threat. Feds say the scheme continued until at least April 15.
In an attempt to create a sense of legitimacy, court documents say Stevenson concocted fake identities for company executives such as "Mike Thomas," the company's purported "Founder & Chief Executive Officer." He allegedly used stock photos to represent the supposed "officers" in EM General.
Stevenson's alleged crimes are being jointly investigated by U.S. Attorneys in California and Michigan, along with the U.S. Postal Service and the FBI. The case is being prosecuted in California.
"The reach of federal law enforcement is long. If someone uses the internet to commit alleged fraud, their victims can be from anywhere and they could find themselves facing those victims and subject to serious federal charges far from home," said U.S. Attorney Andrew B. Birge. "After some preliminary hearings here in West Michigan, all future proceedings related to these very serious allegations will be in Northern California."
The alleged scammer's father, an evangelical pastor, told local media that his son is being subjected to a "witch hunt," claiming that he was not given adequate time to respond to the charges and insisting that his moral character means he could not have been responsible for the alleged scam.
"He is innocent. My son is the most honest person that you'll probably meet," Rodney Stevenson Sr. told NBC affiliate WOOD. "He is an honor student and a devout believer."
"It was just a witch hunt that could have been avoided if they had allowed us to simply respond," he added.
Newsweek reached out to the U.S. Attorney's Office for further information and comment.