Michigan Man Found Guilty of Murdering Step-Grandma With Piggy Bank, Beheading Her
Kenny McBride, 45, was convicted of murdering his step-grandmother and mutilating her body on Thursday, an accusation he has denied.
McBride was arrested in February 2020 after his father came home and found his mother-in-law, Cecilia Gibson, beheaded in their shared home in Bedford Township, Michigan. The 45-year-old pleaded not guilty, and no forensic evidence linked him to the murder weapons; but it took the jury only about two hours to return with a conviction.
Gibson was found dead early in the morning of February 16, 2020, in the family's living room, according to WDIV, and police believe McBride became enraged during an argument with her about his children. They accused him of fatally beating the 79-year-old at least 19 times with a ceramic piggy bank and a metal child gate.
After she died, McBride used three knives to decapitate her and then threw her head into the yard, according to investigators.
Although DNA evidence couldn't link McBride to the murder weapons, Sarah Teeple, a latent print examiner for the Michigan State Police, testified that a bloody handprint found on the edge of the bathtub matched McBride's print, according to The Monroe News. Law enforcement also found a pair of jeans covered in blood that matched Gibson and McBride's DNA.
McBride initially entered a plea of not guilty by reason of insanity but later changed it to not guilty. Testifying before the court, he told jurors he was awakened by his father's yells, which was when he went downstairs and saw Gibson's headless body.
The handprint in the bathtub, he said, was there because he got sick in the bathroom and put his hand on the bathtub so he could turn the faucet on and rinse his mouth, The Monroe News reported.
"I think I started going into shock or something," McBride testified. "Things weren't making sense to me."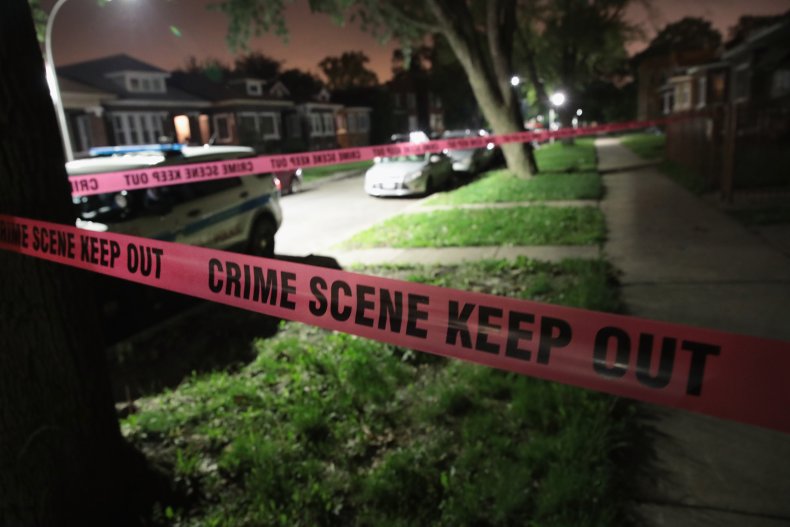 McBride also accounted for the cuts on his hands, which prosecutors highlighted as evidence he was involved in the struggle with Gibson, as having been obtained while working on his car. That story was called into question, though, because earlier in the day he paid a local store to replace his car battery.
During the trial, prosecutors showed a video of McBride in a questioning room dancing, laughing and singing "it's payday." However, the video was struck from the record and jurors were instructed to not factor it into their deliberations.
McBride offered jurors an alternative narrative for who killed Gibson, putting the blame likely on a person to who he owed money to. However, WDIV reported that the 45-year-old wouldn't share the person's name because he feared for himself and his family.
An assistant prosecuting attorney rejected McBride's narrative on the basis that he didn't ever appear to be afraid and if someone outside the family was the killer, they likely wouldn't have entered the house when there were four cars in the driveway or used a piggy bank as the weapon.
"It is difficult to imagine the hatred that must have driven the defendant to commit such a brutal and horrifying murder," prosecuting attorney Michael Roehrig told WDIV. "The jury's verdict was just, and will result in McBride living out the rest of his life in prison."
McBride's sentencing is set for August and he's facing life in prison without the possibility of parole.
Newsweek reached out to Kenny McBride's attorney for comment but did not receive a response in time for publication.