Michigan Official Warns of '5-Alarm Fire' for Democracy Before Trump Visit
Michigan's top election official issued a dire warning for the future of democracy as former President Donald Trump prepares for a rally in support of his allies in the key swing state.
Secretary of State Jocelyn Benson, a Democrat, made the remarks Wednesday in anticipation of Trump's rally this weekend to stump for Republican candidates for two statewide offices. Benson said baseless claims by Trump and his allies that widespread voter fraud marred the 2020 election could spill into the 2022 midterms.
"The threats against our democracy are truly a five-alarm fire and in that fire, Michigan is ground zero," Benson said during a press call.
Benson described the "fire" as a "national, multifaceted, multiyear, coordinated and sophisticated effort to potentially overturn the results of a legitimate presidential election or other elections."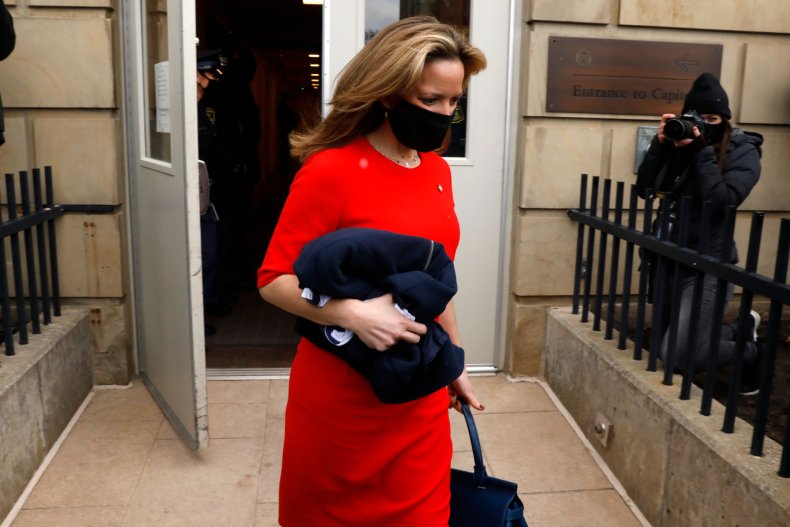 Democrat Joe Biden carried Michigan in 2020 with 154,000 votes. Although the election's results were confirmed by more than 250 audits, Trump has continued to claim the vote was rigged.
Kristina Karamo, a Trump-backed candidate for Michigan secretary of state running in the Republican primary, has repeated charges of irregularities during the 2020 election. She also sought to join a lawsuit by the state of Texas seeking to overturn the results of the election.
Mentioning Trump's coming visit, Benson said "election deniers" now want to be in charge of elections. She said misinformation about the election could fuel violence and that it will continue until those spreading it are held accountable and are defeated at the ballot box.
"Democracy is on the ballot this fall," she said.
Tiffany Muller, president of advocacy group Let America Vote, said Karamo has worked to "subvert and sabotage our elections" and spread "unfounded and dangerous conspiracies."
Trump is also expected to stump for Matthew DePerno, Republican candidate for attorney general. DePerno has said he would "lock up" the Democratic Attorney General Dana Nessel. He's also brought lawsuits based on other conspiracy theories that voting machines were hacked. A Republican-controlled legislative oversight committee called his allegations baseless.
"Donald Trump is coming to Michigan this Saturday to support Ms. Karamo for secretary of state and Republican candidate Matt DePerno for attorney general because he knows that they will do his bidding, rather than upholding our democracy and upholding the will of Michigan voters," said Muller. "We have to actually stop this."
Muller said Let America Vote as well as End Citizens United, a related advocacy group, will spend $7 million in attorney general and secretary of state races across the country, including those in Michigan.
Newsweek has reached out to the campaigns of Karamo and DePerno for comment.
Correction (4/1, 3:20 p.m.): This article has been updated to reflect that Let America Vote as well as End Citizens United will spend $7 million in attorney general and secretary of state races nationwide.