Michigan Official Warns Tally of Nov. 3 Election Could Take a Week, Not a Day
The voting options have changed this year in Michigan for the November 3 General Election, and so have the expectations on how they count the ballots. Voting options are more robust, but ballot tabulation will be slower, according to Michigan Secretary of State Jocelyn Benson.
Benson said Sunday she expects counting votes for the upcoming presidential election won't happen in a day. She expects at least a week, and this is with extra people brought in to help tabulate them.
"The bottom line is, we're not going to have the full results and counting of all of our ballots on election night," Benson said Sunday on NBC's "Meet the Press." "But I'm also laser focused on accuracy and if it takes a few extra days to ensure we have a full and accurate counting of the results of every race, that's what it's going to take.
"With that said, we're increasing tabulators, we're increasing capacity to more efficiently and securely have those ballots."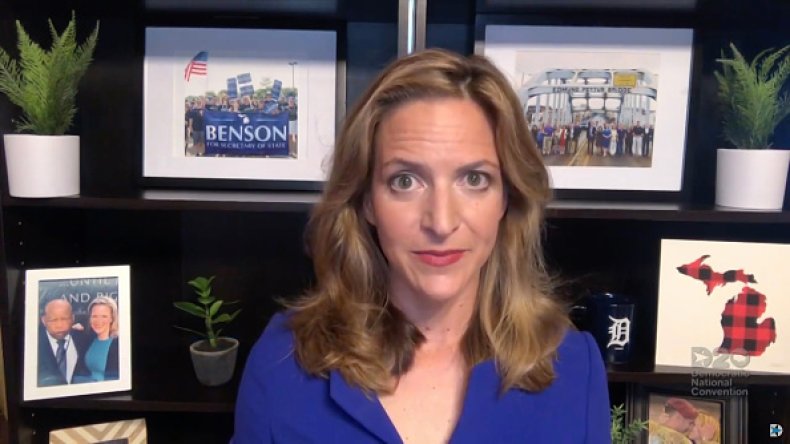 The state will also increase the ways voters can cast their ballots in a time of COVID-19, when some people are more cautious about being near other people—in fear of catching or spreading the virus that became a worldwide pandemic.
There are four ways Michiganians can vote:
Early mail-in ballots
Taking return ballots to drop boxes
In-person early voting at local clerk offices
In-person on Election Day, as all precincts will be open
"We've been able to hone this plan for November through three successful elections that we've had already this year, where we've seen every single one turnout has doubled, putting us on track to have Michigan's November election be the highest turnout ever in the history of our state," Benson said.
In Detroit, which is the state's largest city, the secretary of state's office has entered into a partnership with Detroit Clerk Janice Winfrey's office to make sure there's the "integrity and accessibility" of the election.
Why would the state and its largest city need a partnership for elections, which obviously happen more than just every four years?
While counting the ballots from the Aug. 4 primary in Detroit, about 72 percent of the ballots cast did not match up with the number of those that were recorded. This tally led city and state officials to try and shore up the gap, and perhaps eliminate it.
The new partnership includes seven new satellite offices throughout the city—in addition to the 14 already there—so potential voters can not only register, but also request absentee ballots.