Michigan Parent Disappointed to Become Token Black Guy Who Opposes CRT
A Michigan parent featured in the latest viral video criticizing critical race theory said the fact that he is Black should be considered irrelevant to his opinion that the movement is damaging to students of grade, middle and high school levels.
Ian Rice, 47, who since speaking out against CRT at a Caledonia Community Schools board meeting on June 21, said he's received positive support but has also unwittingly been labeled as the token black man speaking out against the theory.
In the clip featuring Rice that was tweeted by American author and cultural critic James Lindsay and received approximately 13,300 likes and almost 5,000 re-tweets, Rice calmly and concisely told school board and audience members that the CRT movement is not appropriate for younger students and that teachers aren't equipped to teach it. Instead, he said he's noticed educators are using it for their own agenda to indoctrinate young people to hate each other. Rice has since appeared on Fox News and has been contacted by other media outlets including CBS News and Newsmax.
But Rice said that's what's been disappointing since the video went viral is how some have emphasized the fact that it's unthinkable that he as a Black man can have more conservative views and the way some have capitalized on that.
"Media is now trying to turn it into another white and Black issue—there were other people in that board meeting that had just as powerful things to say but the headline went from 'Father sets the board straight' to now 'Black man eviscerates school board'," Rice told Newsweek. "I don't want them talking about 'Well, here's another Black guy talking about CRT.' It should be 'a concerned parent speaks out against CRT.' That's how it started but it's been transformed to 'here's our guy' by those that are against CRT. All that is facilitating and increasing the race divide."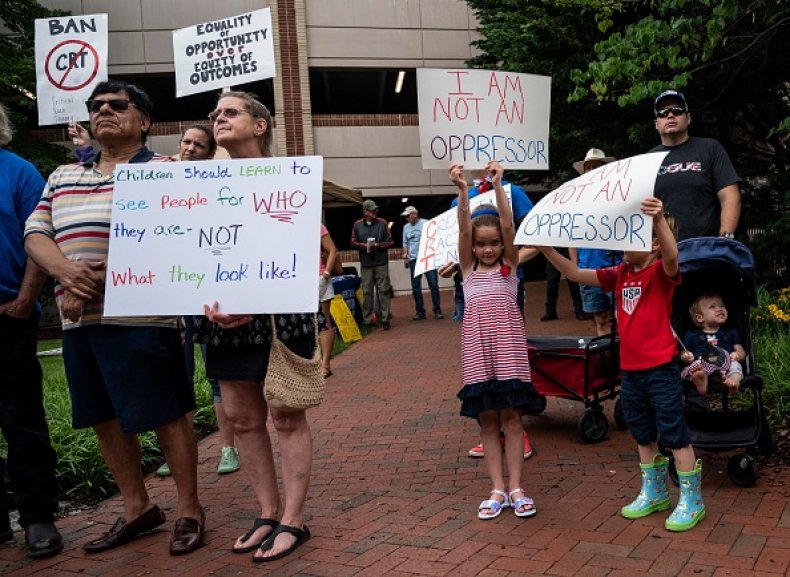 In the two-minute clip, which is actually part of a longer four-minute video, Rice told the board "CRT is teaching that white people are bad. That's not true. That would teach my daughter that her mother's evil," said Rice, who is married to a white woman. He also noted an instance when an educator on staff pulled his daughter aside and told her that because she was a minority she should know better than to engage in certain things. That anecdote received gasps from those parents present before Rice went on to explain that when the incident was brought to the school's attention, nothing happened to the staff member but instead it was his daughter was ridiculed.
"So my question is now with CRT being brought in, what is your criteria to educate the educators and who are you to educate my children or any of our children in life issues?" Rice asked. "That's our job. Your job is to teach them about math and science. Our job is to teach them about life."
Unlike past clips featuring emotional and impassioned parents that have spoken out, it was Rice's calm and collected manner that clearly resonated.
"For me, I was just seeing all those clips where people were getting out of control...you can't have a productive conversation if you elevate your voice and when you're so animated—they're not paying attention to your words at that point," explained Rice, who noted that while CRT isn't yet overtly being taught in the Caledonia School System, he and other parents feel it's leaked in to the curriculum based on some behaviors from some educators.
"I spoke up because I was just feeling like they're getting off track and school officials are under a lot pressure from our government saying 'You have to teach this if you want our funding.' They don't believe they have options," said Rice. "I wanted to send a message that 'parents should speak up and speak truth to chaos and you [educators] will have our support if you speak up'." Rice has his own podcast titled The Common Sense Academy in which he said he looks to find middle ground in conversations because as he said, "Issues need to be talked about otherwise they'll never be solved."
Rice speaking out against CRT follows other recent videos that have gone viral and happen to feature Black men including Ty Smith, a conservative talk radio host who gave an impassioned speech against the movement at a school board meeting in Illinois on June 9.
"When you talk about critical race theory, which is pretty much going to be teaching kids how to hate each other, how to dislike each other. That's pretty much what it's going to come down to," the very animated Smith said. "How do I have two medical degrees if I'm sitting here oppressed?"
In the allotted five minutes he had to speak he also noted that Dr. Martin Luther King Jr. said he wanted his kids to grow up in a world where his kids are judged by the content of their character, not their skin. "If they let this stuff go on right now it is absolutely doing the complete reverse," said Smith.
Prior to that, another Black father received more than 20,000 views on TikTok and more than a million views on social platforms overall after posting his light-hearted yet stern rebuke of the ideology to his TikTok account in May. In the video, Kory Yeshua tells his 7-year-old daughter she "can be anything in this world" she wants to be while he speaks out against the ideology. That's while his endearing daughter agrees, responding "yeah, and it doesn't matter if you're Black, or white, or any color." Yeshua, who has since appeared on Fox News, told Newsweek how overwhelming the response had been.
"[T]he love and people reaching out to let me know I'm doing the right thing and being a good dad...and it's been really emotional—the connection they feel toward my daughter and how passionate people are about this situation."
Meanwhile, as other parents across the country continue to speak out, two people were arrested in late June following a local school board meeting in Loudoun County, Virginia. Those arrests came after one person was accused of trespassing and another was charged with disorderly conduct when a heated debate about CRT and policy on transgender students became out of control.
That's while the country's largest teachers union recently voted to support promoting teaching CRT in K-12 schools. The National Education Association, over the weekend, approved a "new business item" at its annual assembly that establishes a task force for developing a curriculum focused more deeply on race. It also declared it opposes a ban on CRT and the New York Times' controversial 1619 Project that approximately half of the U.S. states have already implemented.
CRT teaches American history with a broader context about the role slavery and systemic racism has played in society. Critics maintain teaching history through a race-based lens is divisive and inappropriate for children.
"We can pitch history in its total package, the good the bad and ugly."
"Every race has atrocities," said Rice. "Kids can care less if there's a Black kid they're playing with—they just want to play with a kid that's fun. Now they're going to send some confusing messages like 'Should I even be talking to that person?' That's not the kind of thoughts to have young kids thinking...when you're constantly beating that into their heads as a racial issue, you're going to have kids form those thoughts."
Among the politicians that have spoken out against the theory are South Carolina Republican Congresswoman Nancy Mace, Republican Sen. Tim Scott and Republican Reps. Marjorie Taylor Greene and Lauren Boebert.
During his address to school board members, Rice also noted his belief that racial tensions and issues across the U.S. are nowhere near what they used to be decades ago.
"Do we have a long way to go? Sure...But I believe the people here don't look at me as a Black man—they look at me as a man standing in front of you addressing an issue that we are all passionate about."
While Rice said he hasn't heard back from any school board members since the June meeting, he noted that Superintendent Dr. Dedrick Martin did try to get in touch.
Newsweek reached out numerous times to the superintendent of Caledonia Community Schools but their phone system said it was unable to complete the call. There was no response to our email inquiry.