Michigan Pastor Faces Backlash for Encouraging Parishioners to Contract COVID: 'Get It Over With'
A Michigan pastor who contracted the coronavirus has encouraged its spread among members of his congregation, despite conflicting recommendations from health officials.
During a November 14 sermon, Bart Spencer, senior pastor of the Lighthouse Baptist Church in the city of Holland, suggested parishioners contract the coronavirus to "get it over with."
"COVID, it's all good. Several people have had COVID, none have died yet," Spencer said at the in-person service. "It's OK. Get it, get it over with, press on."
The church resumed indoor worship services in the spring, at the request of its congregants. Some congregants wear masks and practice social distancing during services, while others don't. Spencer told The Holland Sentinel the church trusts people "to make their own decisions."
A video of the sermon, uploaded to the church's website, was shared in a Facebook group called Holland Happenings, where some residents, concerned about the virus's spread in the Holland community, criticized the pastor's guidance.
One called Spencer's comments "irresponsible," while another wrote, "Don't be [misled] by people like this."
Ottawa County, where Holland is located, has reported nearly 14,000 confirmed cases of the virus since the pandemic began, according to Michigan's tracker.
But Spencer told the Sentinel that he and other elderly family members who were infected have all recovered.
"It's not fun. I lost my sense of taste and smell, but my bout with the flu was worse," he said.
While most Ottawa County residents who have contracted the virus have gotten better, 151 have died from COVID-19, according to the state's tracker. Of the confirmed coronavirus cases in Michigan, 2.5 percent have proved fatal so far.
According to the World Health Organization, the mortality rate for COVID-19 is 300 to 400 times that of the seasonal flu. Preliminary data shows that the virus has a mortality rate between 3 and 4 percent, compared with the "usually well below 0.1 percent" mortality rate of seasonal influenza.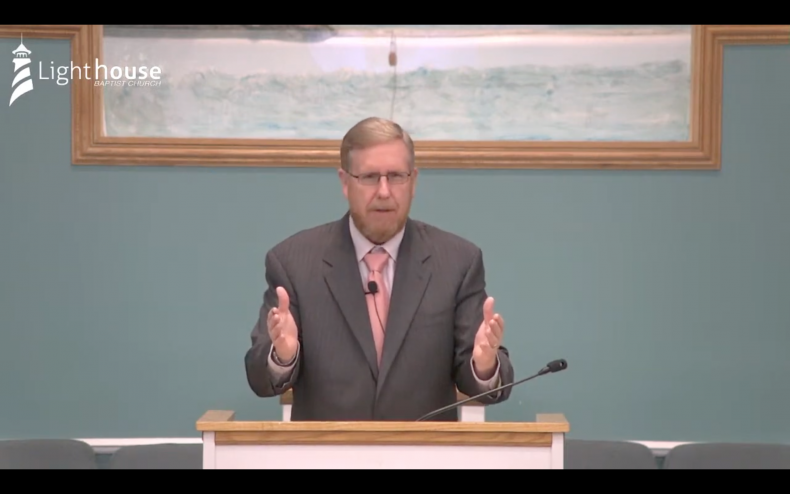 Public health officials have strongly discouraged people from deliberately getting infected by the virus, because complications may linger after the infection period and the novelty of the virus means little is known about its long-term effects.
Some Holland residents defended the pastor's remarks in the Facebook post.
"He is not wrong! One of the OLDEST women in HIS CONGREGATION (which he is speaking to) is sick with covid and is recovering.... Still having a hard time, but is recovering," one user wrote.
"I think it's sad to post something like this and not even know ANY facts or simply glaze over the fact that he is talking to his congregation, whether they are physically [there] or at home and watching it through livestream!" the user said.
Newsweek reached out to Spencer for further comment but did not hear back in time for publication.