Michigan Police Chief Who Tweeted 'Unleash the Real Cops' on 'These Barbarians' in Response to Protests Placed on Leave
Michigan Police Chief Robert Shelide was placed on paid administrative leave after tweets promoting police action against protestors surfaced.
The Twitter account has since been deleted but screenshots show the Chief of Shelby Township Police advocating to "unleash the real cops and let them take care of these barbarians."
"Trump threatening to deploy the military. I have a better idea: unleash the real cops and let them take care of these barbarians. I promise it will be over in 24 hours. Cops are crippled by politicians and the media," read one tweet from the @sheepdawg711 account.
Another tweet called for "body bags" for the demonstrators protesting the death of George Floyd, a group Shelide referred to as "vicious subhumans" and "wild savages."
An investigation has been opened by the township after a unanimous vote by the Board of Trustees. Prior to the meeting, the township issued a statement saying they were aware of the comments.
"At this time, Shelby Township is still gathering facts about the situation, and it is premature to comment any further. Shelby Township will keep the public informed as the situation develops," the statement said.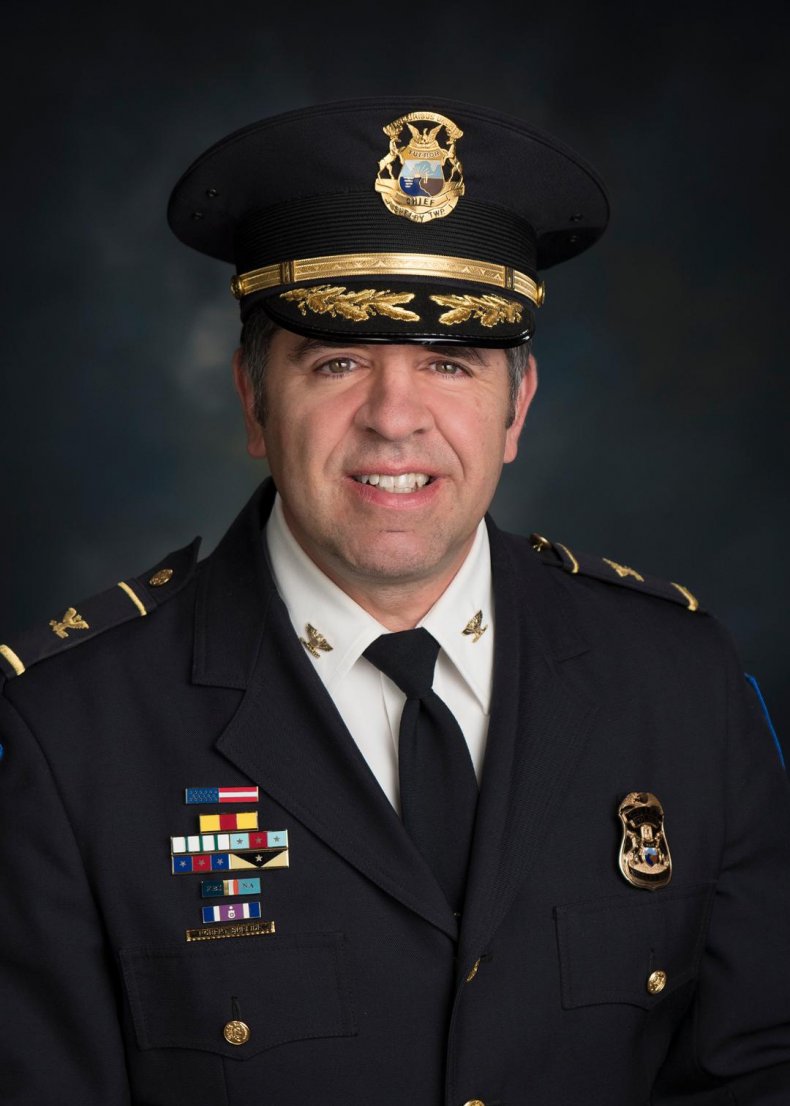 Shelide issued a statement apologizing for his remarks through The Detroit Free Press on Thursday.
"While an apology is insufficient and an insult to the gravity of my comments, I humbly and respectfully ask for the courtesy of forgiveness to those I have offended, to my department and more importantly to those I am sworn to serve," he said.
"My record speaks to the commitment and professionalism that I have exhibited for more than 30 years without incident, both of which were compromised by my emotion. During my administrative leave issued by the department, I will fully cooperate with the investigation, and seek the support and counsel necessary to ensure that my behavior and comments going forward more accurately reflect my character and person."
Newsweek reached out to the Shelby Township Police Department for comment but did not hear back before publication.
According to his biography on the township's police department website, Shelide has been in law enforcement for 34 years and has served as the police chief for six.
He was elected as the President of the Southeast Michigan Association of Chiefs of Police in 2018 and currently serves as the Past President.
At the board meeting, township Trustee John Vermeulen said the veteran officer is "very well-respected by the community and by his fellow officers" and called the social media posts "completely out of character."
Vermeulen added that he "would hate to think we are putting him on paid administrative leave only to find out he was exercising his First Amendment rights."
"Secondly, my concern is that we may be putting our law enforcement and our military in too much political correctness microscope," Vermeulen said.
He said that a deputy chief will take on Shelide's role in the interim.
Newsweek reached out to the Vermeulen for comment but did not hear back before publication.