Michigan Rep. Justin Amash Launches Exploratory Committee to Seek Libertarian Party's Nomination for President
Michigan Congressman Justin Amash on Tuesday launched an exploratory committee to seek the Libertarian Party's nomination for president.
Amash, who left the Republican Party last July and became an Independent, made the announcement in a statement shared to Twitter today. "Today, I launched an exploratory committee to seek the [Libertarian Party's] nomination for president of the United States," he wrote. "Americans are ready for practical approaches based on humility and trust of the people."
"We're ready for a presidency that will restore respect for our Constitution and bring people together. I'm excited and honored to be taking these first steps toward serving Americans of every background as president," Amash added.
The congressman first floated a potential run for the White House against President Donald Trump earlier this month after Trump claimed that he has "total authority" to override state governors' stay-at-home orders amid the pandemic.
"Americans who believe in limited government deserve another option," Amash tweeted on April 13 in response to Trump's remark. When a user commented "please be you," Amash responded: "Thanks. I'm looking at it closely this week."
Newsweek reached out to Amash for additional information. This article will be updated with any response.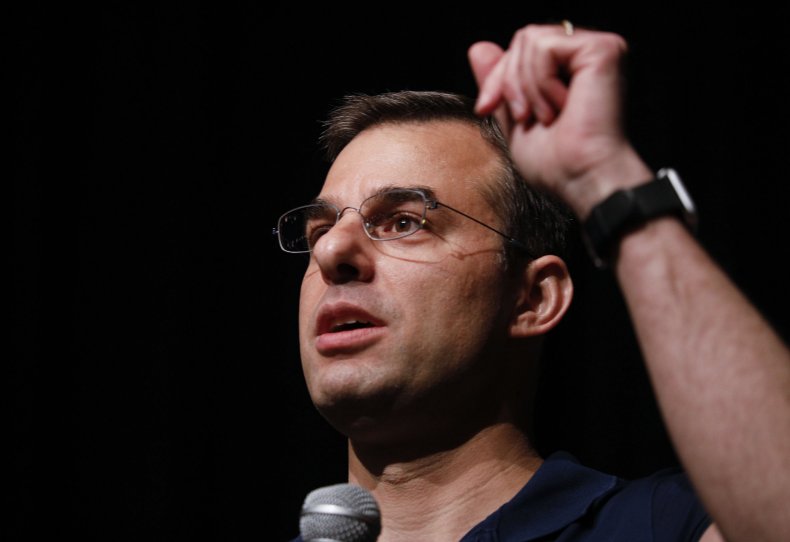 Joe Hunter, communications director for former New Mexico Governor Gary Johnson's 2016 Libertarian presidential run, told the Hill that Amash would "be acceptable to a lot of Libertarians, but also to a lot of those 'Never Trump' Republicans."
"Of all the candidates out there, he's at the top of the list of those that can bring us to a tipping point, where a third party or independent candidate convinces the media and donors that he or she can be relevant and have an impact on the race," Hunter added.
Amash shared a link to his campaign website moments after this announcement today. "For something new. For a government that secures our rights. For equality before the law," the description of his campaign read. "For an end to cronyism. For a government that fulfills its purpose and recognizes its limits."
Republican Congressman Paul Gosar tweeted "let's not" in response to his new campaign.
The Michigan lawmaker's staunch criticisms of Trump and his administration has caused his public profile to soar in recent years. Last October, Amash vowed to join House Democrats in their efforts to impeach Trump. Months earlier, he argued that former special counsel Robert Mueller's 448-page report on interference in the 2016 election provided Congress with enough evidence to prove the president had committed offenses that were impeachable.
Trump was eventually impeached by the House last December, before the Senate later acquitted him in February of charges that he obstructed Congress and abused his power.