Michigan Reports Nearly 19,000 Same-Day Voter Registrations—More Than Trump's Margin of Victory There in 2016
Michigan reported on Tuesday afternoon that nearly 19,00 people have already done same-day voter registration in the state—which is higher than President Donald Trump's margin of victory in the key swing state during the 2016 presidential election.
Trump won a total of 2,279,543 votes in Michigan in 2016 compared with 2,268,839 that cast ballots for former Democratic presidential candidate Hillary Clinton. The president carried the state with just 10,704 votes. His narrow victory in the Midwestern state came after former President Barack Obama carried the state in 2008 and 2012, as did Democratic candidates in every presidential election going back to 1992.
Tracy Wimmer, director of media relations for Michigan's Secretary of State Jocelyn Benson, told Newsweek in an email that as of 2:30 p.m. a statewide total of 12,530 people registered to vote on Tuesday, the same day as the election.
Later on Tuesday, the Secretary of State's office announced that the number of same-day voter registrations had risen to 18,882. A spokesperson projected that the number could rise further, possibly reaching 25,000 to 30,000 before the polls close.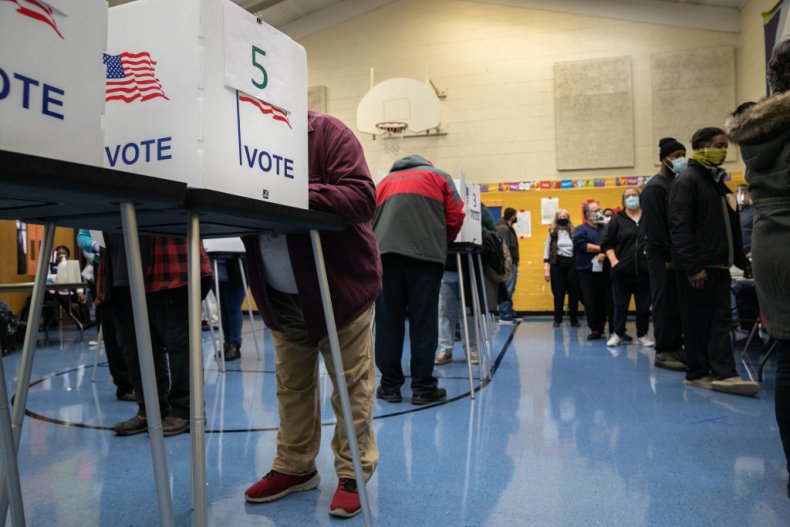 It's not known whether these newly registered voters planned to support Trump or Democratic presidential nominee Joe Biden. Michigan does not require voters to register with a specific political party.
Jonathan Oosting, a political journalist with the nonprofit news organization Bridge Michigan, reported via Twitter that that there were reports of long lines at clerks' offices in Ann Arbor, the location of the University of Michigan, and by Grand Valley State University. He pointed out that same-day voter registration is a popular option in college towns. National polls show that younger voters are significantly more likely to support Biden and Democrats.
Same-day voter registration was not allowed in Michigan during the 2016 presidential election. The law was changed after Michiganders approved Proposal 3 during the 2018 midterms. In total, 21 states and Washington, D.C., currently allow same-day voter registration for presidential elections—including Alaska, California, Colorado, Connecticut, Hawaii, Idaho, Illinois, Iowa, Maine, Maryland, Minnesota, Montana, Nevada, New Hampshire, Rhode Island, Utah, Vermont, Washington, Wisconsin and Wyoming.
Michigan is seen as a key swing state that both candidates aim to win in order to secure victory in the Electoral College. Biden hopes to win the state back for Democrats while Trump aims to maintain ground that he gained for Republican in 2016. The latest polling out of the state suggests Biden is favored to win—but his lead in most polls is within the margin of error.
The current Real Clear Politics average of Michigan polls shows Biden leading in the state by just over 4 percentage points. The Democrat is backed by an average of 50 percent of the state's likely voters while Trump is supported by just 45.8 percent. Morning Consult's final polling out of Michigan showed Biden ahead of Trump by about 7 points—or 51.8 percent to 44.5 percent. An October poll by Fox News showed Biden ahead by 12 points, with just 40 percent of likely Michigan voters supporting Trump and 52 percent backing Biden.
Update, 11/02/20 6:37 p.m.: The headline and content of this article have been updated to reflect the increase in the number of same-day voter registrations as reported by Michigan's Secretary of State's office.