Michigan Republican Lawmakers Call for Respecting Democratic Process After Trump Alleges Voter Fraud
Several Republican lawmakers from Michigan have urged voters to respect the Democratic process, while saying all votes need to be counted as President Donald Trump has alleged "voter fraud" and argued to "stop the count" of ballots.
Democratic presidential nominee Joe Biden leads Trump by 2.7 percent, or about 146,000 votes, in Michigan after ballots were counted. Trump has baselessly claimed that the former vice president won the state through fraud. The president's supporters have been protesting in Detroit, calling on Wednesday for ballot counting to stop after Trump's campaign issued a statement urging the process to be halted.
"Real simple—all the Michigan ballots received by the poll closing deadline need to be counted openly and accurately. Period. If there are irregularities, show the evidence and investigate. I have not heard from any clerks in my district that there were irregularities in the process," Representative Fred Upton, a Republican representing Michigan's 4th District, said in a statement emailed to Newsweek on Friday. "The democratic process and the voices of the American people must be respected."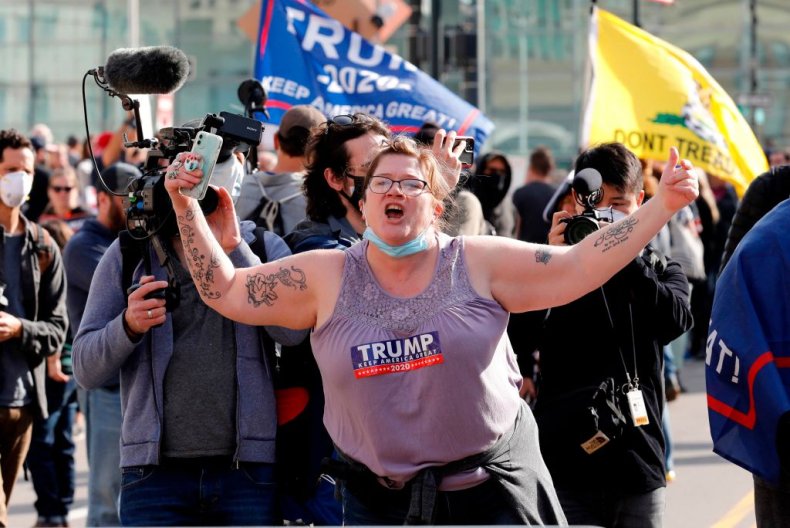 Representative Paul Mitchell, a Republican representing Michigan's 10th District, shared a similar message in a Thursday Twitter post.
"Every legal vote should and will be counted—as they always are. Where there are issues there are ways to address them. If anyone has proof of wrongdoing, it should be presented and resolved. Anything less harms the integrity of our elections and is dangerous for our democracy," Mitchell wrote. The GOP congressman did not seek re-election after announcing his retirement from Congress in July 2019.
"A legally cast vote does not become 'illegal' simply because a candidate does not like the vote—let's remember this is AMERICA," Mitchell tweeted on Friday.
Representative-elect Peter Meijer, a Republican for Michigan's 3rd District, said voters should trust the counting process. The congressman-elect will fill the seat of Representative Justin Amash, an independent who left the Republican Party over staunch disagreements with Trump and his GOP colleagues. Amash did not seek re-election.
"We've often seen in close races that it comes down to (a delayed count), and that's not a failure of the process, that's the process working.… It's incredibly important that all Americans have faith in the electoral system," Meijer said in a statement to MLive.
Newsweek reached out to Mitchell and Meijer for further comment, but they did not immediately respond.
Amash, who now identifies as a Libertarian, also criticized Trump in a Thursday Twitter post. "Half-truths and deliberate obtuseness are two hallmarks of the Trump presidency," the congressman wrote.
Voter fraud at the level Trump is alleging would be nearly impossible to pull off successfully. As Biden leads Trump by some 146,000 votes, this would mean Democratic operatives had somehow filed ballots on behalf of tens of thousands of individuals using their social security numbers, state ID numbers and signatures without their consent. Such a plot could easily be discovered by township and county clerks who review and receive absentee ballots.
Multiple studies have shown that voter fraud is incredibly rare in the U.S. Research by the Brennan Center for Justice at the New York University School of Law found that voter fraud incident rates in the U.S. were somewhere between 0.00004 percent and 0.0009 percent, which is statistically about zero. Another analysis by Justin Levitt, a law professor at Loyola Law School, uncovered just 31 incidents of voter fraud across the nation from 2000 to 2014 despite some 1 billion ballots being cast.
Michigan has historically gone blue for Democrats in presidential races, with Trump's narrow 2016 victory in the Midwestern state being the recent exception. Trump carried the state in the last presidential election by less than 11,000 votes, or a margin of just 0.2 percentage points. The president's win in Michigan came after Democratic presidential candidates had carried the state in every presidential election going back to 1992.