Michigan Republicans realized they couldn't outright cancel their presidential primaries as four other states have done, so they instead changed the rules basically ensuring President Donald Trump receives all delegates.
Republican Party officials in Michigan altered the state's primary election and party delegate apportionment rules requiring candidates to receive at least 20 percent of the primary vote in order to receive any delegates at all. This marks a 5 percent uptick from the previous 15 percent candidate minimum and also indicates that any candidate who received 50 percent or more of the primary vote will receive every single one of Michigan's delegates, MLive.com first reported. This means Trump's long-shot GOP opponents -- former South Carolina congressman Mark Sanford, former Massachusetts Governor Bill Weld and former Illinois Rep. Joe Walsh -- are entering an even more all-or-nothing race in one of the country's key election states.
Michigan Republican Party spokesperson Tony Zammit declined to share a full document or list laying out all of the GOP's changes with MLive, but Zammit noted it's "not unusual" to change delegate rules every election cycle.
"I think what the rules reflect is to try to reflect the will of the voters in Michigan," Zammit added.
Republicans in four other states including South Carolina, Arizona, Kansas and Nevada have all closed off their primaries in order to prevent any Trump challengers from drawing resources or attention away from the president's 2020 reelection bid. Tom Shields, a Republican strategist and founder of PR firm Marketing Resource Group told the Michigan publication this is not rare in either the Democratic or Republican party.
"Both parties tend to take actions that support the current president of their party," Shields said over the weekend. "We saw the Democrats build rules in with super delegates four years ago which made Hillary Clinton a prohibitive favorite."
Trump has blasted his primary challengers as "The Three Stooges" and personally attacked each of them on Twitter over the past few months. The president defended his party circling the wagons around his campaign while speaking to reporters outside the White House Monday, arguing the GOP officials in the four states are simply trying to save money.
"The four states that canceled it don't want to waste their money," Trump said. "If there was a race, they would certainly want to do that. But they're considered to be a laughing stock. They're considered to be a joke. And those four states don't want to waste their money. Having primary campaigns and having a primary election is very expensive."
Walsh, the former congressman and Trump primary challenger, accused his party of disenfranchising their own voters and silencing any and all opposition to Trump.
"South Carolina, Arizona, Kansas, and Nevada just cancelled elections. On orders from Trump. Cancelling elections should never happen in America. Russia, China, maybe. But not America," Walsh tweeted last week.
If Trump believes the three GOP primary challengers are of any serious threat he has not expressed as much on his favorite social media platform.
"Can you believe it? I'm at 94% approval in the Republican Party, and have Three Stooges running against me. One is 'Mr. Appalachian Trail" who was actually in Argentina for bad reasons....Another is a one-time BAD Congressman from Illinois who lost in his second term by a landslide, then failed in radio. The third is a man who couldn't stand up straight while receiving an award. I should be able to take them!," Trump tweeted August 27.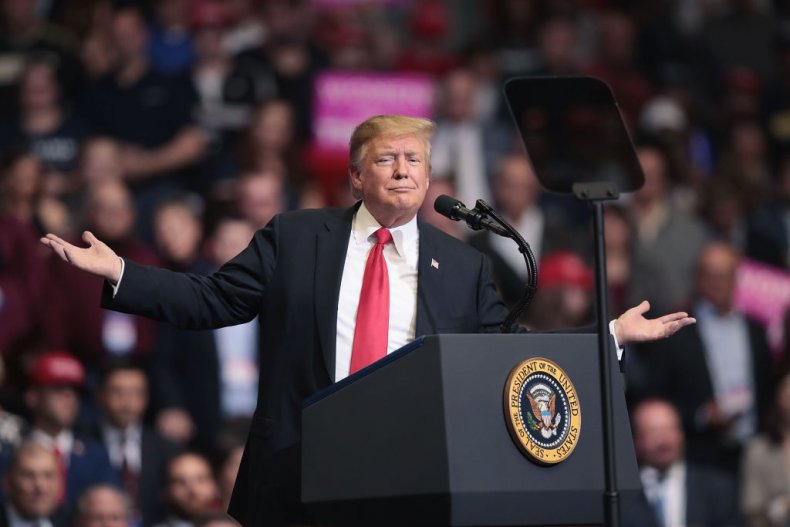 Among Trump's many dubious election claims, the president has claimed since he was a Republican candidate in 2016 that Michigan named him "Man of the Year." Trump claimed he was bestowed the title simply for saying other countries are stealing America's cut of the automobile manufacturing market.