Michigan Republicans Move to Clip Whitmer's Wings in Battle Over Lockdown Extension
Michigan Governor Gretchen Whitmer is expected to announce an extension of her state's stay-at-home order on Friday, pushing the expiration date out until May 15. In response, state Republicans said they would work to limit Whitmer's powers during emergency situations.
"We have work yet to do," Whitmer told MSNBC's Stephanie Ruhle on Thursday. "We are still not out of the woods."
"I will be issuing another order, Whitmer continued. It will permit some activity if our numbers continue to go down and our testing continues to go up. But it's too early to say precisely what each wave looks like and when it happens."
Whitmer's potential extension of the stay-at-home orders caused Republicans to spring into action.
"The House & Senate will convene tomorrow to create a special oversight committee on COVID-19 to examine our government's response," tweeted Michigan Republican House Speaker Lee Chatfield. "Michigan needs to handle this pandemic seriously yet properly. It's what the people deserve, and we will see that it happens. #InThisTogether"
However, Whitmer's office told the Associated Press Thursday that any such attempt would be vetoed. Whitmer spokesperson Tiffany Brown said Whitmer "will not sign a bill that would diminish her ability to protect citizens of this state from a deadly disease that has already killed thousands of people in Michigan."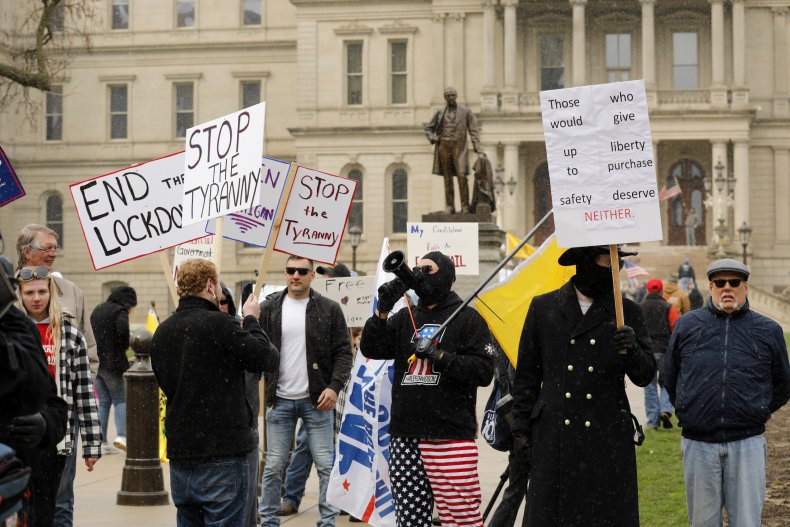 "Republicans should save their stunts for a time when Michiganders' lives aren't on the line," said Michigan Senate Minority Leader Jim Anachich in a statement. "The last thing Michigan needs is a bunch of senators in a room congregating, risking exposure and potentially taking the virus back to their constituents and communities."
Governor Whitmer said she was considering another "short-term" extension of the orders during a Wednesday news briefing, explaining that when Michigan starts to "reengage, it will have to be very thoughtful and precise."
"I'm as eager as anyone to reengage our economy," Whitmer said, "but we have to be really smart about how we go about it."
Whitmer's original extension of the stay-at-home orders to April 30 angered some people who wished to see the state open for business more quickly.
Michigan House Speaker Lee Chatfield said at the time that Whitmer's extension would make families "continue to struggle under a one-size-fits-all approach that puts fear ahead of public safety."
Protesters gathered at the state capitol calling for an end to Michigan's social distancing measures, an event that Whitmer called "essentially a political rally."
"This is the kind of behavior that extends the need for a stay-at-home order," Whitmer told MSNBC in April. "That spreads Covid-19, that overruns communities."
Michigan was one of the states hit hardest by the coronavirus with recent data indicating 35,291 confirmed positive cases of the virus. Over 2,900 fatalities in the state have been attributed to the illness.