Michigan Restaurants and Bars Set to Reopen Dining Rooms on Monday as State's COVID-19 Cases Fall
Michigan's restaurants and bars are permitted to resume dining services on Monday, after close to eleven weeks of mandated closures imposed near the onset of the novel coronavirus outbreak. The development comes as Michigan sees a general decline in new cases and deaths related to the respiratory syndrome, while health authorities increase diagnostic testing procedures statewide.
Michigan residents have pushed back against Governor Gretchen Whitmer's stay-at-home order, which directed nonessential businesses to close and limited food service establishments to takeout and delivery, for months. As some industries began to reopen across the state earlier in May, representatives from the Michigan Restaurant and Lodging Association (MRLA), which advocates for members of the state's hospitality sector, issued a request to Whitmer that called for reopening dining rooms by the end of May.
The organization's president, Justin Winslow, responded to news of Monday's reopening date after Whitmer announced it last week.
"Michigan's beleaguered hospitality industry welcomes Governor Whitmer's announcement today to reopen restaurants statewide," he said in a statement, acknowledging that many establishments have suffered financial consequences as a result of limited service offerings. "While today is an important milestone for the restaurant industry, this is just the beginning of our important work of keeping restaurants open, helping them survive so that one day soon they may thrive."
Michigan entered phase four of its five-staged reopening plan last Monday, when Whitmer terminated the state's safer-at-home order and announced retail establishments were permitted to reopen on June 4, followed by restaurants and bars on June 8. Industries allowed to resume services are expected to abide by certain safety regulations put in place to mitigate further transmission of the novel virus.
"This coming Monday, restaurants can reopen for indoor and outdoor seating, so long as tables can be kept six feet from one another. That means you must maintain social distancing in these places and wearing your mask and making sure that you continue to do your part," Whitmer said at the press conference, adding that food service businesses are required to operate at 50 percent of their maximum occupant capacities.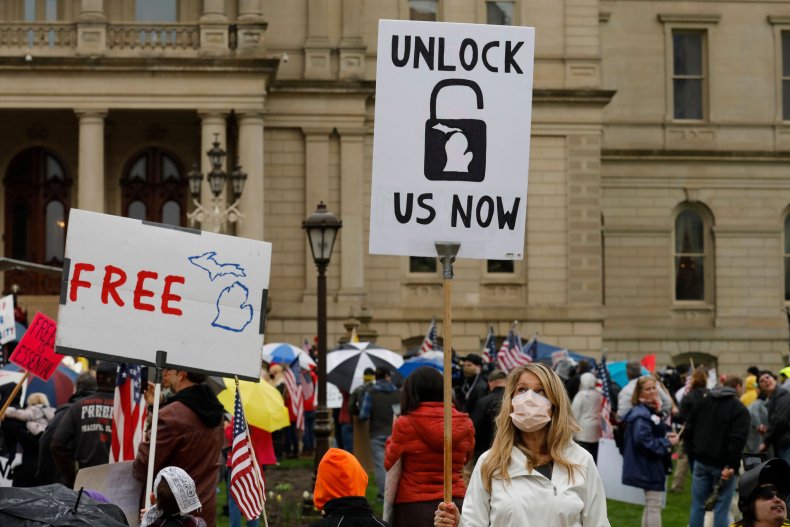 In an additional statement released to the governor's website, Whitmer credited the reopening development to downward trends in Michigan's virus data, reflected in recent reports from the state's Department of Health and Human Services.
Though Michigan reported one of its highest single-day increases in new virus diagnoses on May 12—1,474 additional cases—health officials otherwise confirmed lower numbers throughout the month, compared to those confirmed in April. The department's latest report, updated Saturday, confirmed 224 new cases and 36 additional deaths from the illness, bringing the state's totals to at least 58,749 positive diagnoses and 5,652 fatalities over the course of the pandemic.
Michigan health authorities have expanded efforts to identify virus infections in recent weeks, administering at least 10,000 diagnostic tests almost every day since May 5, according to the state's virus dashboard. The information published notes that between 15,000 and 20,000 people were tested on several of those days. While Michigan continues to report new cases daily, the percentage of individuals testing positive has generally decreased over the last six weeks.
Newsweek reached out to Whitmer's office and the MRLA for additional comments regarding Monday's reopening, but did not receive a reply in time for publication.