Michigan Restaurant Owner Shares Letter Explaining Refusal to Shut Down
The coronavirus pandemic has left Michigan restaurant owners with no easy options, as they grapple with the possibility of losing their businesses due to shutdown measures, or risk going under because of the incredibly high fines they might incur for staying open in defiance of the state's orders.
A number of restaurant owners have opted for the latter, including Amy Heikkinen, co-owner of Café Rosetta in Calumet. Heikkinen and her brother have continued serving customers inside of their lunch and breakfast den despite Michigan's current COVID-19 restrictions, which mandate that restaurants discontinue indoor service.
Governor Gretchen Whitmer announced the partial lockdown, which brought the closure of many bars, restaurants and cafés, in November. In a Detroit Free Press op-ed on Thursday, Heikkinen wrote that she never doubted Café Rosetta would remain open, no matter what regulations were put in place.
"How can the stores across the street still be open and the big box store ten miles away have wall-to-wall people but we can't serve any customers? It doesn't make sense. There is no way I am going to lay off my employees and not have the finances to pay my bills," Heikkinen wrote.
The restauranteur's decision to continue indoor dining has come with a tremendous price. "If it weren't for the community that has supported me, I would collapse. We are now being fined $1,000 a day from MDHHS for being open for indoor dining," she wrote, noting that she's received a fine every day since November 25.
"I do the math, $34,000. I cannot afford the fines. I cannot afford to close," Heikkinen added.
Heikkinen isn't alone in this battle. Dozens of restaurants have continued to seat customers indoors, including the Sandusky Family Diner, the owner of which was recently ordered to appear before a Sanilac County Circuit Court judge over his refusal to shut down indoor operations. Troy Tank, managing partner of the restaurant, received at least 10 citations from the health department before he was scheduled to appear in court over the matter, but he maintained recently that he wasn't breaking any laws by remaining open.
"We're refusing to follow an order, and this is different," he told local outlet Bridge Michigan on Tuesday.
Meanwhile, 18 bars and restaurants across the state have temporarily lost their liquor licenses over COVID-19 violations like providing indoor service, allowing gatherings and not enforcing face-covering mandates.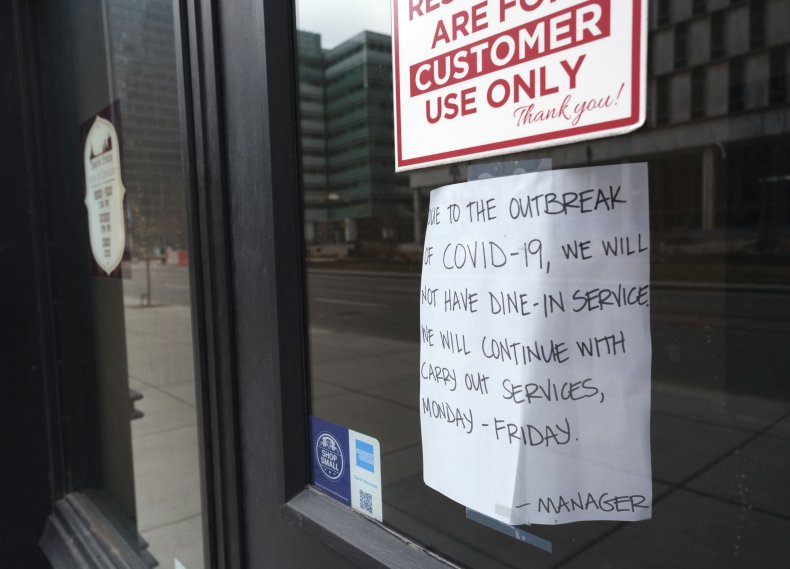 Only outdoor seating, take-out and delivery service is currently permitted in Michigan. The COVID-19 restrictions were originally intended to last from November 18 to December 20. However, Governor Whitmer is expected to give an update on the status of the restrictions and reveal whether or not limitations will be extended on Friday.
Although health officials have noted that cases and hospitalizations have decreased since restrictions were put into effect, the number of infections hasn't fallen as much as the health department had hoped. Across the state, 4,024 new cases were confirmed on Thursday, bringing the total number in Michigan up to 450,776. More than 11,200 people in Michigan have died from the virus since it first emerged in the U.S. earlier this year.