Michigan Schools Close as 375 Kids Under 12 Tested Positive for COVID Every Day Last Week
Each day last week, over 375 children under the age of 12 contracted COVID-19 in Michigan, and data from the state reveals that 56 percent of all new COVID-19 cases in Michigan were from K-12 schools.
"In all, new and ongoing outbreaks and clusters affected at least 104 schools, causing children to lose instruction time because of illness or quarantine," according to the Detroit Free Press. Each of these outbreaks affected up to 87 students and staff members. The state of Michigan defines an outbreak as an "occurrence of more cases of disease than expected in a given area or among a specific group of people over a particular period of time, in a more limited geographic area."
Evart Public Schools in Osceola County were among the schools affected. In a September 21st update sent out to parents, Superintendent Shirley Howard announced that students would move to a virtual setting from September 22 to 29 in order to combat the spread of the virus.
"We are doing everything possible to keep our students safe, healthy and face to face," Howard said. "We believe that closing school now will help to break the cycle of our high absenteeism due to positive Covid cases as well as the quarantining of close contacts."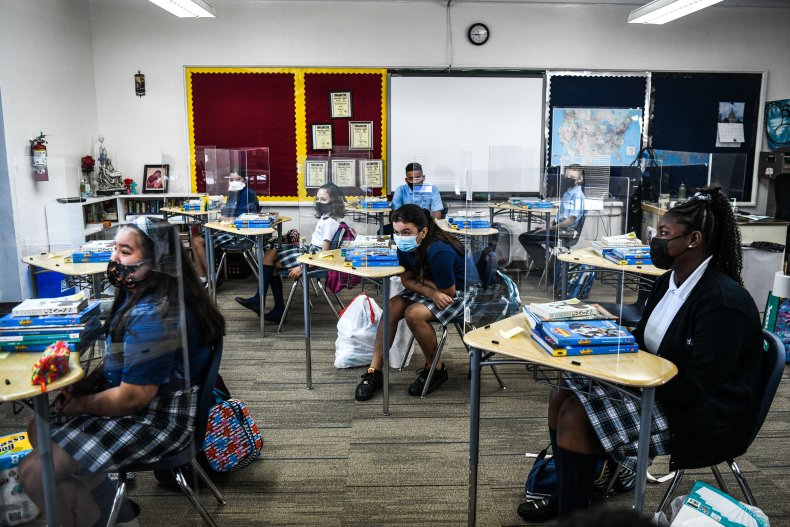 A September 28 update announced that students would remain online until October 4th, and recommended that students wear masks in order to avoid the quarantine requirement should a student be identified as a "close contact" of someone who tested positive for COVID-19. In the meantime, parents were instructed to pick up their children's school materials that teachers were assembling for the students. Howard also said the school was providing hotspots for households that did not have access to the internet.
Masks are not mandated in K-12 schools in Michigan, and recently a decision was made to rescind the mask mandate for K-6 students, according to the Detroit Free Press,on account of language in the new budget that "threatened to strip state funding from local health departments that imposed school mask mandates under the public health code."
"The decision to rescind the K-6 Mask Requirement was not made lightly and has challenged us ethically, professionally, and personally," Allegan County Health Officer Angelique Joynes said in a statement. "However, we cannot risk our essential local public health services funding, which is around $1 million of our total budget and provides the ability for us to continue to offer those services."
ACHD Medical Director Dr. Richard Tooker was quoted in the statement as saying, "our children are a vulnerable population where it is incredibly important to layer all effective mitigation strategies—which includes universal masking in the school setting—to protect them. We strongly recommend all local boards of education and school leaders to adopt evidence-based public health practices and put a universal masking requirement in place within their school settings to continue protecting their students and staff from the ongoing risk of COVID-19."