Michigan Schools With No Mask Mandate Have 61 Percent More COVID Cases
A new study by the University of Michigan revealed that Michigan schools without any mask mandates in place have 61 percent more COVID-19 cases.
On Friday, the university released a study that mapped out COVID-19 trends across Michigan and the U.S. In the study, it was reported that school districts that don't have mask mandates in place averaged "73 coronavirus cases per 100,000 students as of late September, compared to 45 cases per 100,000 students in districts with mask mandates."
The infection rate is 61 percent higher in school districts without mask requirements.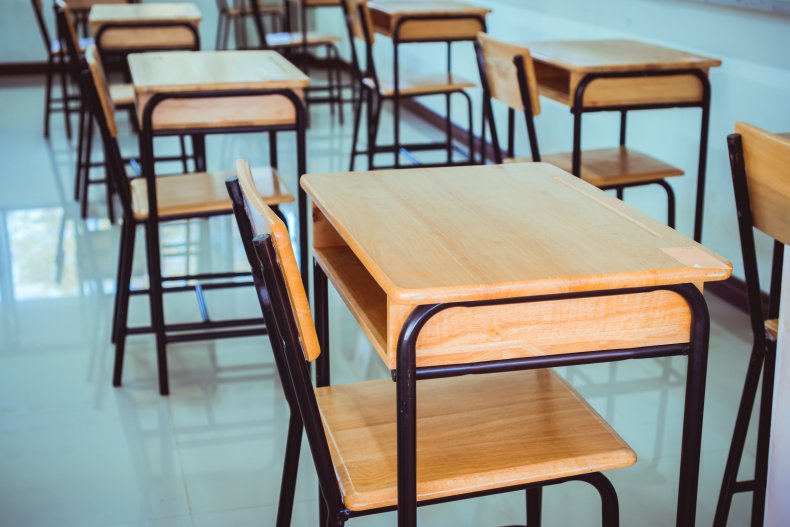 Currently, 42 percent of school districts in Michigan have mask mandates in places and more than 748,000 students attend schools in districts with mask mandates. And 393 K-12 schools in Michigan have reported COVID-19 outbreaks with more than 425 students under the age of 12 being affected by COVID.
While U.S. health organizations, including the American Academy of Pediatrics and the Centers for Disease Control and Prevention (CDC), have suggested mask mandates while indoors, Michigan Governor Gretchen Whitmer's administration hasn't officially issued mask mandates in schools yet.
The increase in COVID-19 cases in school districts without any mask mandates comes at a time where there's been a number of protests carried out by anti-mask groups across Michigan.
In August, Paul Marcum of Bloomfield Hills, Michigan, was fired from his job as a tennis instructor at the Sports Club of West Bloomfield after flashing a Nazi salute and yelling "Heil Hitler" at a Birmingham Board of Education meeting.
"Birmingham Public Schools emphatically denounces and will not tolerate any act of racism, disrespect, violence, and/or inequitable treatment of any person, including actions and statements made at Board of Education meetings," Embekka Roberson, Superintendent of Birmingham Public Schools, said in a statement to the Detroit Metro Times following the outburst.
"It is in situations when people feel strongly about a matter, and emotions run high, that we most need to model appropriate behaviors for our students," Roberson continued. "Last night's meeting did not consistently display the behaviors that we expect from our students and community."
Also at the meeting, other anti-maskers told board members that masks are dangerous and children don't carry the risk of spreading COVID-19 to others.
Newsweek has reached out to the University of Michigan for comment.