Michigan Secretary of State Criticizes Trump Campaign Lawsuit, Calls Ballot Counting Process 'Meticulous'
Michigan Secretary of State Jocelyn Benson defended her state's election process on Wednesday after President Donald Trump's alleged in a lawsuit that it had not been granted access to the ballot-counting process.
Michigan carries 16 votes in the Electoral College. While ballots are still being counted in the state, the Associated Press projected that Democratic presidential nominee Joe Biden had won Michigan. In an interview with ABC News, Benson said the allegations in the lawsuit did not reflect how the Michigan election process actually works.
"We've always had a lot of faith in the truth underneath our work which everyone can see for itself is one that is meticulous, it has been accurate, it has been secure and it's been something that we're quite proud of here in this state," Benson said Wednesday.
Questions about Michigan's ballot calculation process were inevitable, according to Benson. "We always knew we would be here from when the polls closed and as we went through that tabulation, there would be a lot of efforts to undermine people's perceptions about the integrity of our process," Benson said.
In the lawsuit, which was filed against Benson in the Michigan Court of Claims, Trump's campaign asked election officials to stop the ballot count.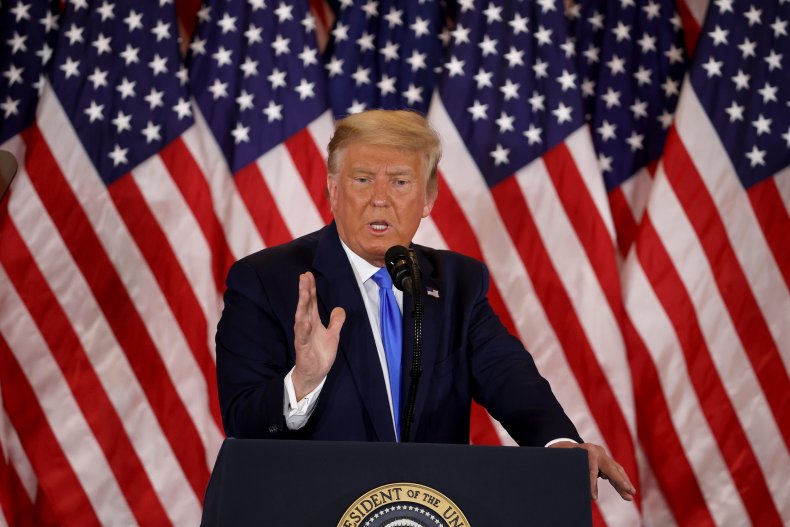 "President Trump's campaign has not been provided with meaningful access to numerous counting locations to observe the opening of ballots and the counting process, as guaranteed by Michigan law," read a news release from the Trump campaign. The campaign also asked to review all the ballots that were opened and processed without the campaign's "meaningful access."
Newsweek reached out to the Michigan Democratic Party for comment.
Under Michigan state law, election workers in the state are prohibited from processing and sorting mail-in ballots until the day before Election Day. However, counting the ballots must wait until Election Day.
In 2016, Trump narrowly won Michigan by defeating his opponent Hillary Clinton by three-tenths of one percentage point.
During his final campaign event before Election Day, Trump indicated that he was confident his campaign would gain a repeat victory in Michigan.
"We're going to win this state so easily," Trump told a crowd in Grand Rapids on Monday. "We want to do it just like last time, but let's give me a little bit more margin than that, if you don't mind."
According to information from the Associated Press on Wednesday, Biden had received 50.5 percent of the popular vote while Trump had received 48 percent of the vote with 99 percent of Michigan precincts reporting.
The Trump campaign has filed similar lawsuits in North Carolina, Pennsylvania, Georgia calling for a stop to ballot counting. In Wisconsin, where Biden was projected to win by less than 1 percentage point, the Trump campaign said it would request a recount.