A sheriff in Michigan suggested on Thursday that two of the individuals who were arrested for their alleged involvement in a plot to kidnap Governor Gretchen Whitmer may have actually been planning a citizen's arrest.
Barry County Sheriff Dar Leaf told WXMI-TV that he was not directly involved with the investigation but was surprised that charges had been filed against brothers William and Michael Null, two of the individuals who allegedly contributed to the plot.
"I was shocked. I did not see this coming for those guys," Leaf said. He added that the Null brothers should not be convicted in the media before they are found guilty in court and questioned whether they were actually involved in a plan to kidnap Whitmer.
"Are they trying to kidnap? Because a lot of people are angry with the governor, and they want her arrested. So are they trying to arrest, or was it a kidnap attempt," Leaf said. "In Michigan, if it's a felony, you can make a felony arrest," he added, referencing a state law that allows private citizens to make arrests in certain circumstances.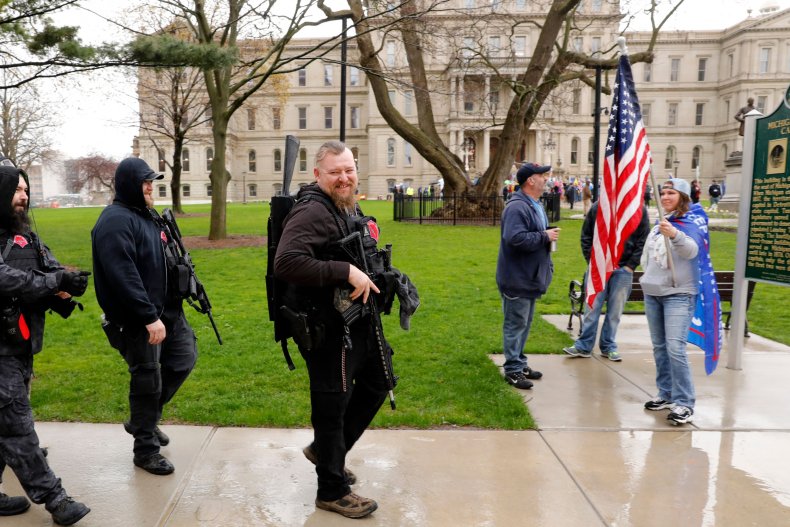 "It doesn't say if you are in elected office that you are exempt from that arrest," Leaf said. "So I have to look at it from that angle, and I'm hoping that's more what it is. In fact, these guys are innocent until proven guilty, so I'm not even sure if they had any part in it."
According to the law Leaf referenced, a "private person" can arrest another individual in a limited number of circumstances, including if the individual commits a felony in their presence or is known to have committed a felony.
Michigan Attorney General Dana Nessel announced the charges against the Null brothers on Thursday. According to a news release from Nessel's office, she brought 19 state felony charges against seven people connected to the militia group Wolverine Watchmen, and U.S. Attorney for the Western District of Michigan Andrew Birge also brought federal felony charges against six people as part of the multi-agency investigation.
Both of the Null brothers allegedly "aided in the physical surveillance of the governor's private vacation home" and were charged with "providing material support for terrorist acts," which Nessel's office said was a felony that could result in either 20 years behind bars or a $20,000 fine. They also face felony firearms charges related to their alleged activity, according to the release.
Nessel said there has recently been a "disturbing" resurgence of extremist groups and added, "These groups often seek to recruit new members by seizing on a moment of civil unrest and using it to advance their agenda of self-reliance and armed resistance."
At least one of the Null brothers was visible onstage as Leaf spoke at an event in Grand Rapids, Michigan, earlier this year in protest of Whitmer's stay-at-home orders, which were targeted by several protests throughout the spring. During his speech, Leaf compared Whitmer's order to mass arrests, according to MLive.com.
Nessel's office declined Newsweek's request for comment.