Michigan State Football Players Charged With Assault of Rival Team Members
Seven members of the Michigan State University football team are being criminally charged in the October 29 assault on two players from University of Michigan, according to a Wednesday announcement from the Washtenaw County Prosecutor's Office.
The physical incident last month occurred in Michigan Stadium's tunnel following the conclusion of a game between the two teams.
The players named by the office were Khary Crump (one count of felony assault); Itayvion Brown (one count of aggravated assault); Angelo Grose (one count of aggravated assault); Justin White (one count of aggravated assault); Brandon Wright (one count of aggravated assault); Zion Young (one count of aggravated assault); and Jacoby Windmon (one count of assault and battery).
Video of the October attack on Michigan defensive backs Gemon Green and Ja'Den McBurrows went viral and drew national media attention.
The Michigan Wolverines defeated the Michigan State Spartans 29-7 prior to the assault.
"At the University of Michigan we appreciate the thoughtful, deliberate approach from the Washtenaw County Prosecutor's Office to this unfortunate incident," Michigan President Santa J. Ono said in a statement, according to the Associated Press.
"We also want to express our concern for all the players involved, especially those who were injured. The University of Michigan will continue to cooperate fully with any additional reviews of this matter."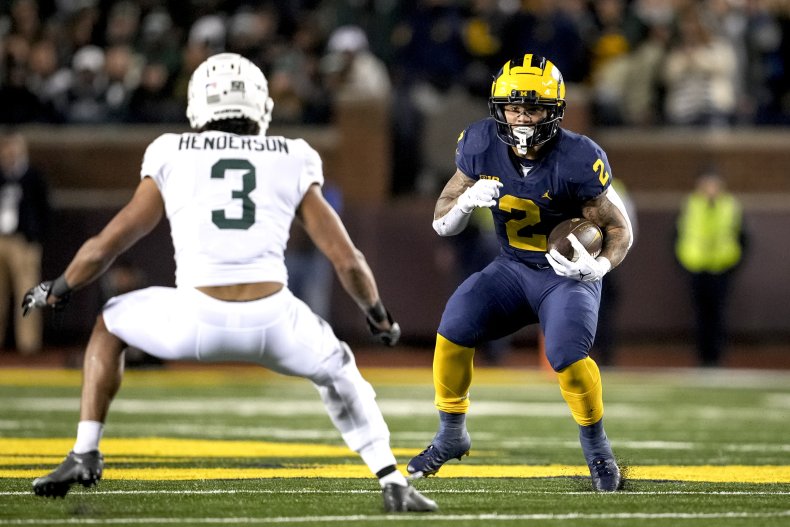 Days after the attack, Wolverines head coach Jim Harbaugh addressed the incident during a press conference.
"What happened in the tunnel was egregious, sickening to watch the videos, the ones that are on social media right now," Harbaugh said to reporters on October 31.
Coagh Mel Tucker of Michigan State also addressed the attack on October 31 and apologized on behalf of his school.
"We're not here to make any excuses for the behaviors on Saturday. They are unacceptable," Tucker said. "It is also very important to say we honor the traditions of the Big Ten Conference, including the Michigan-Michigan State rivalry game. We have a responsibility to uphold the values of this great university.
"We are deeply sorry to both universities, the conference, our fans, alumni, supporters and, of course, all of our student-athletes, past and present."
Eight Michigan State players were suspended by the team following the incident, including the seven who have been charged.
Before the Washtenaw County Prosecutor's Office released its findings on Wednesday, an investigation was conducted that involved the Big Ten, University of Michigan Police and Michigan State University Police.
Michigan State University Interim President Teresa K. Woodruff, Ph.D., issued a statement in response to the prosecutor's decision to issue criminal charges.
"I do not condone inappropriate behavior by anyone on our campus or when representing MSU. And consequences are part of a learning environment, which were announced today. But I also believe that as universities, we must make our respective environments safe places for competition," Woodruff wrote in part. "The rivalry between our two schools predates the current presidents and will likely last long into the future. But student success is more important than any score and I am committed to working with the University Michigan to enable that success on the field and in all of the places and spaces where rivalry foreshortens any students pathway to that success. My commitment is to make changes that are meaningful to that goal and report back to the community before the end of the year."
Update 11/23/22, 4:40 p.m. ET: This story has been updated with additional information.
Do you have a tip on an entertainment story that Newsweek should be covering? Do you have a question about sports? Let us know via entertainment@newsweek.com.