Michigan State Senator Sings Hymn When Questioned About Meeting With Trump, if Biden Won Election
Michigan State Senator Mike Shirley sang a hymn in response to a reporter's question about whether President Donald Trump should concede the election to President-elect Joe Biden.
Shirkey, who was travelling to the nation's capital, told a reporter from The Undercurrent on Friday that he was taking "a delightful trip to Washington D.C.," where there was a "good possibility" he would be meeting with Trump.
However, when further pressed about whether he thought Biden won the election or if Trump should admit defeat, the senator resorted to singing the hymn "I Believe in a Hill Called Mount Calvary."
"Time has surrendered and earth is no more," Shirkey sang. "I will cling to the old rugged cross."
The hymn references the notable hill on which Jesus was crucified in the Bible.
Shirkey and Representative Lee Chatfield, the top two Republican leaders of Michigan's legislative chambers, are set to meet with Trump on Friday. Their visit to Washington comes as Trump continues his legal battles in the battleground state.
Up until agreeing to meet with the president, Shirkey and Chatfield had signaled that they did not doubt Michigan voters, who elected Biden by more than 154,000 votes. Biden won the state by 14 times the number of votes Trump did in 2016.
Shirkey has eschewed overturning the results and questioned Trump's refusal to accept the results in Michigan, telling Bridge Michigan that none of the president's lawsuits would "ultimately change the results of the election."
He also called it "inappropriate" that the Trump administration has not begun facilitating a peaceful transition of power.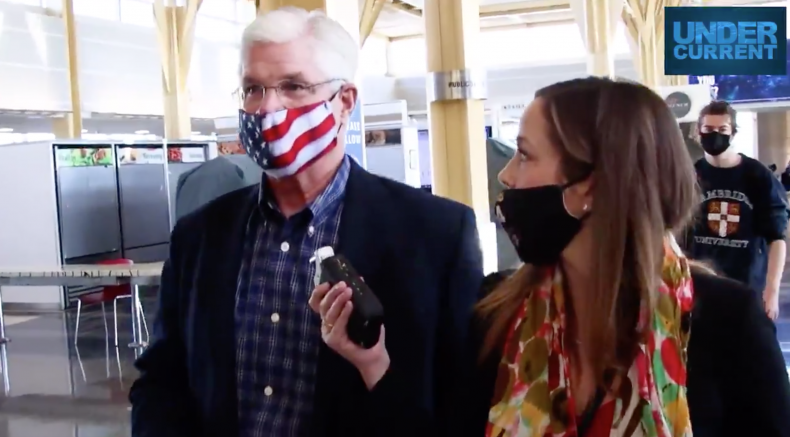 However, the trip to Washington has raised concerns that Trump may pressure the two GOP officials to appoint electors who will circumvent the popular vote.
Fellow Republican Representative Paul Mitchell called their decision to meet with Trump "destructive."
"For them to do anything other than to respect the popular vote is a violation of their oath of office. They took an oath like I took an oath to the Constitution, but in their case to the state Constitution, and the laws of the state don't say you get to appoint anyone you want," Mitchell told The Detroit News on Thursday.
Democrat Representative Rashida Tlaib also criticized Shirkey and Chatfield for taking the meeting.
"Conspiracies start with these kind of meetings, and the people are fed up and upset the GOP has continued to down this path to disenfranchise voters and allow these other false conspiracy theories to gain field," Tlaib said, as reported by The Detroit News.
Shirkey was swarmed by activists at the Detroit Metropolitan Wayne County Airport who held signs and chanted "protect our vote."
Shirkey served four years in the Michigan House of Representatives before being elected to the Senate in 2015. He will be forced to retire come January under the state's term limits law.
Newsweek reached out to Shirkey for further comment, but did not hear back before publication.