Michigan State Survey Says Nearly 30 Percent of Female Students Have Been Sexually Assaulted Since Enrolling
Almost 30 percent of Michigan State University's female undergraduate population has experienced sexual assault since enrolling at the school, according to survey results released on Thursday.
"This is a serious problem on our campus.... We have a lot of students who are experiencing sexual assault in their time here," Rebecca Campbell, professor of psychology and adviser to the president on relationship violence and sexual misconduct issues, told WKAR, an MSU-owned radio station.
To help shape policies, during the spring semester MSU conducted a survey of more than 15,000 students, faculty and staff members about sexual misconduct on campus. The survey revealed that 12.9 percent of female undergraduates were sexually assaulted during the 2018-2019 academic year and that 27.3 percent had experienced sexual assault since enrolling.
Emily Guerrant, a spokeswoman for the university, told WPBN that the survey was conducted "on the heels" of the scandal involving former MSU athletic trainer Larry Nassar. However, the survey showed that assault wasn't "limited to the people that he assaulted," according to Guerrant, and that many men and women on campus were affected by sexual violence.
In January 2018, Nassar was sentenced to up to 175 years in prison for sexually abusing patients while he was a doctor at MSU's sports medicine clinic and at USA Gymnastics. More than 100 women testified against Nassar, and many sued MSU for ignoring red flags and thereby enabling the abuse to continue.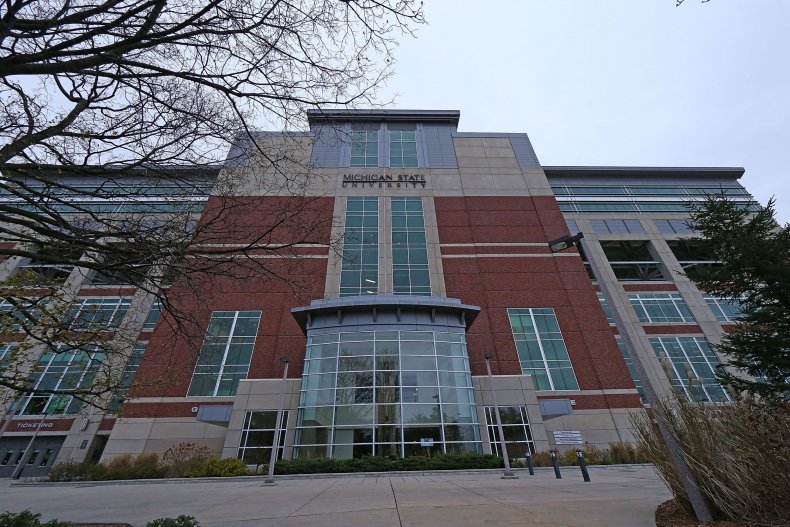 A federal investigation by the Office of Civil Rights found that MSU failed to properly disclose reports of sexual violence, notify campus security and issue warnings to the community.
"What happened at Michigan State University was abhorrent," Department of Education Secretary Betsy DeVos told reporters in September, according to NPR. "The crimes for which Larry Nassar and [former MSU dean] William Strampel have been convicted are disgusting and unimaginable. So, too, was the university's response to their crimes. This must not happen again—there or anywhere else."
Because of MSU's "systemic failure" to address the abuse, the U.S. Department of Education fined the school $4.5 million. MSU President Samuel Stanley said in a statement at the time that the findings "very clearly" showed then-Provost June Youatt and former President Lou Anna Simon failed to take "appropriate action" to address the reports.
Youatt resigned after the fine was announced, and in October, Eaton County District Judge Julie Reincke ordered Simon to stand trial on charges of giving false statements to law enforcement agents. Authorities claim Simon knew that Nassar was accused of molesting a patient in 2014, despite telling police that she did not become aware until 2016 of the substance of a review targeting an MSU sports medicine doctor.
Lee Silver, one of Simon's lawyers, told ESPN that her legal team was confident Simon would be fully acquitted.
Stanley said in a statement on Thursday that understanding the campus's problems is important in creating a safe environment as the university works to change its culture regarding sexual misconduct. "This new base of knowledge will guide us in creating our strategic plan going forward," he said.
All students, faculty members and staff were invited to participate in the school's web-based survey, which Campbell said in a statement was the first of its kind.
While there's still work to be done, Carrie Moylan, an assistant professor of social work, applauded the survey findings that showed community members are aware of the resources available to them. The majority of undergraduate students are aware that MSU has a sexual assault program and a designated safe place on campus where students can receive free and confidential counseling and shelter.
Going forward, Campbell said, the university is holding open discussions in an effort to be transparent about the state of sexual assault on campus and gain further insights in order to make necessary changes.