Michigan State University Apologizes After Gift Shop Display Showing Black Figures Hanging From Trees Sparks Outrage
Michigan State University has apologized after a gift shop display featuring dolls of prominent black figures hanging from trees sparked outrage.
Student Krystal Davis-Dunn posted pictures on Facebook after coming across the display inside the gift shop at the university's Wharton Center for Performing Arts in East Lansing, Michigan last week.
They showed dolls of notable black figures including Martin Luther King Jr., Harriet Tubman, Prince and Barack and Michelle Obama hanging from strings on display trees.
"What a way to honor Black History! My intention posting these images was to vent and highlight the continuous acts of microaggressions I've experienced as a Black student at MSU. The symbolisms in these photos explains itself," Davis-Dunn wrote on Facebook alongside a picture of one of the displays.
"It's insensitive for the fact of the historical context it's, ya know, the lynching of African Americans. It's a fear tactic," she told WLNS.
The display was taken down on Friday after the university received complaints about it. In a statement, MSU apologized for the "inappropriate and insensitive" display and said the Wharton Center would be providing employees and volunteers with racial bias training.
"We were made aware of an inappropriate and insensitive display at the Wharton Center gift shop which used a tree-like rack to hold historical black figures. Regardless of the intent of the display, its impact cannot be ignored – people were hurt and offended," MSU spokesperson Emily Gerkin Guerrant said in a statement.
"We sincerely apologize to our community members and have immediately removed the display. Additionally, after the Wharton Center reported the incident, it agreed to provide employees and volunteers with racial bias training that focuses on the impact and understanding of intentional and unintentional racial bias."
Guerrant added: "We have work to do, and MSU remains committed to creating a culture that is inclusive and safe for all faculty, staff, students and visitors. As we enter Black History Month, it's important we not only recognize the many contributions of African Americans, but we remember history and confront all bias."
The incident comes after what appeared to be a noose made out of toilet paper was found hanging from a door in a residence hall in October 2019, WILX reported.
"This isn't MSU's first run into something similar to this and also that this can't keep happening," student Adam Hafner told the station. Another student, John Ray, told the station that people of color "feel unwelcome" at MSU.
Davis-Dunn also responded to the statement, saying a day of racial bias training isn't enough to make students feel safer on campus.
In a post on Facebook on Saturday, she added: "Non-people of color may not be provoked or triggered by these displays, but for me and the group of people of color I was with... it was a visceral experience.
"Trauma lives in the body and the subtle and subliminal message evoke feelings of harm and a sense of being unsafe. And one day racial bias or implicit bias trainings are not enough to undo 400 years of racialize trauma."
In a statement to Newsweek, she said that the display highlights "the ingrained issues of white supremacy and institutional racism" in the Ingham County community and at Michigan State University.
She added that black people are "suffering psychological harm" and are being distracted from their education because of such experiences.
"The symptoms of white supremacy displays in the decision making model of the MSU organization by ways of the lack of response and inadequate institutional supports for domestic students of color, in micro forms through interpersonal interactions between white faculty and students of color, and in curriculum bias," she said.
"The contribution of African Americans are not regularly integrated nor represented in the every day operations and structure of this institution. There is immediacy needed from officials to act on these issues before racial tensions increase and potentially become deadly."
The university has been contacted for additional comment.
This article has been updated with additional comments from Davis-Dunn.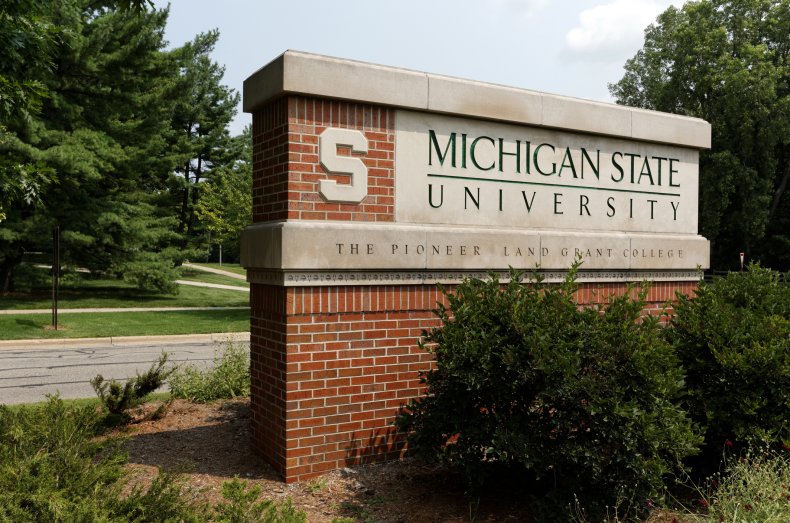 Michigan State University Apologizes After Gift Shop Display Showing Black Figures Hanging From Trees Sparks Outrage | U.S.