Student Paralyzed in Michigan State Shooting Receives $350K on GoFundMe
A student who was a victim of the Michigan State University shooting has had over $350,000 raised for him in less than 48 hours.
John Hao is a 20-year-old international student from China, who was critically injured during the shooting that saw a gunman kill three people and injure five others on February 13 at MSU at the East Lansing Campus community.
According to the GoFundMe page, which was created over the weekend, a total of just over nine thousand donations amounted to $350,324, and the fundraiser has since been closed.
During the shooting on the campus, Hao was shot in the back and is expected to be paralyzed from the chest down.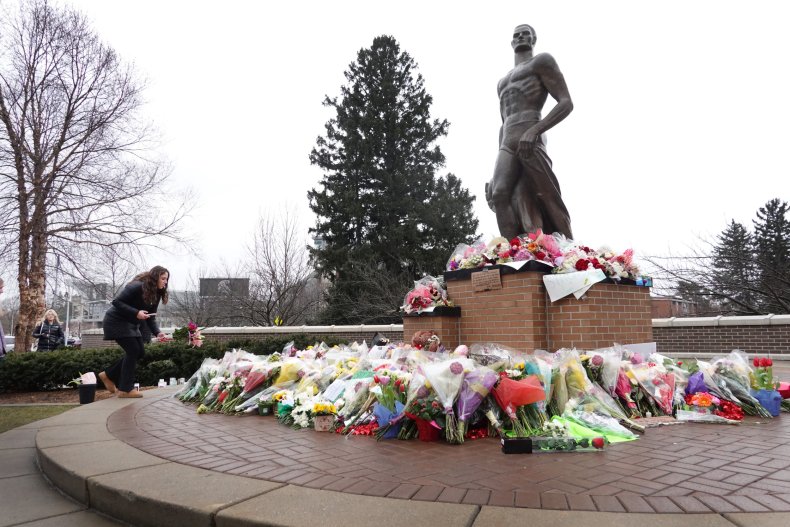 The page, set up by Hao's roommate Argent Qian, went on to explain the need for financial aid for his family to pay for his medical procedures and as well as other issues facing the family.
"The bullet severed John's spinal cord (T7-T8) and critically injured his lungs, leaving him paralyzed from the chest down," the fundraiser page said.
"As he remains stabilized in the ICU with a breathing tube inserted in his lung, his family is facing significant financial burdens.
"Due to Covid, they are already in a large amount of debt, and John's critical injuries are adding to the pressure on the family, leaving their parents not only to pay the debt in the future but also need to take care of John without having any income, since they are in the U.S. without speaking any English.
The page continued: "To help John and his family, we have set up a GoFundMe page to seek kindness and support from the world.
"As his close friend, I am reaching out to you to help him achieve the life he deserves. All the funds will go directly to pay for his medical bills and support his family during these trying times and find any existing treatment that might fix his injuries."
The roommate and friend gave an update on Sunday and thanked all who had donated.
"Word can not express how much we appreciate this common effort, John is not in intubation anymore during the process of this fundraiser and he does seem calmer now after I told him how much success we gained.
"He is aware of what his family is going through right now, and you guys just ease away his stress a lot!
Issuing a statement to Newsweek, Qian reiterated the comments in the fundraiser page.
He said: "My friend, John Hao, remains hospitalized at Sparrow Hospital to treat injuries that are a result of the tragic events of February 13, 2023. John and his family are thankful for the outpouring of support from the MSU community. The donations made will help them remain in the United States as John continues to heal.
"John is a leader in the MSU Chinese student community, and his family is hopeful that he can return to campus to complete his degree and achieve his goal of working in sports management."
"John and I met in 2020, and became fast friends. As international students, we faced challenges together: discovering how to navigate East Lansing, meeting new friends, and discovering what it means to be a Spartan."
Hours after the incident, authorities announced that the suspected shooter at the university shot himself during a confrontation with the police.
The interim East Lansing City Manager Randy Talifarro also released a statement calling for unity following the shooting.
He said: "The City of East Lansing is mourning the devastating shooting that occurred on the campus of Michigan State University tonight. Our hearts go out to all of the victims of this horrific act of violence as well as their family and friends.
"East Lansing and MSU have always shared in each other's victories and each other's losses. Tonight, we hold space while we grapple with this devastating loss of life together.
"And we stand shoulder to shoulder with everyone impacted by tonight's events. Please know that you're not alone in your grief. We stand with you and will be here as we seek to heal as a community."