Michigan State's Mel Tucker Set to Become Highest-Paid Black Coach in All U.S. Sports
Michigan State University (MSU) head football coach Mel Tucker is reportedly set to receive a contract extension that will make him the highest-paid Black coach in American sports.
Various outlets reported Wednesday that Tucker, 49, and the Michigan State Spartans will soon be inking a new 10-year, $95 million contract, an approximate yearly value of $9.5 million. His current contract has him making $5.5 million, but a source told The Detroit News that MSU started working with Tucker on a new contract after other college teams started showing interest in signing him.
It was reported that MSU could announce the contract extension as soon as Thursday.
If the deal goes through, Tucker will become the highest-paid Black coach in all of U.S. sports, be it college or otherwise. Currently, that title belongs to the head coach of the Stanford Cardinal football team, David Shaw, who makes a reported $8.9 million per year.
The dollar amounts of these types of contracts exceed even the professional leagues. Mike Tomlin of the Pittsburgh Steelers is the highest-paid Black NFL coach, but only makes a reported $8 million per year, a number matched by the highest-paid Black NBA coach, the Philadelphia 76ers' Doc Rivers.
Beyond becoming the highest-paid Black coach, Tucker would also be able to check off a number of other accolades, such as becoming the highest-paid coach in the Big Ten Conference.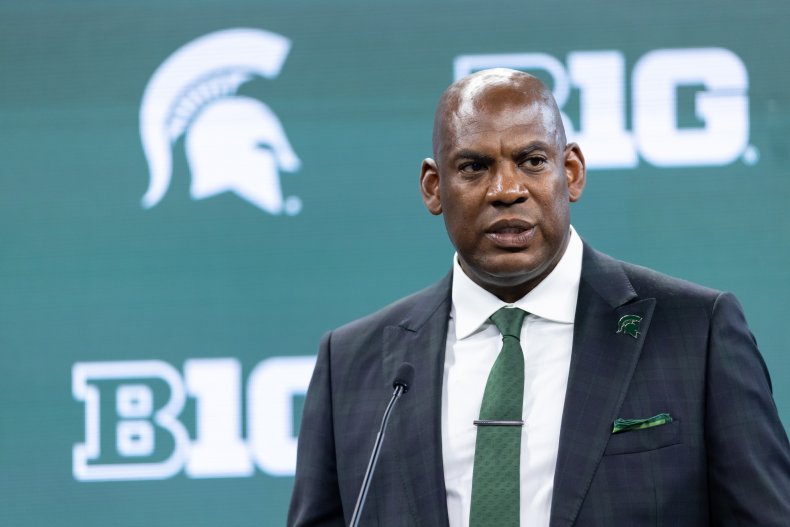 Additionally, Tucker would become the second-highest-paid coach in all of college football, behind only Nick Saban of the Alabama Crimson Tide. Saban, a former MSU coach himself, makes a reported $9.7 million per year.
"[Tucker has] come through, and we have seen unprecedented increases in student applications after his wins," MSU board member Rema Vassar told The Detroit News. "He has rejuvenated us, our alumni and donors. He brought us back from COVID and united us."
A portion of Tucker's new contract is reportedly being funded by a pair of prominent MSU alumni.
One of them, Mat Ishbia, is a former member of the Michigan State basketball team and has previously donated $32 million to the university's athletic department. The president of a prominent mortgage lending company, Forbes lists Ishbia's net worth as $6.7 billion.
Hired in 2020, Tucker helped lift the Spartans back to glory following a number of mediocre seasons, and MSU is currently 9-1 with a 6-1 record in the Big Ten. The team is currently ranked No. 7 in the AP Top 25 Poll.
Their lone loss of the season came on November 7 when the unranked Purdue Boilermakers pulled off a 40-29 upset victory.
Michigan State's next game is this Saturday against the No. 5 Ohio State Buckeyes, who also have a 9-1 record. They will end the regular season the following weekend versus the Penn State Nittany Lions.
Newsweek has reached out to the MSU Athletic Department for comment.