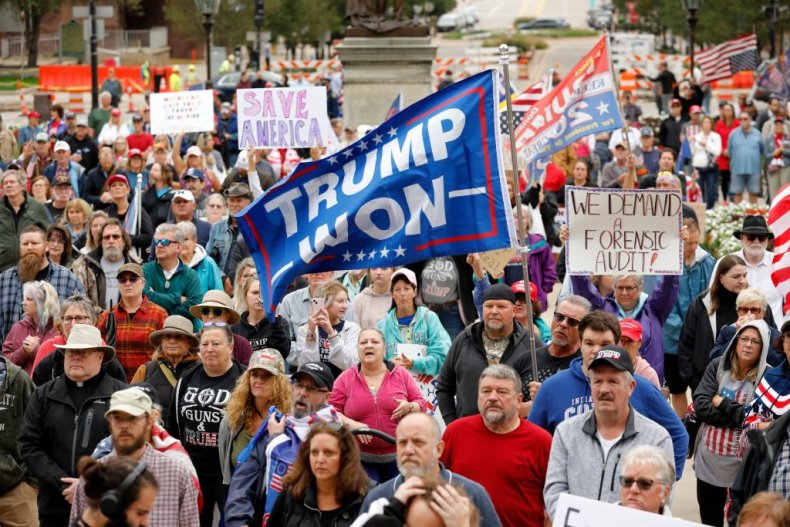 Newly released legal documents give details of a Michigan woman, apparently fueled by former President Donald Trump's false claims of a "stolen" 2020 presidential election, who is charged in the attempted tampering of a voting machine.
Tera Jackson, 56, was arrested in October on charges of common-law fraud and aiding and abetting in the unauthorized access of a computer, according to a Friday report from The Petoskey News-Review. A warrant had been issued for Jackson's arrest in March 2021.
In January 2021, Jackson allegedly falsely claimed to be member of the nonexistent "Election Integrity Commission" to gain access to a voting machine owned by the small Cross Village Township community. Township Clerk Diane Keller told the News-Review that she met with a township trustee at the community center on January 14, 2021, and discovered what looked to be a break-in.
A door where voting equipment was stored was ajar and a tabulating machine appeared to be missing screws, according to Keller. The trustee who met her, Howard Wood, was accompanied by two men wearing bulletproof vests, including one who was armed. Wood explained that the men were there to conduct a "forensic audit" of the voting equipment, although no audit had been officially planned and he did not have the authority to arrange one.
After police were called to report the break-in, an Emmet County Sheriff's Office deputy arrived on the scene and interviewed Allan Coveyou, apparently one of the men who was to conduct the audit, according to an affidavit from the deputy. Coveyou, a computer technician, explained that he had been contacted by Jackson to clone data from the voting machine under the belief that it "was scheduled to be wiped clean of data in the near future," according to the police affidavit.
There was never any plan to wipe data from the machine. Keller told the News-Review that she had been scheduled to meet with a maintenance worker on the day after her meeting with the trustee to discuss the cleaning of physical parts of the machine in order to prevent paper jams and avoid "trouble" during the next election.
The sheriff's deputy quickly determined that the Election Integrity Commission that Jackson claimed to be part of did not exist and was not a legitimate government agency, police said. Police said that Jackson changed her story when confronted and claimed that she was a member of the "Data Integrity Group" instead, and that her position was secret and could therefore not be confirmed with the supposed group.
Jackson told the deputy that "there was data on a satellite owned by Vatican City which would prove voter fraud had occurred in the United States," according to the affidavit. The bizarre claim may be related to the "Italygate" conspiracy theory, which was popular among adherents to the pro-Trump QAnon conspiracy theory at the time and falsely claimed that an Italian security firm helped rig the 2020 election to secure President Joe Biden's victory.
A tally of votes from the small community of Cross Village shows that Trump won the township by a narrow margin of less than 1 percent, 115 votes to 112 votes for Biden. Although Trump lost Michigan to Biden by over 150,000 votes, the former president won Emmet County, where Cross Village sits, by nearly 2,500 votes. Trump lost to Biden by over 7 million popular votes nationally and by 72 votes in the Electoral College.
Newsweek reached out to the Emmet County Sheriff's Office for comment.